Little Mariam was still sleeping, although the roosters had already crowed several times. Laid on her mat, she was huddled under her covers; it had rained the previous day, and the weather was a bit cold in the first hours of the morning.
Though she was registered in grade two, Mariam was lounging on her mat even after 7 a.m., because she was already on holiday. Moreover, even if she was not on holiday, she could have slept until sunrise because it was Thursday morning and she would not have had a course.
During the rainy season, Mariam, like her brothers and sisters, does not have the privilege to see her father because he moves to a village located a few kilometers away from the city to cultivate there in order to nourish the family.
The mother who stays alone with the five children sells fritters to provide for the needs of the family to the best of her ability.
Abruptly, Mariam who had been sleeping quietly jumps up and rushes outside, as if something important has just occurred.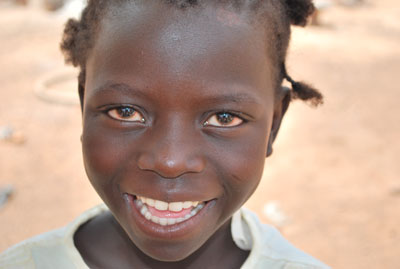 In the courtyard, Mariam's sisters, Assanata and Zourata, are preparing to leave. They both have weekly appointments that they would not miss for anything in the world. They are registered at the Assemblies of God Central Church of Koudougou Child Development Center.
Every Thursday, Assanata and Zourata leave the house around 7:30 a.m. and come back only after 2 p.m., humming songs that are completely unknown to the other members of their Moslem family.
Mariam always awaits their return so she can taste the food that her sisters bring home, and she does not fail to learn the songs that they sing as they return.
Any letter that Assanata and Zourata receives is an occasion of rejoicing for Mariam too, who is always given part of the gifts that are sent by the sponsor of her twin sisters.
When her sisters go to the child development center Mariam stays at home with her mother and her little brother Madi. She gives a hand to her mother by bringing the millet, which is used to make fritters sold by her mother, to the mill to be made into flour.
Once back from the mill, Mariam sweeps the house, the kitchen and makes the washing up while having her eyes riveted on the way – waiting for her sisters to come home.
Sitting under the only tree of the household, Mariam is lost in dreams deeply moved by the situation of poverty in which she lives with all her family.
She imagines herself in possession of four hundred thousand CFA Francs. Then she sees herself in a large shop of the capital city where she buys clothes, shoes and above all food provisions for her family.
She also sees herself building a new house for her family to replace the small one that was built with earth in which she and all her family live cramped.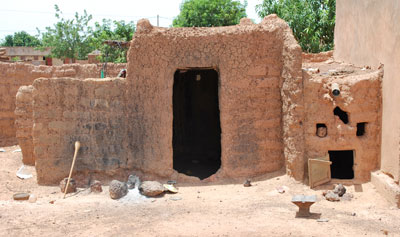 "I would certainly not fail to put in electricity," she says to herself.
Moreover, in Burkina Faso solidarity is still an enduring value, she would find it good to give part of her "fortune" to the needy people who would come her way.
Mariam also wants to be registered at the child development center because she says to herself, "If I were sponsored, all my dreams would be carried out."
It sometimes happens that she sits down and wonders why she isn't registered.
Mariam's mother does not raise questions any more, she is filled with joy to have two of her children registered to a child development center and to have a sponsor who writes and sends presents. Without this sponsorship, her children would not be able to go to school and big health issues could also arise.
Far from sowing discord and competition between the sponsored children and those who are not sponsored, as one might expect to see, this sponsorship on the contrary reinforces the African values of solidarity and sharing between Assanata, Zourata and Mariam.
At Christmas, one does not know who of the three girls is sponsored and who is not. Thanks to their spirit of sharing that, with time was sharpened by the biblical lessons received at the child development center, Assanata and Zourata joyfully share part of their biscuits and lollipops with their beloved sister Mariam and their brother.
Mariam is certainly happy to have her twin sisters registered at the child development center, and her desire to find herself there is undoubtedly related to the difference that the sponsorship made in the lives of her sisters and all the family.