It's dawn in the village of Burendwa, western Kenya. On a chilly Sunday morning, children wake up anxiously as they wait for their mothers to prepare breakfast. Sebastian rubs his eyes and rises from his bed.
It's Easter Sunday and all children, youth, women and men are eagerly waiting to go to church and celebrate the resurrection of Jesus Christ. As Sebastian washes his face he hums,
"He is risen!"
"He is risen!"
"And He lives, forever more."
Suddenly he hears other children in his village and realizes he is late. He quickly puts on his best suit and leaves for church.
The sun's rays can be seen rising from the east; there is excitement on everyone's faces. Some women are balancing pots full of water on their heads with a lot of prowess. Some are heard talking in loud tones about the day's events. Mama Sebastian says to her family,
"Kweli hi itakuwa siku njema tukila na tukisherekea kufufuka kwake Yesu Mwokozi Kristo!"
Translation:
"This is going to be a great day as we eat together and celebrate the resurrection of Jesus Christ our Savior!"
Children are looking forward to a sumptuous Easter meal in the afternoon prepared by their parents. This is one day that most children get to eat a nice meal of chicken and have a soft drink to accompany it.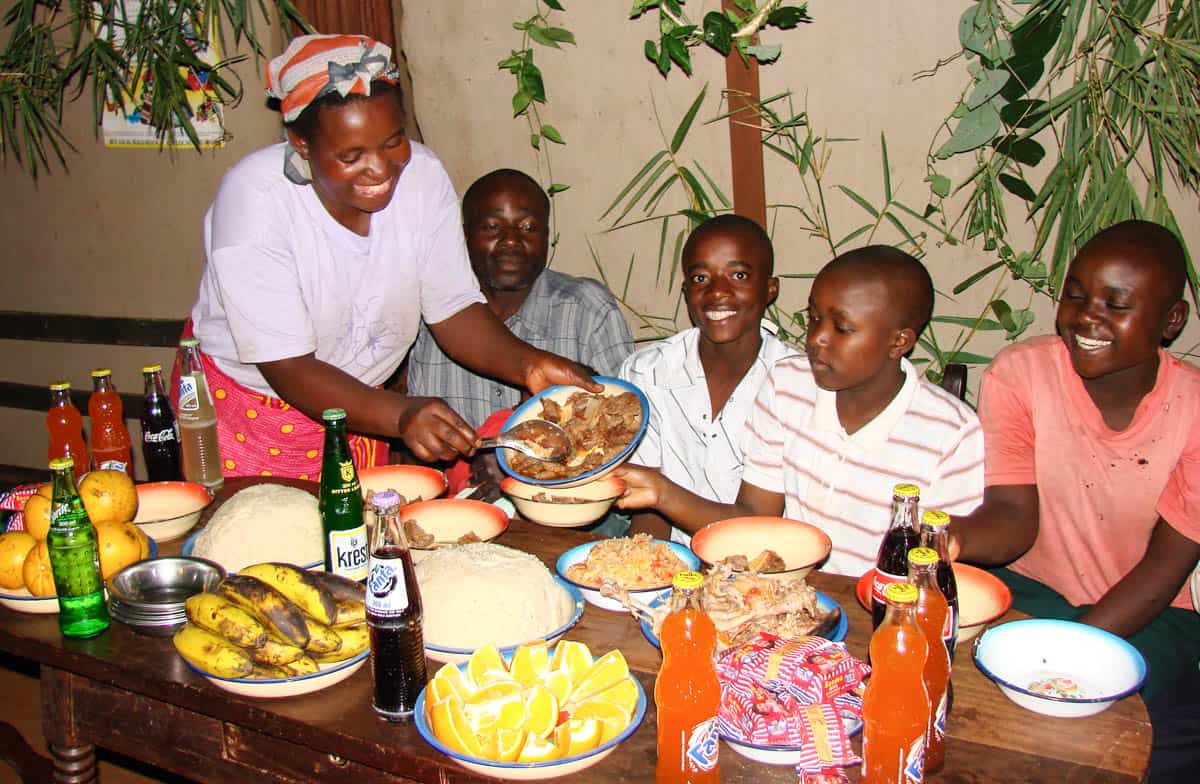 There are palm leaves all near the Church of God — home to the Burendwa Child Development Center. Sebastian and his sibling are ready to pick up their palm leaves and run to church because they want to participate in the march on the road to and from church with the other Sunday school children.
This is done to commemorate Jesus' triumphal entry into Jerusalem on a colt. At this point they sing loudly and carry palm leaves like the disciples and people in Jerusalem did. Sebastian is ecstatic because he will take the part of Jesus on the colt, and his best friend Moses will take the part of the colt.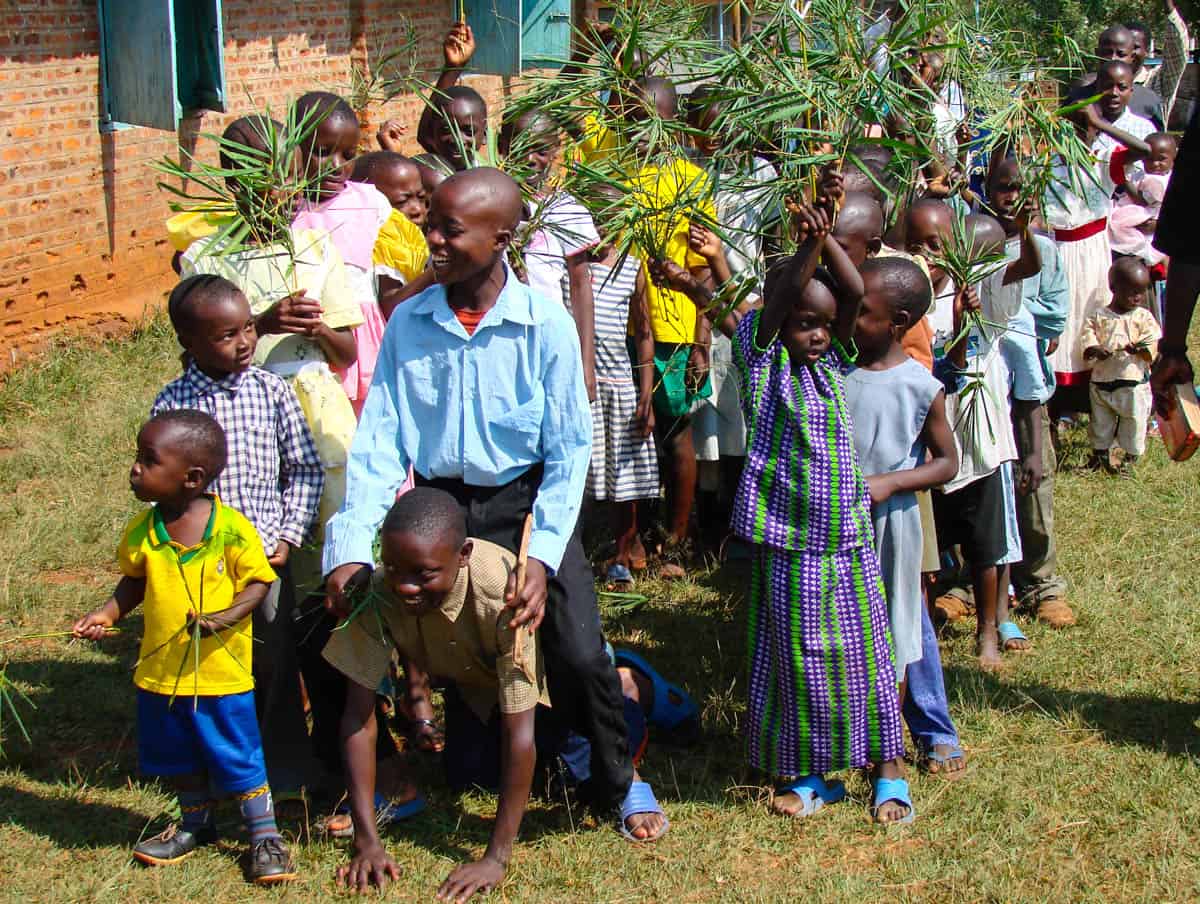 All of this is exciting for the children.
After marching on the road, Sebastian listens to the pastor preach the message of the resurrection of Jesus. He can't help but remember the image of the big chicken he saw his mother slaughter that morning.
He keeps switching his attention between the preacher and the image of the well-fed African chicken. After a while he decides to concentrate on the sermon.
After the church service is over, Sebastian tells his best friend, Moses,
"I can't wait to reach home and eat the chicken I left my mother preparing!"
Once he reaches home, Sebastian smells the aroma of stewed African chicken filling the air. As the family sits down waiting for lunch to be served, his father explains to them why they are celebrating Easter.
He breaks a piece of bread to demonstrate to his children the last supper. He also demonstrates the humility of Jesus, who washed His disciples' feet, by washing his wife's feet.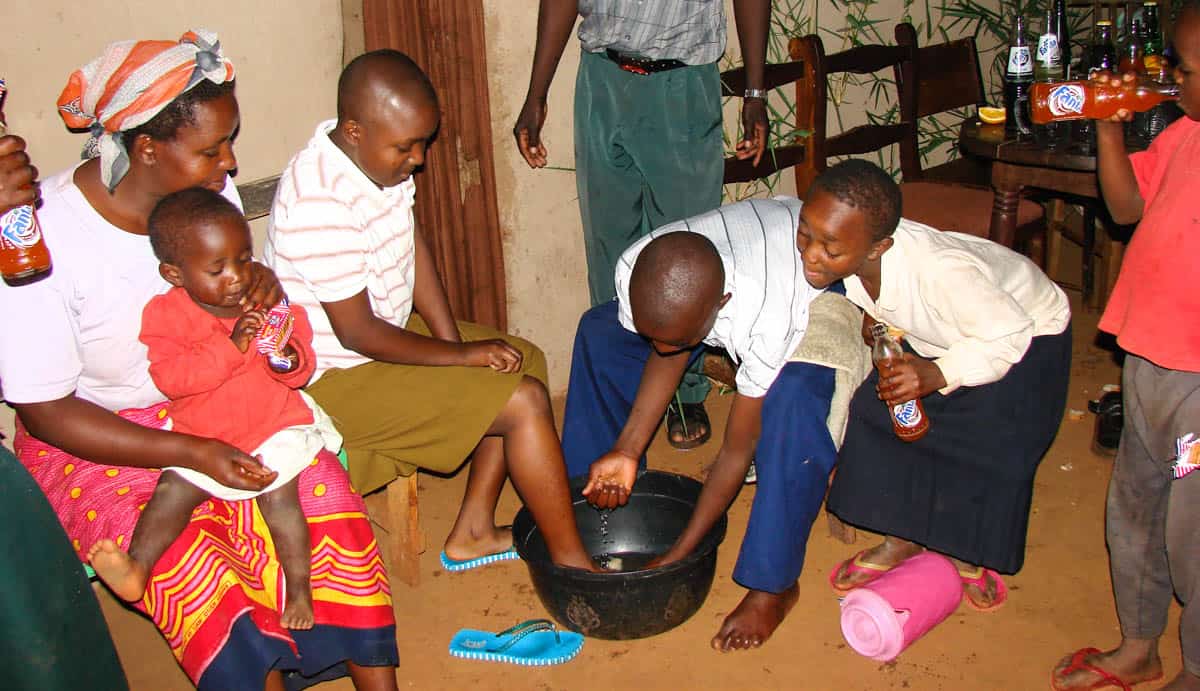 After this Sebastian tells us,
"Before I was registered with Compassion, I never knew what Easter really meant. I used to run to neighboring homes during Easter to see how other children and families enjoy this season.

"I thank God for Compassion. My family can now enjoy Easter like any other family."
---