I grew up in Nairobi, Kenya, in a slum, right next to a large dump site — a horrific place. People bring their dead babies there.
We were with five people and we all shared one bed. Our house had an metal roof, but with many holes in it. In April it rains heavily in Kenya, so everything got wet very often. Many times we slept while sitting in a dry corner of our house.
Whenever it rained, the water came up ankle deep in our house. That was the most difficult time for our family.
We were often hungry because it was very hard to find food. I started to look for edible food in the dump site. My mom often asked for help from friends.
But many people in our neighborhood were bad people. I had two sisters, and my mom was afraid they would be raped and killed one day. So she looked for help and built a home on an empty plot from the government.
Again, our house was made of metal sheets, but it was never completed, so we had to use a lot of plastic bags to fix it. The plastic could not keep the rain out of the house. We had to make holes in the plastic in order to prevent the house from collapsing under the weight of the water.
The new place we lived in was very muddy and looked more like a living place for goats. There still was hardly any food or clean water.
Whenever we got a glass of clean water, we considered it as a real miracle. We ate only dry corn. By that time, we all had stopped going to school. Everybody tried to survive on his own.
My parents started having problems in their relationship. My dad beat my mom daily for a year.
But when my mother heard about Compassion, we went to a church and enrolled in the child sponsorship program. Then everything started to change.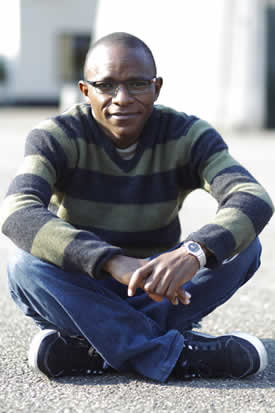 We were able to go to school and I received containers of oil and food. I could bring some of that home, and I received healthy food at the child development center.
In school, we used a family name. The school fees were paid for the family. Compassion paid for the fees, so all of us suddenly could go back to school.
Compassion gave me a school uniform, and I got shoes and socks. I used them carefully and gave them to my brother.
After awhile, my whole family started to change. It was like a ray of hope.
My mom started to sell vegetables in marketplaces and later opened a small shop. I got a sponsor, a special lady who showed me the true love of Christ.
During moments that I did not do well in school, I often read her letters. They really encouraged me and inspired me.
My father had left us alone to die. So I thought,
"How can my sponsor really love me?"
At the Compassion center I got my first Bible. I was taught about Christ, and that He loves us in whatever place we are. Through Him we can change our lives! It's through the love of Christ that this woman loved me.
I did well in school and went to high school. I did that well too, and was able to go to university.
If I hadn't gone through these things, I may not have come to know Christ. I remember saying,
"God, I truly know that You love me. You are alive."
Through the Leadership Development Program I was able to start dreaming again. I received hope and faith for a good future. I could become a leader in the community, and I learned skills and leadership principles.
My Purpose
It's important to ask yourself what your purpose is. What does God want to do with your life?
Malaria is a big problem in Kenya. If in a poor family somebody gets malaria, the costs for the treatment is so high that it keeps children from being able to go to school. I want to learn and research about this disease.
Malaria is so big that it negatively influences our economy. With so many sick people, we have a lot less working hours in our country than needed.
God blessed me with brains to learn about malaria. I started looking for a study about the molecular basics of diseases. Not just malaria.
I learned that the Radboud University in Nijmegen (The Netherlands) has a trial vaccine against malaria. That's why I contacted them and why I am working with them.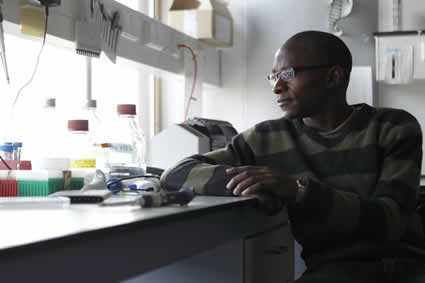 It's my dream to develop a vaccine against malaria and to make it available to the poor.
My brother died because it took the doctors too long to figure out what kind of disease he had. That's not necessary and has to stop.
That's why I'm here. This is my story.
---
ABOUT THE AUTHOR: Joshua Miago is a Compassion alumnus and Leadership Development Program graduate. He currently lives in The Netherlands and is working to create a vaccine to fight malaria. He shared his story with Martijn Moens from Compassion Netherlands.