The backdrop of Gideon's story is injustice on earth. The people were suffering because of the very evil they caused. When the difficulty became too intense, they resolved to seek God.
So God called Gideon to act on His behalf and defend the people. Gideon was found by the angel of the Lord in an unusual situation: "threshing wheat in a winepress to keep it from the Midianites" (Judges 6:11). That may show how frightened were Gideon and the people.
But the angel drew close to Gideon with an impressive greeting: "The Lord is with you, mighty warrior" (verse 12). Gideon probably looked around for someone who might be considered a mighty warrior. But the angel insisted: "Go in the strength you have and save Israel out of Midian's hand. Am I not sending you?"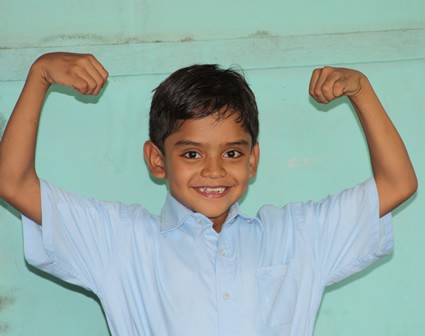 We are called in a context very similar to Gideon's: injustice on the earth and people who don't know God and who suffer with the evil they cause. We cannot realize the evil that social injustice causes.
Yet in the middle of this suffering, the cry of the little ones comes to God, and He responds by calling mighty warriors to set His children free! These mighty warriors are you and me.
We may think we're common people with normal lives, but God sees in us mighty warriors. He calls us to set God's children free from the oppression that rules over them. And we will win the battle if we trust God and obey Him in the mission He's proposed for us.
Let's go together, powerful army of the Lord! Our weapon is the love, and our strategy is trust in God!
"Go in the strength you have and save Israel out of Midian's hand. Am I not sending you?" —Judges 6:14, NIV
Prayer: Dear Father, thank You for choosing us for the wonderful mission of saving Your little ones. Help us to believe in what You've already put in our hearts and in the strength of Your Holy Spirit in us. In Jesus' name, amen.
---

ABOUT THE AUTHOR: Guilherme Lucas Oliveira is a Complementary Interventions Specialist for Compassion Brazil.
Read all the One in Spirit devotionals.