We began our ministry in the Philippines in 1972 with the Child Sponsorship Program. In 1996, we started the Leadership Development Program, and in 2005, the Child Survival Program. In 2009, the 50,000th child was registered.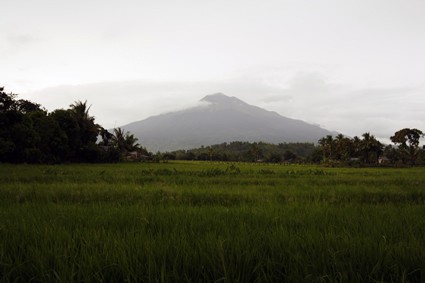 We have been blessed to experience a number of notable milestones in the Philippines. First, the Leadership Development Program began in the Philippines, then the first local alumni association was organized.
After Typhoon Durian hit in 2007 we became more aware of the challenges natural disasters bring. With this disaster, the Country Office in the Philippines became more prepared to handle future disasters. This led to the building of the first Compassion Village in the country, where more than 350 homes were built and more than 600 were repaired through Complementary Interventions funds.
Country Director
Noel Pabiona joined us as Country Director in 2004. Before coming to our ministry, Noel worked at various companies based in Singapore, Hong Kong and the United States. He also served in the Philippine government for four years as Chief Planning Officer for the National Livelihood Support Fund Agency and served as pastor for the Living Grace Christian Fellowship from 1996 to 2006.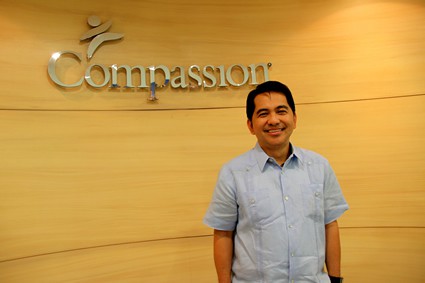 Noel earned a bachelor's of economics degree from the University of the Philippines and earned a post-graduate degree in petroleum refining at the Oxford Extension School in Australia.
Implementing Church Partners
Implementing Church Partners are local churches with whom we work to deliver our child development program and ministry in the field.
Spiritual Climate
Evangelical churches in the Philippines are growing all over the country. However, there is a lack of unity due to denominational differences.

We recently conducted a series on church leadership and development training focused on pastor wellness. The goal of the Country Office is to serve as a catalyst for unity across denominations.

Unique Challenges
One challenge unique to the Philippines is that the country is composed of more than 7,100 islands with various languages, and the children are scattered all over the islands. Also, the quality of church partners and leaders can be a challenge. Because of this we strive to provide training before we enter into a church partnership.
Contributions
Church partners provide labor, manpower and networking.
Partner Development Activities
We begin training in partner development even before the actual partnership. As we look for new partners, we conduct training on ministry presentation, orientation and strategic planning. Through this training both our ministry and the church can assess if the church is ready to partner with us.

When a church becomes a partner, it enters a three-year module on partner development. For five years we work closely with our partners, but in the sixth year, we hope that we have provided enough training that the church can be independent. It is our desire that those who have partnered longer will be able to train the newer partners.

Partner development focuses on partner training, technical support, facilitation and church maturation. We offer training on topics such as holistic child development, sponsorship basics, start-up, functional trainings, child protection, Complementary Interventions, community development and child advocacy, among others.
Child Survival Program
Caregiver Literacy
We teach literacy through one-on-one lessons at home and in group activities at the center. We use lectures with resource speakers, visual aids, demonstrations and experiential learning such as field trips and food preparation.
Income-Generating Skills
We offer income-generating training twice a month. The activities offered depend on the interests and needs of the mothers who attend.

Generally, we offer baking, food processing, culinary arts, sewing, cosmetology and hair science, bead-making, and craft-making using indigenous materials and scraps such as coconut shells, corn skins and seashells. Some of the mothers have begun earning from these activities, especially those involving food.

Health Care
The local health centers offer prenatal care as well as free vaccinations, but there is a limited vaccine supply. Mothers are encouraged to go to the health centers to take advantage of these free services. After 12 months, the Child Survival Program pays for the child's booster shots.

The Child Survival Program checks the caregivers' immunization card and prenatal card to ensure that they are utilizing the programs at the local health center.

All of the children go through screenings and medical monitoring regardless of whether or not they are sick. The Child Survival Program pays for immunizations that are not covered by the government as well as unscheduled hospitalizations and emergency situations. The Child Survival Program also pays for ultrasounds and newborn screenings.

The government offers social welfare assistance for indigent families to get discounted rates from hospitals, and some the Child Survival Programs have also received services such as financial support, ambulance services and free hospitalization offered through other organizations.

Nutritional Support
Mothers are educated in basic nutrition and food preparation. We show them how to purchase nutritious foods, such as vegetables, with limited money. Many mothers were surprised to learn how nutritious vegetables are.
Involvement of Fathers
During the first Child Survival Program orientation, mothers are encouraged to bring their husbands.

Some church partners ask the fathers to sign an agreement that they will not prohibit their wives from attending Child Survival Program activities.

To encourage the involvement of fathers, we hold Couples' Retreats, Family Day, Father's Day, sporting events and sometimes ask some of the fathers to play guitar at church, do carpentry work, or drive.

For every Child Survival Program in the Philippines, about one or two fathers are the primary caregivers.

Transitioning Out of the Child Survival Program
The Child Survival Program will ensure that a child is ready for the Child Sponsorship Program.

Each child must have achieved normal weight as well as basic hygiene and self-help skills, which include a sense of independence, social adjustment, self-feeding, the ability to clean up toys, and the ability to socialize with other children.

We provide pre-literacy activities that train children to scribble, string items together, color and identify colors and shapes.

Then, children in the Child Survival Program attend Child Sponsorship Program classes to expose them to what they will soon be experiencing.

Transitioning mothers to the Child Sponsorship Program is still a challenge. The challenge is to make it clear to the mothers that after successful completion of the Child Survival Program, they are no long beneficiaries but partners.

Some church partners introduce Child Survival Program mothers to Child Sponsorship Program mothers to help with the transition. They also have made efforts to involve the mothers in care groups and Bible studies.

Areas of Expansion for the Child Survival Program
We would like to expand into Western Mindanao, the National Capital Region, Bicol, Palawan and Mindoro, which are areas scattered all throughout the country. These regions have been identified by the government as priority areas due to prevailing poverty.
Child Sponsorship Program
Your sponsorship of a child in the Philippines provides a variety of benefits.
Child development center activities are mostly done on Saturdays, since children are busy with school throughout the week. Some centers use Sundays, but the Country Office discourages this practice so that center activities will not compete with church activities.
Meeting Times

3 to 5 year olds: 6 hours a week, usually on Saturday
6 to 8 year olds: 6 hours a week, usually on Saturday
9 to 11 year olds: 6 hours a week, usually on Saturday
12 to 14 year olds: 4 hours a week, usually on Saturday
15 to 18 year olds: 2 hours a week, some in the form of community service
19 +: 2 hours a week, some in the form of community service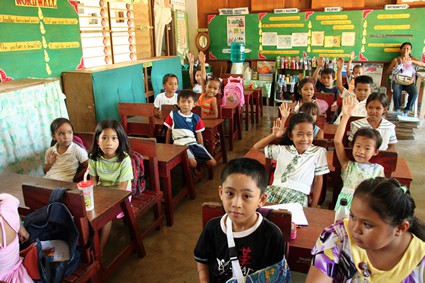 Nutritional Support
If the children come to the child development center during lunchtime, they receive lunch, which consists of rice, meat or fish, vegetables, fruit, and juice or milk. If they come at any other time, they receive a nutritious snack, which consists of sweet potatoes, sticky rice, skewered bananas, or noodles.

Malnourished children receive vitamins and additional food packs, which contain one complete meal of rice, meat or fish, vegetables and fruit. We are currently implementing a Complementary Interventions food mitigation program for several centers.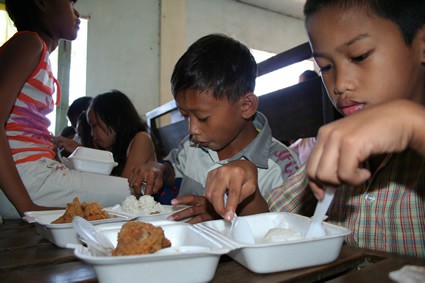 Vaccinations
All children should have received at least the minimum vaccinations as prescribed by the World Health Organization. We encourage child development centers to connect with local health centers to get free immunizations, although they have limited supplies.

There are cases in which the Country Office assists in the purchase of vaccines in bulk to get special discounts.
Extracurricular Activities or Community Service
Typical extracurricular activities include camps, sporting events, field trips and talent shows. The older children participate in these activities approximately twice a month, which is more often than the younger children.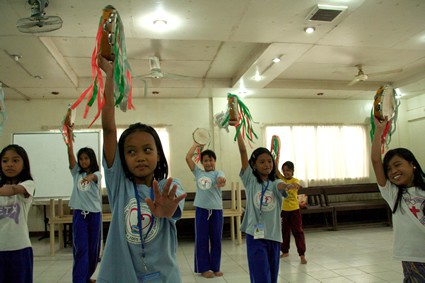 Vocational Activities
We offer practical skills that will allow children to develop employable skills.

Child development centers offer vocational training such as carpentry, auto mechanics, food preservation, and basic livelihood. Some church partners network with government agencies and nongovernmental organizations such as Advancing the Ministry of God, which provide vocational training and job placement.

Child development centers also offer community service opportunities such as community clean-up and environmental protection.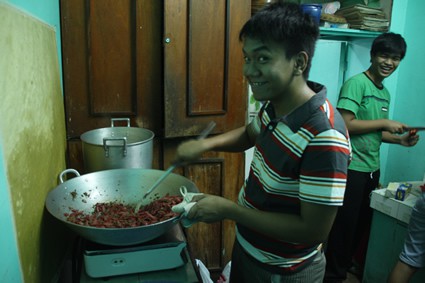 Child Sponsorship Program Alumni Activities
The national alumni association in the Philippines is now sponsoring a child. Members hold fundraising events and provide relief in times of national disaster. There are also smaller alumni groups in different regions.
Parent Involvement
We have general assemblies and orientation for parents, and there are some churches that have initiated activities such as Bible studies and care groups. Mothers are also involved in letter writing. But generally, we do not have the budget to offer regular activities specifically aimed at parents.
Areas of Expansion for the Child Sponsorship Program
We would like to expand into indigenous areas, specifically Mindanao, because it has not been reached and is very needy. We are also praying about and preparing to enter the Muslim province of Basilan.
Leadership Development Program
Types of Universities Attended
Typically students are enrolled in private universities, but there are also students who are enrolled in government universities. There is one accredited Bible school for those who intend to be trained in ministry.
Location of Universities
Students attend the university that is located in the main city of their province, along with all other Leadership Development Program students who live in that same province.
Working Students
Students do not work while they attend university.
Service Opportunities
Students assist in weekly learning activities at the child development centers, serving as tutors and activity coordinators.
Leadership Development Program Meetings
Every year Leadership Development Program students go through two major training events, the Work Camp and the Leadership Ambassadors' Training. Once every month, students meet in their clusters for care group meetings and fellowship.
Specialty Curriculum Topics or Resources
We specifically cover Filipino family dynamics to address the issues confronting our students in regarding with family members. We also discuss issues related to the broken family and living with extended families as this is very common in the Philippines.
Mentors
The Country Office coordinates with the alumni association and the Implementing Church Partners in order to assist our students in finding a mentor.
Leadership Development Program Alumni Group
The Leadership Development Program Alumni Association is establishing cluster groups to increase awareness and support for the program. There is one Leadership Development Program alumni group that has sponsored a child in the Child Sponsorship Program, and they are promoting the initiative to other graduates.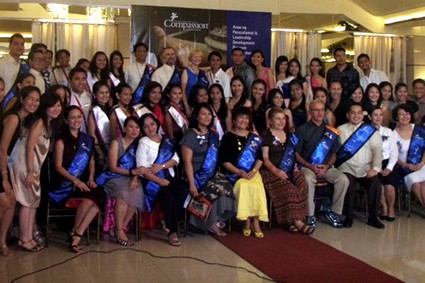 Complementary Interventions
Our core Child Sponsorship Program, while comprehensive, does not address all obstacles to a child's healthy development.
The Complementary Interventions program was created to work with our holistic child development model to provide additional services, such as our AIDS Initiative, funds for Bibles for All Children, disaster relief and water projects.
Complementary Interventions in the Philippines include post-partum psychological counseling for Child Survival Program beneficiaries, malaria-related services, food distribution, vaccines, vitamins, water sources, income-generating activities and medical reimbursements and disaster/emergency situations, the most common of which are fire and typhoons.
Highly Vulnerable Children
In the Philippines, the Highly Vulnerable Children program mostly involves children in need of special protection because of physical or sexual abuse. We also have a few cases of commercially exploited children.
Our strategies include child abuse awareness trainings and child protection workshops for the Implementing Church Partners.
We are able to give immediate help to Highly Vulnerable Children through our resident social worker and through our partnership with local government units, such as the Department of Social Welfare and Development and nongovernmental organizations such as the International Justice Mission.
---
Take a tour of our office in the Philippines through the eyes of sponsored child, Alvin. This informative and fun video was created by our field staff in the Philippines.