Dinah Meyer has been working for Compassion 18 years — which by the looks of her means she started at age 11.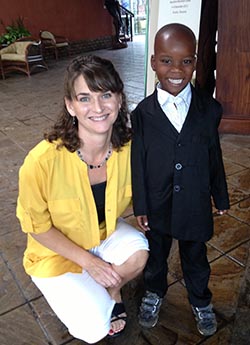 (Dinah likes to joke that she started at Compassion before child labor laws were in place.) Dinah has been around for much of Compassion's history, and working in the Executive office, she has a unique perspective we want to share with you.
When did you start at Compassion and what was your role?
I was first hired in 1989, but I left for five years due to a job transfer for my husband. So in total, I've worked for the ministry 18 years.
My first job with Compassion was in the Child Correspondence Department, but I spent the majority of my early years in the Call Center, where I learned a lot about how the ministry facilitates relationships between the children and their sponsors.
I would often write to our staff in other countries to gather more information about different things that the children shared in their letters.
It was eye opening to learn about the unique needs of so many children and their families. That position also taught me how amazing our sponsors are.
We're so blessed to have dedicated sponsors who faithfully, and often sacrificially, invest in the lives of their sponsored children.
What other roles have you had at Compassion?
I began working in the President's Office in 1995, just two years after Wess Stafford was appointed president. I have served the office in various roles over the years — administrative assistant, office coordinator, and now as the executive communication specialist.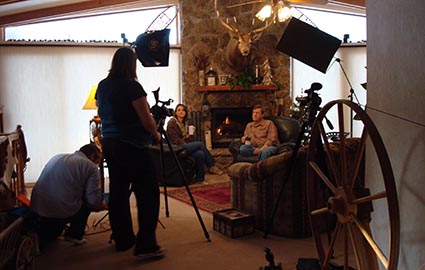 In my current role, I help Wess and Executive Vice President David Dahlin communicate key messages to ministry staff around the world.
I also document the ministry's core philosophies, corporate policies, and other foundational ethos that we want to preserve as the organization continues to grow and expand. The ministry has experienced tremendous growth in recent years, and we're immensely grateful for all that growth. But during times of great change, we have to work to preserve the heart of what we do and who we are.
For instance, our Christ-centered, child-focused, church-based approach to child development is unique within our industry and we're dedicated to preserving the distinctives of our ministry.
What affect has being at Compassion so long had on you?
I feel like I've had the privilege of growing up at Compassion. (Or at least I can say I'm growing old here.) I wasn't raised in a Christian home, but the "Compassion family" has been a huge part of my life from a pretty young age. I have the privilege of spending my days with truly amazing people who are dear friends and great mentors.
What has it been like to work with Wess for so long?
Well don't tell him this, but it's really been great. 😉 One of the many fantastic things about Wess is his consistency. If you see him speak to an audience of thousands, you'll see the same man that you'd find at his house for a barbeque. What you see is what you get. He's a very humble, godly man.
It has been a real privilege to sit under his leadership and to be his friend all these years.
What is something you've learned in your position that sponsors might not know?
I've had opportunities to see the hearts of the ministry's leaders in ways that few have. We truly have a world-class Global Leadership Team. Our executives are incredibly knowledgeable, dedicated, servant leaders.
But what I admire about them the most is their obedience in following God's leading. They've each answered God's call to use their gifts and abilities for His kingdom, and they sincerely strive to uphold Compassion's Leadership Principles.
What has moved you the most in your experiences at Compassion?
I've had a lot of great experiences at the ministry, but at the end of the day I'm still moved the most by Compassion's mission to release children from poverty in Jesus' name. Just like our sponsors, ministry employees are raving child advocates!
I hope I never stop being amazed by the life-changing power of simply offering love and encouragement to a child in need. It takes so little effort, and really a relatively small amount of money, to demonstrate God's love in such a relevant way.
After all these years and all the wonderful personal, professional and spiritual growth I've experienced as an employee, my favorite things about Compassion are still the children my husband and I sponsor — Fabio, Mark Dave, Frank, and baby Deep!