What is it about the Olympic Games that suddenly turn us into Couch Coaches and Sofa Judges? We may never have seen gymnastics, pole vaulting, or aerial skiing live, let alone attempted the sport ourselves, yet if you listen to our commentary you'd think we were the world experts on the subject.
"That pole was angled 10 degrees too high."

"She really should have received an extra 0.7 for that last backward somersault."
I've noticed that we also slip into this mode with Idol, The X Factor, So You Think You Can Dance, and Next Top Model shows – suddenly we are the authority. I don't know why we fall into this trap, but maybe it's because we want to justify all that time we spend on our couches, sofas and lounges.
I was blessed to sit under the ministry of Pastor Jack Haynes for a few years. This man of God is a huge advocate for missions, and he taught us that as a Christian, you go or you send the gospel to the world. Through the ministry of Compassion I have discovered I can be a Missionary on the Couch.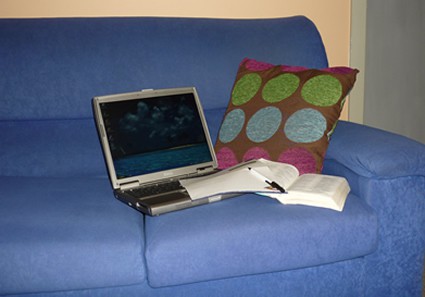 While sitting on my blue couch I can make a donation to a children's ministry in Burkina Faso. Leaning on my green, blue and purple dotted cushion I can pray for children, families and church workers in Thailand. Add a maroon stable-table to my lap and I can write words of love and encouragement to two awesome young men in El Salvador.
There in one place, I can "send" through financially supporting the work of Compassion, and I can "go" through letters and prayers.
Each time we write to our sponsored children we have the awesome privilege and opportunity to share God's Word with them. We have the chance to do the work of a missionary – take the gospel to another place and culture. The chance is there to share Jesus, or to talk about the weather and our latest expensive holiday once again, the choice is ours.
So go on, take time today to be a Missionary on the Couch. It's comfortable and it's fun.