My name is Peninah Esianoi Pashile. I was a sponsored child at Imaroro Child Develoment Center in Kenya. I would like to share my story with you and hope that it will be an inspiration and encouragement to all who are dedicating their time and resources to releasing children from poverty in Jesus' name.
Your work is not in vain; your acts of compassion are changing the world day by day.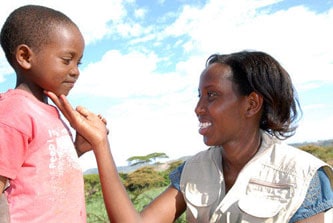 I was born in 1982, the fifth of seven children in the household. I was born and brought up in a remote village of Empuyiankat in Kajiado district, Rift Valley province in Kenya.
My father is a polygamist, married to three wives with 24 children. My father and his wives have no formal education.
As a girl in the highly patriarchal Maasai community, my chances of attaining an education were dim. Girls in my community are raised to be submissive and dependent upon men all their lives.
Female genital mutilation (FGM) and forced marriages of 13-year-old girls to men decades older than them characterize the lives of 99 percent of Maasai girls. A gender-oppressive culture, few and understaffed education facilities, and long treks from home to school and back across the vast savanna plains full of wild animals are some of the challenges girls in my community endure to access education.
I started school at the age of 6 at Imaroro Primary School. My enrollment to school and the Compassion program was the defining event of my life.
The only reason I was chosen was because my mother had five girls and two boys, and at the time of our registration, my elder brother was too old and the other was too young to enroll. This left my parents with no choice but to take me to fill the one slot given to my mother's household.
Compassion introduced me to Christianity, and enforced compulsory Saturday and Sunday Bible classes. The Maasai tribe is known worldwide for maintaining their culture and traditional way of life as well as resisting modern and western life, including Christianity.
I wonder what would have become of me if I was not enrolled in Compassion and now leading a Christian life? But I find clear answers in the lives of my former playmates in the village.
Like them, I would have spent my weekends not attending Bible classes but singing and dancing to morans (Maasai warriors) at the village as required by culture. I would have spent my evenings not doing homework or preparing for the next day at school, but making beaded jewelry for self-decoration.
Other than Bible education and other support offered by Compassion, correspondence with my sponsors was the major source of inspiration to me. Their love and commitment inspired me to excel in education and to pursue a career in social work.
I prayed to God to one day meet my sponsors in person. Now that I am in the United States, I will be meeting them in the near future, God willing.
At the age of 13, immediately after primary school, I almost lost the chance of furthering my education. The Maasai culture demands that girls at that age be circumcised and married off to much older men.
So many of my sisters went through this horrifying experience, and I was not going to be an exception. Having done well in my primary-level national examination, and with a strong passion for education, I talked to my mother and a Compassion social worker.
I told them I did not wish to go through FGM and that I wanted to continue with school rather than get married. The Compassion social worker sent help from a women's group fighting against FGM and early child marriages in the district, who talked to my father and got me admission to Moi Girls Isinya, a boarding high school offering refuge to many Maasai girls.
Compassion International and the women's group financed my education at this school. This move opened the doors to my future.
I enrolled in university in 2001 to pursue a bachelor's degree in social work. My dream is to bring about lasting change and advocate for the voiceless girls and women in my own Maasai community.
Today I live in the USA in the state of Maryland and am in the process of applying to graduate school to pursue a master's degree in public health.
Those of us who owe our success to the good deeds of Compassion always say a prayer asking God to bless the hearts of all those behind this ministry. There are challenges and times when expected results are not forthcoming, especially in terms of unmet numbers and statistics. However, lives are being changed.