Storytelling is a powerful tool. From the ancient Greeks to contemporary writers, we have all used stories — especially the compilation of stories we find in the Bible. Jesus Himself used stories to teach the truth about the kingdom of God to people while He was on earth.
The power of storytelling was recently exercised in the minds of 221 children in Compassion through the "Tell a Story" contest. The story of Sara Rivas (both her written story and the story she lived) is a small sample of the great treasures hidden in the children who receive support through Compassion in El Salvador.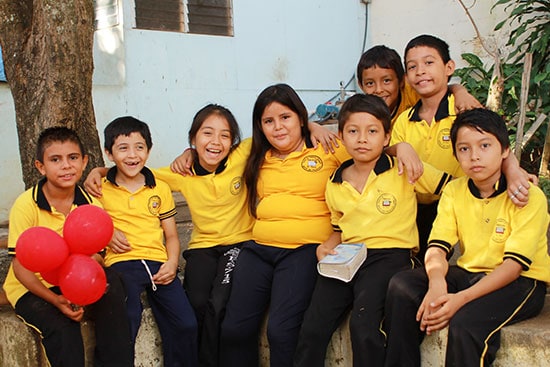 Sara Rivas is a smiley 9-year-old who enjoys having fun at the church where she attends a child development center run in partnership with Compassion. Like a typical 9-year-old, Sara likes playing hide-and-seek with her friends and enjoys the Bible class at church. But there is one more thing that she discovered she enjoys: writing.

The Contest
Sara was the winner of the "Tell a Story" contest held by Compassion El Salvador. She has always shown an interest in arts. It shows clearly through her participation in the writing contest and recent graduation from the music workshop. When the staff at the child development center announced that there was a contest, Sara did not hesitate to participate and immediately began thinking about what story she wanted to tell – wanting it to be fun but also to teach a lesson.
The contest was developed through the coordination of the Training Manager, Dr. Xinia Castro, and the Program Implementation Manager, Pedro Coto. Over 200 stories were submitted and judged by nationally renowned writers Mario Rodriguez, Rebecca Henriquez and David Pineda.
The Prize
As the winner in the youngest of the three age groups, Sara received an award and a supermarket gift card for $300.
"This is truly a great blessing, because they really needed the support," says Teresa Martinez, the director of Sara's center. Sara's father, Juan, provides the main support for Sara, her older sister, Abigail and her mother, Maria. He works doing anything he can from selling vegetables in a wooden cart on the streets to making bed covers, or sometimes as a bricklayer. Maria helps bring in a little income from working in the kitchen of the child development center.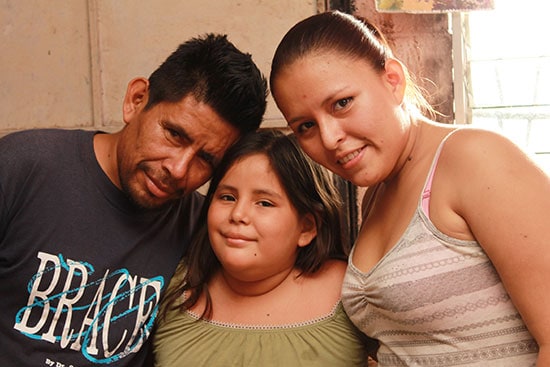 After winning the contest, Sara was able to share in front of her congregation at church. "It is a blessing for my family," she says with a smile. "I am happy because we will go to the supermarket and be able to buy anything we want."
The Story
Inspiration for her story arrived in the form of her cousins and friends at her child development center. Sara wrote them into her story as anthropomorphic animals on a farm.
The story is about a possum named Tacua and how he was deceiving Pepe the rooster (who was looking after the rest of the hens) to come out of the coop so Tacua could eat him. But Pepe was too clever for him and did not fall for Tacua's tricks. At the end, Sara explains how children must be clever to identify the dangers of any "Tacua" that wants to give them bad advice or harm them.
This advice makes a lot of sense considering the environment in which Sara lives. Apopa is one of the most well-known urban areas in San Salvador city where gangs have vast domains. Young children like Sara are the main targets for the gangs. They will use these children as informants or for collecting extortion money from small businesses.
The children will receive payment for their tasks, which is often a needed income, but involvement also makes them a target for the police or a rival gang.
Sharing a life lesson through her story, Sara has now discovered the beauty of writing and, at just 9 years of age, she has also discovered that writing could even provide for her family if she puts her effort and excellence into it.
Here is a copy of the translation of Sara's winning story:
"La Nueva Ley del Compadre Tacua"
(Buddy Tacua´s New Law)

Once upon a time, there were three little brothers who had as pets two hens and a rooster called Pepe. Pepe killed and ate any animal that dared to get into the chicken coop.

One day, Pepe ate a "Cherenqueque" (small lizard). He looked funny as he swallowed it, and it seemed as if he was laughing as he stretched out his neck. He had an expression of victory and glee.

Grandma told the children: "From now on you will see Pepe very happy and smiling, because the effect of the poison of the Cherenqueque is that it provokes any person or animal to die with laughter."

The brothers got very sad and thought Pepe would die due to lots of laughs, but to their surprise, Pepe became very clever, in addition to beaming, being happy and singing.

One day, something happened that left the three brothers and the grandma open-mouthed. A big opossum with a big snout and tail appeared on a guava tree, which was next to the chicken coop; the three brothers ran and grabbed a broomstick. The youngest one took a knife to protect their hens.

But they were stunned as they listened to Tacua (the opossum´s name) saying to Pepe:
_Tacua: Pepe, have you heard of the new law for animals?
_Pepe: No, what is it about?
_Tacua: The new law says that all animals should live in harmony and not hurt one another, so you can get out without any fear, as I will not be able to hurt you anymore. I must obey the new law.
_Pepe: Are you sure about what you are saying and that I am not in danger? (Because Tacua had gone down the guava tree and come closer to Pepe)
_Tacua: Of course! I am pretty sure, as in a hundred percent. I was just reading the law carefully, word by word. Come out. Do not be afraid and never fear.
_Pepe: Well, if what you are saying is true, then you should not be afraid of "Yogi" and "Oso" as they approach to say hi. (Yogi and Oso were two mad dogs).

Tacua ran away – "legs run as fast as you can" – while Pepe shouted, "Explain the new law again, buddy Tacua."

Message: "Buddy Tacua wanted to deceive Pepe to come out the chicken coop and make it easier for him to devour Pepe. However, Pepe was not deceived, as he was very, very clever. All children should be very clever as Pepe was and not let ourselves be tricked by any Tacua that wants to cause us any harm."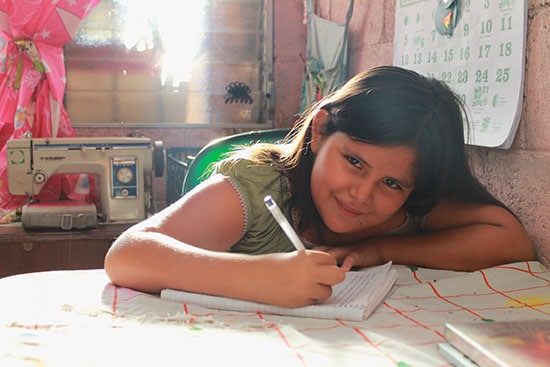 Sara will continue to tell stories. "We already talked to her and asked her to write some more stories to tell the children at the child development center and at church," says sister Teresa. "This is to motivate Sara to keep developing her talent." Because she now knows that through her stories, she can impact her community, her classmates, and fulfill the plan that God has for her — all while doing something she enjoys.