Joyce is a single mother of seven in Tanzania. She describes life before our ministry,
"To have full day's meals to us would be a miracle worth celebration."
Two of her children, Raheli and Esther have sponsors.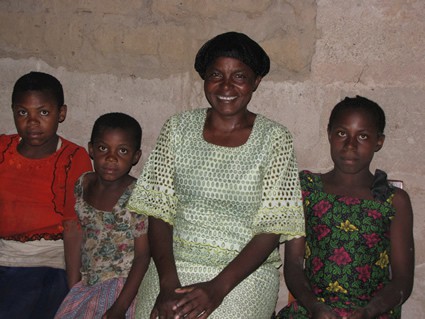 "Before being registered with Compassion, my life was difficult. We used to live in a mud house with weak roofing, and the house would leak when it rained … Because of our low economical status, we would afford only one meal a day.

After being registered, we started receiving different support and gifts from the sponsor. At the first time, we received a gift from my child's sponsor and we bought food and two piglets."
Joyce's husband left her when their youngest child was 3 years old. He came back six years later, but that was three months ago, and he has left again.
"I had gone out one day to run business, and when I returned home in the evening he was gone. At first I thought that he was gone after a drinking spree, but he never came back that night."
During the dry season, Joyce makes money selling salt harvested from the Kindai Lake, located near her town of Singida. At other times, she prepares and fries fish, which she sells to local residents.
Joyce and her children used support from their sponsors to buy roofing materials. The family gained great confidence, and they began to dream of owning a better house – something they had never even thought about in the past.
"I decided I should start making cement bricks since I had enough roofing sheets."
Joyce had some pigs and decided to buy more piglets.
"The pigs we had bought from support gifts received from sponsors grew so we could sell them and buy more bricks and building materials to build our house."
Eventually Joyce built a two-bedroom block house. Although it has no electricity, she is deeply thankful for what she has.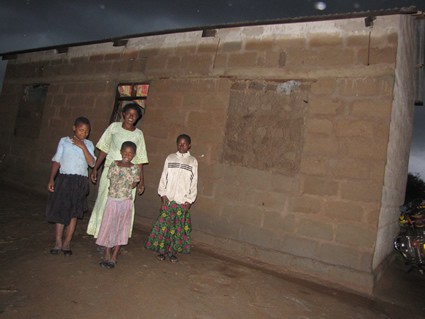 "At the moment, we have about 25 pigs we are raising. We have also been able to buy beds and mattresses — something I did not own and I could not have thought of. All of this was made possible because of the support we have received from Compassion."
Before Joyce and her children became involved with our ministry, she was not a regular churchgoer. Problems in her life made attendance difficult.
"There was a time when I had decided that I would not go to church to celebrate Christmas because I had no clothes.

While I was pondering this in my heart, a sponsor sent money with the instruction that the child development center should buy clothes for me. I was able to celebrate Christmas wearing new clothes! This affirmed to me that this organization is being used by God."
Joyce is now a devout member of her church. She and her children attend Kibaoni Church, where she serves the Lord as a singer. But Joyce remembers a time when no one would respect her because of her status.
"People used to ridicule me and said to me, 'You can't build a block house. It is very expensive. It is better you sell the bricks you have made and build a mud house.'

When I heard this, I went to God and prayed, 'My God, if the street women are able to build, why can't I do the same? You are great, God, to me.'

God heard my prayer and I have tested and seen that the Lord is good!"
---
The blogger team is heading home but it's not too late to sponsor a child in Tanzania.