The eyes of hundreds of thousands of people are glued to the field. A commentator narrates the last seconds of the game: "… and there comes Landaverde with a pass from Valdez … Landaverde surpasses the defense quite easily; he aims at the goal … shoots … AND SCORES!!!" El Salvador wins. The people in the stadium shout and celebrate; the national team has won the World Cup.
For now this scene is just a dream, since Walter Landaverde is just 13 years old. But it is a dream that we at Compassion El Salvador hold onto tightly.
In El Salvador, our children are being saved from a country where the crime rate is out of control, where every day 12 or 13 people are murdered, where — according to numbers cited in the LA Times — El Salvador has about 15,000 gang members perpetuating violence, vice and broken families.
Walter lives in the Iberia community, which is one of the most feared places in San Salvador. It is divided into sectors A, B and C, but unofficially divided in two zones, the one for the MS-13 Gang, and the one for the 18th Street Gang. The community has become one of the headquarters for the gangs in the metropolitan area of San Salvador.
"Walter is a boy of few words," says Sister Glenda, sponsorship coordinator at the Growing Up in Jesus Student Center. "We never know whether he will show up with a good mood or not. I think that his behavior is like that because of his family. Sometimes when we are on our way to his soccer school he cries, because his mother does not believe in him … but I tell him that I believe in him, and that is why Compassion supports him."
Walter lives with six people: his mom, three brothers, an uncle and his grandmother. The only one sustaining the home is his mother, who is a seamstress. Walter's father abandoned the family, and even though he and Walter have contact from time to time, the father does not provide for the family at all.
Walter's family receives help from his participation in our sponsorship program. He is one of more than 35,000 children in the country that are receiving material and spiritual nourishment, and educational, social and emotional support through the love and lessons that our local churches share with them each day. But he is a sober young man.
To run the day-to-day operations at our child development centers and to meet the basic four components of our sponsorship program, your monthly sponsorship funds are used to help your children. To implement additional benefits, such as entrepreneurship workshops or to rebuild after a disaster, the Complementary Interventions program is the tool we use.
Complementary Interventions are additional funds that are obtained through specific proposals written by our country office with input from our church partners. The soccer school that Walter attends was funded by a Complementary Interventions proposal and it benefits 100 children.
The children attend the school Monday, Wednesday, and Friday from 2 to 4 p.m. The desired outcome is to help develop their kinesthetic intelligence, just as other initiatives at the center work to develop the children through music, art and other skills.
After a few months of attending the soccer school, Walter was chosen to go to the national federation and compete to become part of the U-13 national team. This is a team that represents El Salvador in the Olympic Games, in the age category of 13 and under.
Walter was not only accepted, but he was promoted to the U-15 division; he will train with older teenagers. He will get focused attention to further develop his skills and represent his country.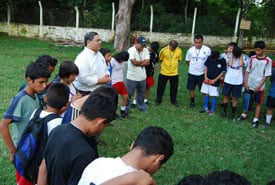 The difference with this soccer school is that at the beginning of every practice the Word of God is shared. God is part of the exercises and strategy that are taught. The children read the Bible, pray, and share before and after every session. This has moved Walter to become more involved at church and in the worship team.
Through this program, God is repeating to Walter what He says in His Word: "Though my father and mother forsake me, the LORD will receive me" (Psalm 27:10, NIV).
"If I was not part of this program, I would be sad, feeling like I am worth less than other people," says Walter.
This soccer opportunity has been given by God to His loved Walter to tell Walter that he is very precious and capable of amazing things through Him, no matter what his family or other people say or think. We are sure that he will not become another gang member.