It was not until I was 20 years old and living in Ecuador that I fully grasped the realities of extreme poverty.
Growing up, I knew there were people who didn't have enough. I heard the tragic stories. I saw the sad pictures. But it didn't mean much because it felt far away. It took 20 years for me to realize my passion for fighting poverty.
I often wish I knew more when I was younger. I wish I grasped that even though I was young, I could still make a difference.
It doesn't take living in a country with extreme economic disparity like I did for children to begin learning about poverty. Here are five easy ways you can encourage your kids, no matter their age, to become poverty fighters!
1. Let Your Kids Dream Big
Encourage your kids to take initiative and be difference makers.
If kids have an idea about a way to serve others, encourage them! Push them to dream even bigger!
Take Ian and Tava for example. This brother-sister duo decided they wanted to raise money for clean water. So, they sold bottles of water at their neighborhood garage sale and made $97!
There are so many things kids can do. A lemonade stand. A toy drive. A bake sale. If your kids dream big, they'll have a big impact!
Read more about Ian and Tava's story in the Explorer Magazine!
2.Read Good Books
Get your kids to read AND teach them about poverty? Two birds, one stone.
Here are a few suggestions of great books to help teach your children about some of the realities of poverty:
A Day in A Life by Laurie Lee
A Country Far Away by Nigel Gray

Compassion's Explorer Magazine
3. Identify With People in Poverty
When I was growing up, my pastor challenged us to spend a week identifying with people in need. For five days, we ate only beans, rice and oatmeal. We were allowed one cup of food per meal. We drank only water.
I took this challenge as a middle schooler. Although my experience was nothing like a child's in poverty, I got a small glimpse of what hunger feels like. It rocked my world, even as a kid.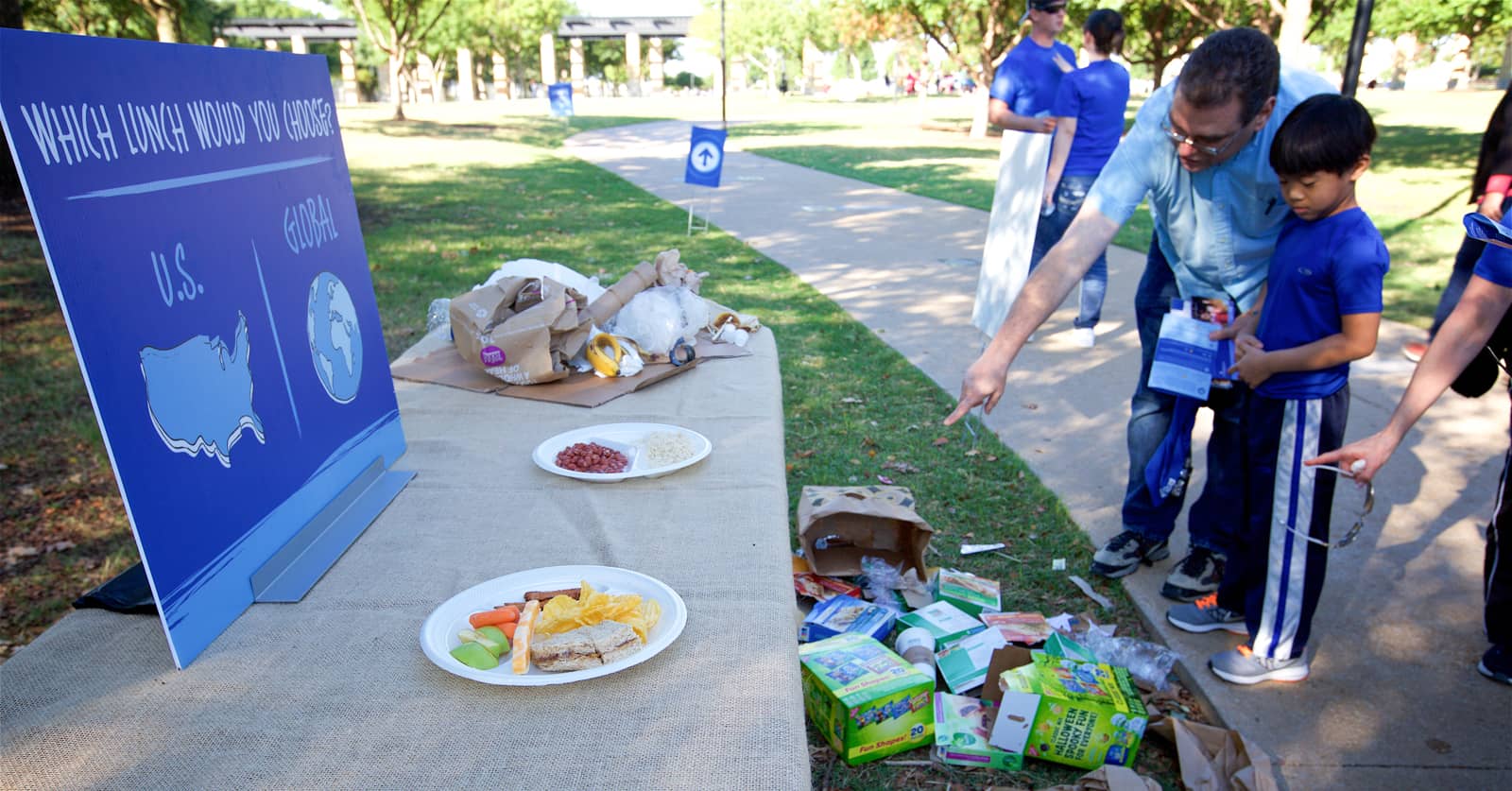 This is a challenge you can do with your kids, too. Limit your food intake for a week. Go a day without shoes. Sleep outside for a few nights. Turn off your electricity for the weekend. Allow your children to form experience-based empathy for people who don't have access to the same resources as you.
4. Start Saving
Savings accounts and college funds are vital. But have you ever thought of starting a mission trip fund?
Here's how it works: Each month, put $20 into a "mission trip fund" for each of your kids. That's $240 a year! By the time they are old enough for a mission trip, your family will have saved enough money for your children to go and experience serving in a community different than their own.
Or consider using this fund for a trip to meet the child or teen your family sponsors.
There is nothing like learning about the developing world through travel. It will change your child's perspective and increase his or her empathy, and you will have planned to make that happen!
5. Throw a Party
Yes, you read that right. Throw a party!
That's what Matt and Christa Boss do to help their children understand the importance of serving those in poverty.
Each year, the Boss family throws a Christmas party focused on promoting the value of releasing children from poverty. They invite churches, youth groups, friends and family to swing by and consider purchasing a gift for children and families in extreme poverty out of the Compassion Gift Catalog.
Guests walk around the Boss home with an order form in one hand and a hot chocolate in the other. They hear stories of the children Compassion serves, catch up with their friends, and are provided an opportunity to give a gift to a child in poverty.
With one simple Christmas tradition, Matt and Christa Boss successfully provided their children important perspective while simultaneously changing the story for children in poverty. They are raising children who ask big questions and who have compassionate hearts. But they are also ensuring that children across the world are protected, known and loved.
So, open your house up. Create a safe space for learning, sharing and opening of eyes. Your kids will notice.
Host a Share the Gift Party! ›
How do you teach your children about poverty? What are things that your family does together to increase empathy and compassion? Share in the comments below!