Recently I was able to go to El Salvador to witness the ministry's work firsthand and to meet my sponsored child Mayra, her sister, Marina, and their mom, Veronica.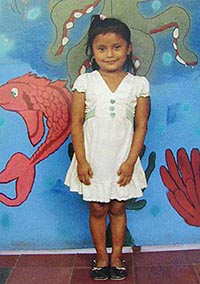 Our story began in July 2009 when I volunteered at my church's Compassion Sunday event. I fell in love with Mayra's smile. And when I discovered she shared my grandmother's birthday, I knew I should sponsor her.
Since that day, I had been praying about the moment I would meet Mayra and her family.
One month before going to El Salvador, I received a letter from Mayra in which she shared,
"I would like to meet you which would be my biggest dream come true."
God's timing couldn't have been better!
Now fast forward to the night before our big day. I wanted to make the most of our time together, so I wrote out pages and pages of questions and prayed God would bless our time and further knit our hearts together.
Some questions were easy and there were smiles and giggles. Others were more difficult and tears surfaced.
Mayra and Marina's mom, Veronica, is the sole financial provider for their family. Their father left six years ago to live with another family. He is still in the area and stops by about once a week for less than an hour.
I could see the pain in Veronica's face as tears fell. She has experienced this abandonment twice – first with her father and again with her husband. Veronica humbly shared about her work and how she supports her family, including her mother.
But despite the hurt and past experiences, Veronica has hope that her daughters' futures will be different. Our ministry is fueling that hope through the local church and child development center where Mayra and Marina are registered.
Each child registered with our ministry has a file that shows their physical, social, economic and spiritual growth and development.
Both girls were malnourished when they entered the program. They are now healthy. Mayra dreams of being a secretary, and Marina is learning cosmetology.
Veronica is so thankful for the benefits her children are receiving, specifically how her daughters are learning from the Bible and their whole family is learning more about the love of God. She also appreciates the additional educational opportunities that are available for the girls.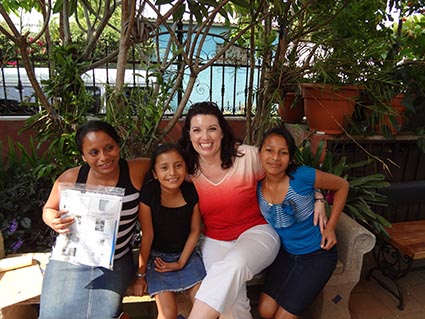 During our time together, I asked how I could be a better sponsor. They quickly responded,
"Write about everything! We want to know more about your personal life, family, and how we can pray for you."
My hope is that I will be able to bless this family as much as they continue to bless me.
---
ABOUT THE AUTHOR: Suzi Martin works as a mid-level donor relations specialist at the Global Ministry Center in Colorado Springs, Colo.