I hit a point several weeks ago where I didn't think I could handle seeing one more thing or reading one more article about Haiti. I needed some distance and recuperating time, which is a good thing. But despite the time of stress and trauma, there is one thing we must keep doing:
"And pray in the Spirit on all occasions with all kinds of prayers and requests. With this in mind, be alert and always keep on praying for all the saints." – Ephesians 6:18, (NIV)
Imagine this.
You're at work and you run into a coworker. You ask them how they're doing. Their aunt has just passed away, and they're having a hard time dealing with it.
Then you're sitting in a meeting at work. You look around and realize that every single person in the room has had a loved one die in the past month. One a cousin. One a pastor. One a father.
Now imagine that you haven't slept in your own bed for one month. 30 full days.
You're not sure your home is safe, so you, your spouse and your kids are sleeping in a tent outside. At night you hear the dogs bark and cars roaring up steep hills. You don't remember the last time you got a full night's sleep. You duck inside your home in the mornings to shower, but other than that, you stay clear away from those uncertain walls.
Now imagine you have also just had your brother and and a good friend both pass away on the same day.
You haven't had the time or space to grieve. You go to work each day and the day is jam-packed. There are so very many things that need to be done.
You and your coworkers try to keep up each others' spirits. You play hangman at lunch, laughing together to relieve some stress. The busy-ness and the laughter help you get through each day.
I'm not trying to be dramatic or to emotionally manipulate you. I'm just trying to paint a realistic picture of what our brothers and sisters in Christ in Haiti are going through right now.
Will you continue to pray for our staff, the saints, who are being used but are being put to the test?
It's been beautiful to see how the Body of Christ has been raised up through this tragedy. Christians in the Dominican Republic have been volunteering every day for weeks to help. Christians around the world have been raised up to pray and give. The church in Haiti itself has raised up to be a light in Port-au-Prince.
One month after the earthquake, Christians in Haiti held three days of fasting and prayer, gathering at the Champ de Mars near their destroyed presidential palace to beseech God. They spilled into the streets wearing white and black in remembrance of loved ones.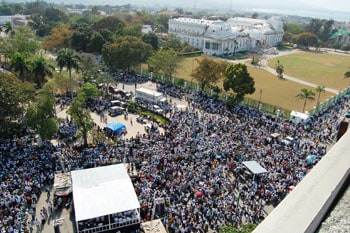 Wess will be visiting Haiti at the beginning of March to speak to our staff and to speak to the church in Haiti, encouraging them to continue being a light, being the ones stepping in to help the hurting.
Though this is a time of grief, it is also at time, a time such as this, for which God has prepared the Church.