For an unsuspecting family in Colombia celebrating a wedding rehearsal dinner, a single word was powerful enough to bring every member to tears: "Sorpresa!"
Wondering what the surprise could be, the family turned to see the last person they could have expected: the Compassion sponsor of the groom, Mateo. For eight months, sponsor Kristen had been regretfully telling Mateo and his family that she wouldn't be able to make a trip to Colombia for his wedding. But what they didn't know was that she was determined to be there — and Compassion staff were helping to make it a surprise.
As she sobbed with happiness, Kristen embraced Mateo, who told her, "I want you to walk me down the aisle." Deeply humbled and incredibly honored, Kristen did just that on his wedding day.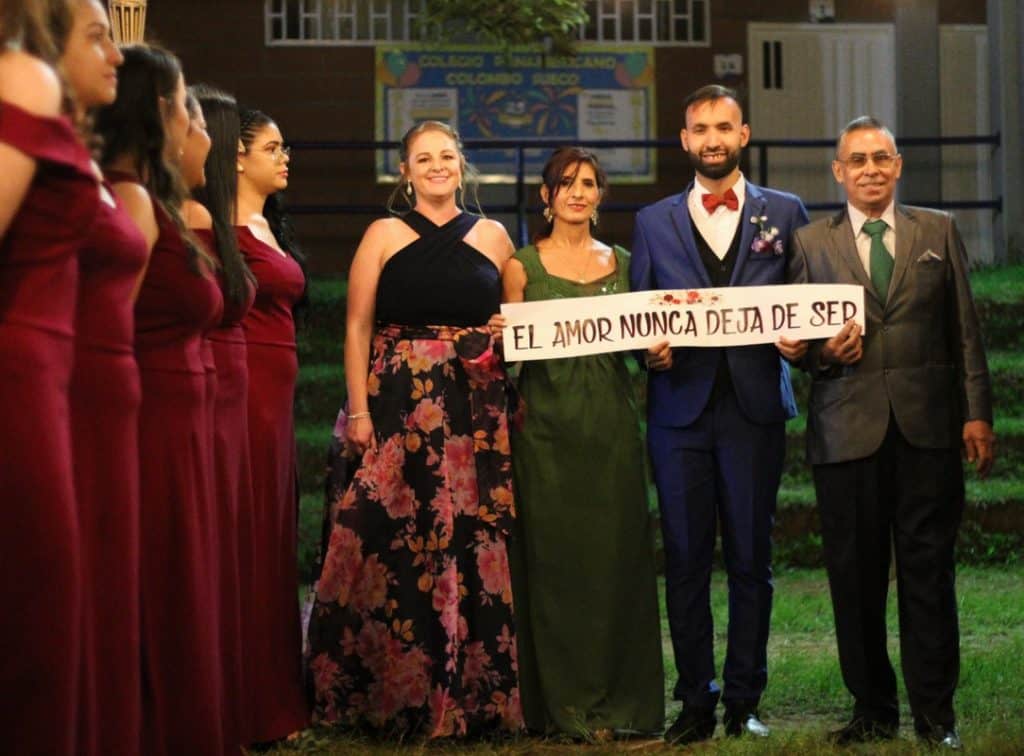 The Day Her Life Changed Forever
Kristen was 16 when she first stumbled across Compassion. She was attending a women's conference, and the organization had a display table set up — something she says she was just drawn to. That day, she decided to dive into sponsorship with a little girl in Ethiopia. It began a relationship that would expose her to what she calls her "life's calling" and lead to sponsoring 51 children around the world at a single time.
"I have no doubt that this is just such a huge part of my identity," Kristen says. "If you ask any one of my friends to describe me or what I'm passionate about, they'll say, 'She's a mom and she's a sponsor.'"
Kristen says she had no idea what awaited her when she sponsored her first child at age 16. When she registered as a sponsor, she thought it was she who would be making the difference in a child's life. But she says her sponsored children blessed her own life as well.
"I've become part of families who have no pictures on the walls except for mine," Kristen says. "It's just, to know that these families are accepting me — choosing to have me as a member of their family — is truly the most humbling experience. I will never be the same because of the love that they've shown me."
The Powerful Influence of Letter Writing
Kristen credits letter writing for the special bonds she shares with her sponsored children. For Mateo specifically, Kristen says it was the letters that mattered. It was the fact that she wanted to know him, encourage him and invite him into her own life. As unimaginable as it may be for some, Mateo has kept every single letter he ever received, even keeping stickers Kristen sent to him when he was 7.
"I do pour my heart out into my letters," Kristen says. "I open myself up to my kids — they know what's going on, good and bad, in my life. In age-appropriate expression, when my dad died, they walked me through that. I know that they were praying for me when my dad was really ill. The letter writing is what's helped me to build these strong relationships."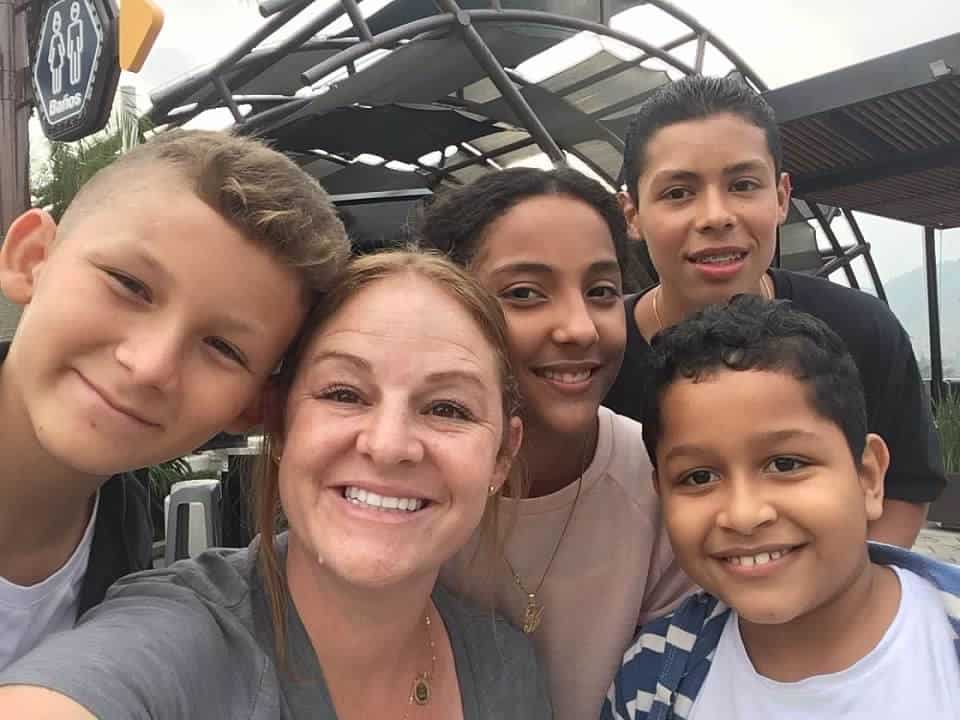 Consistency, as the saying goes, is key. Kristen says it's difficult to establish and grow a relationship without consistent communication. Not every letter she writes is a novel, though. Especially throughout the pandemic, Kristen says many of her letters were more like small notes — a few sentences reminding her sponsored children that she was thinking of them and that she was specifically praying for them.
"You show the love through the letters," Kristen says. "The letters are really, really powerful. Even simple words can have the power to change the lives of these kids."
Seeing a Difference With Her Own Eyes
While not everyone is able to visit the child they sponsor — which is OK! (not to mention impossible right now, as the pandemic has suspended sponsor trips) — Kristen has had the opportunity to visit several of her sponsored children. It's another reason why letter writing is so important.
Specifically, because Kristen already had established a relationship through letter writing with Omar, one of her sponsored children, her arrival to his home country of Colombia was much anticipated.
Kristen remembers when the vehicle she was riding in drove up to Omar's home. "He was so far away — he could see me and he knew it was me. He ran with his arms open to me and had the biggest smile on his face."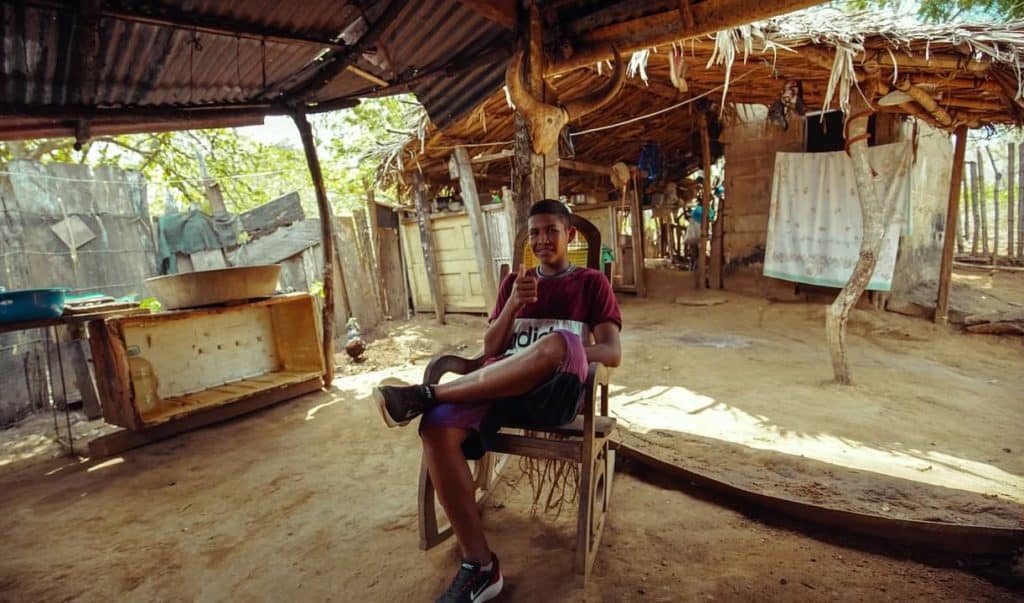 On her visits, Kristen has met the families of her sponsored children as well as the caring workers at frontline churches where the children participate in Compassion's program.
She says she has seen firsthand the change that Compassion is helping to make in the lives of children, something she says leaves her in awe.
In Omar's community there is no running water, so people must go to a lake.
"When I went there for the first time, it was the first time I really fully understood why Compassion exists," Kristen says. "Without Compassion in that community, there would be no hope. It was a really difficult place for me to leave, but it was OK because I knew that Compassion was there, and that they were going to make sure Omar had everything he needed."
Crucial Guidance
Kristen says that in other places, Compassion is a large part of keeping her sponsored children safe. Some families are shocked when she visits them because of how dangerous their communities can be.
"I feel really thankful that they are in a loving environment after school," Kristen says. "It's hopefully helping them to make the good decisions rather than being on the streets with their peers who maybe aren't getting the same kind of guidance."
Kristen describes the children she sponsors in Colombia as respectful, loving and kind. She says she feels strongly that if it had not been for the guidance they receive through Compassion's program, they likely would have succumbed to a very different lifestyle.
By building relationships with children living in poverty — and by equipping local churches to do their lifesaving work — Kristen is truly making an eternal difference. Every Compassion sponsor can say the same, even if they've never walked anyone down the aisle!
---
About the author: Jordan Cone is a Copywriting intern at Compassion with Bachelor of Arts degrees in Multimedia Journalism & Mass Communications and Creative Writing from Augustana College.