See this woman? She's a hero of the faith. Through her, the walls of poverty are crumbling for her family.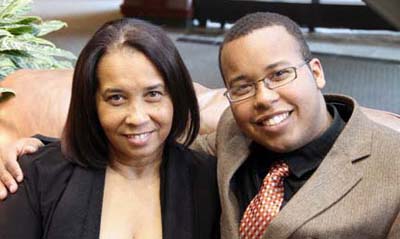 Ana Morales is the mother of our very own Tony Beltran. Tony graduated from the Leadership Development Program* in the Dominican Republic and will be graduating from Moody Bible Institute in May.
Tony is known for his leadership and for speaking with passion. That passion shines through as he looks at his mother and testifies about this amazing woman.
Ana Morales is a portrait of perseverance. Poise and confidence inhabit her words.
Ana grew up in church, where she first learned to trust our heavenly Father. That trust was vital in the midst of poverty. As a child, Ana and her siblings often went without meals.
As a young woman, Ana married. After two years of marriage and with a 6-month-old baby, her husband died. She clung to that same trust that sustained her through her childhood.
"When you are young, and when you experience hard times, you grow up with lessons in courage and perseverance. You realize that you will make it and that God will provide."
Ana Morales is a prayer warrior.
Help Families Affected BY COVID-19
Families in poverty have no safety net in times of crisis. Help provide food, medical care and support during this pandemic.
Tony recollects his mother's early encouragement. She once told him, "While I have knees, you will go to college." This prayer warrior was constantly on her knees, lifting up prayers to Jesus for her young son. She saw early on that Tony was admired for his passion, always willing to work hard and excellent at scripture memory.
Ana Morales is a servant leader.
Tony speaks about his time at Moody Bible Institute. About the people he's met and the lessons he's learned on leadership. Yet one of the many things he realizes: "The best leader I ever met was right in my house. It was my mother."
The mother and son look at each other, recalling difficult times. Ana admits that often there was not enough food to go around for all of her children. So to make sure they could eat what little was available, she pretended she was working in the kitchen and didn't need any food.
Ana knows, though, that it takes a community of believers.
"Compassion is a 'Fountain of Help,'" she says, tears streaming from her eyes. Ana was able to provide the intangible things Tony needed: love, prayer and family. But she was not always able to provide financially.
Around the same time that Ana was praying for her son, the lives of the Sibley family were about to change. They began sponsoring 14-year-old Tony. Their choice allowed Tony to continue with high school and eventually move on to the Leadership Development Program and Moody Bible Institute.
Gary and Cindy Sibley joined us for the wonderful celebration of Tony's graduation.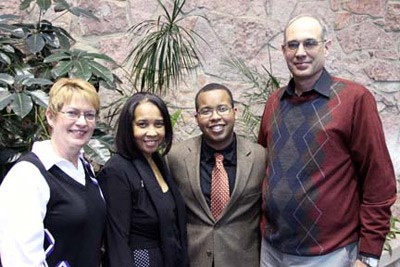 Cindy and Ana grabbed one another's hands and the tears began to flow again.
"We met yesterday for the first time. It was extremely emotional!"
They share the love of the same child. They have been used by God to help raise this child to become quite a man.
When Tony was younger, Ana's biggest hope for him was that he would finish his schooling. Now that he has earned a master's degree she prays he will maintain the path of the Lord and God's plan for his life.
*This content honors our historical Leadership Development Program. To learn more about our current youth development opportunities, click here.