God told the new leader Joshua to be strong and courageous and not to be terrified. We can imagine how Joshua was saved from failing by these words.
It is very common to hear our leaders and staff in this minsitry breathing lively phrases such as, "I'm proud of you," "You couldn't have done anything better than this," or "You can do it!" Not even money can buy this kind of positive influence. I have tested it, and I guess you have, too.
Regardless of what heaven saw in Joshua's leadership potential, Joshua had fear — completely the opposite of his calling. But genuine encouragement pulls out fear.
God and the people encouraged Joshua. "Whatever you have commanded us we will do, and wherever you send us we will go," they told him, "only be strong and courageous!" (Joshua 1:16, 18). The biggest encouragement for anyone is confirmation from God and the people around him.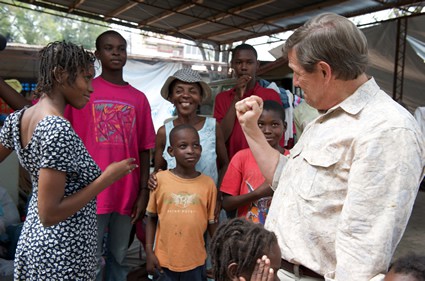 Oneness in spirit is a place of encouragement. Fear, incompetence, and lack of self-worth are pulled out. Instead, faith, vision, and capability shine. It is a place of "yes" to what God has said and "yes" to believing in your fellow brethren. To be a good encourager:
Believe the best of a person and invest toward it.
Don't be stuck with someone's weakness; instead, see what that person can achieve with genuine encouragement from you and others.
Be keen and committed to affirm others on what they have heard from God.
Don't compare yourself with others. It is not at all God's calculation to check who is greater.
Give the whole of yourself, not just lip service only.
"Have I not commanded you? Be strong and courageous. Do not be terrified; do not be discouraged, for the LORD your God will be with you wherever you go." —Joshua 1:9, NIV
Prayer: Dear Lord, you are the perfect encourager. You affirm what you have placed in every person. Help us to see what you have placed in our brothers and sisters. We commit ourselves to be instruments of encouragement wherever you place us. Amen!
---

ABOUT THE AUTHOR: Tsehaywota Taddesse serves as the Country Director for Compassion Ethiopia.
Read all the One in Spirit devotionals.