Near a developing city in south-central Philippines is a peculiar little town called Abkasa. It is cut off from the rest of the main city by a single dusty road that is narrow and very bumpy, a couple of kilometers (about 1.25 miles) through tall sugarcane.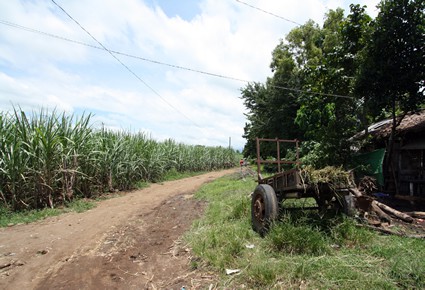 When it rains, it is almost impossible to pass through this road. In Abkasa is a well-known church — Abkasa Baptist Conference Church — which is one of our church partners. Senior Pastor Gil has this to say about their church:
"Because of [our partnership with Compassion], many people have received help, many children and their parents have been changed. The community respects us. They desire to also be included in our programs. The community recognizes what we can do and how we can help."
Abkasa stands for "Ang Bagong Katimimban Settlers Association" (The New Katimimban Settlers Association). Abkasa was established as a community in 1985 and was founded by one of the church leaders of the Abkasa Baptist Conference Church.
The first settlers came from different squatter communities within the main city. They were granted land from across a wide sugarcane plantation.
In that same year, 1985, this Baptist church began to partner with our ministry.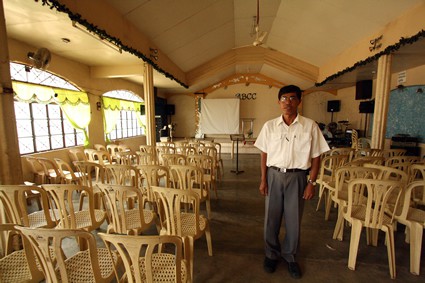 Once a local church in a field county partners with Compassion, a student center or child development center is formed.
The center is where the children of Abkasa participate in the Child Sponsorship Program and where they regularly come for weekly activities including school tutorials, medical checkups, lectures, play, nutritious food and discipleship, and other activities the church partner initiates.
Help Families Affected BY COVID-19
Families in poverty have no safety net in times of crisis. Help provide food, medical care and support during this pandemic.
We now have more than 300 church partners in the Philippines where more than 53,000 children are registered.
In 2006 we took on another partnership in Abkasa for the Child Survival Program. Children enter the Child Survival Program as newborns and participate through the age of three. Then they graduate to the Child Sponsorship Program.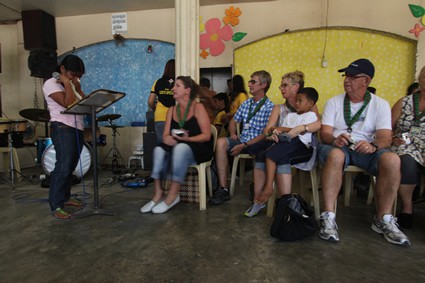 Today the senior pastor and his leaders are thankful for a third ministry program, the Church-to-Church program. In the Church-to-Church program, a church partner from one of our Global Partnership Alliance countries directly works with an implementing church partner in the field.
The Abkasa Baptist Conference Church is now engaged in a Church-to-Church relationship with the Bayside Church in Australia.
A number of members at Bayside Church are sponsoring children in the Abkasa Baptist Conference Church through the God's Special Gift Student Center. There are now more than 200 children registered and sponsored at this student center.
Pastor Gil shares,
"We are thankful for our Church–to-Church partnership. This is just starting, but we have already seen a big impact not only to our church, but to our community. They are able to see how God is moving in this community."
The student center director, Daphne, states,
"We were surprised to learn about Church–to-Church. We were delightfully surprised because we knew that it could help more families in our community."
Through the Church–to-Church partnership with Bayside Church in Australia, this tiny church in Abkasa is now constructing a health and sanitation center, which includes toilets and abundant running water.
"This has always been my dream. That the children can come here from school to wash their feet from walking a long way on the dusty road or to use the toilet. But our toilets were not very sanitary.

Today, we are building a sanitation center, and I am very happy about it. Thanks to the Church–to-Church program and to Bayside Church, one of my dreams as the center director has come true."
Recently, the pastor of Bayside Church and 19 church members came to visit Abkasa; most of them came to see their sponsored children. They were greeted outside the church by little children waving Philippine and Australian flags under the scorching noontime sun.
Inside the church were 40 Child Survival Program mothers, some pregnant and some carrying their infants. It was truly a coming together of partners separated by miles and miles of sea and land.
Bayside Church and Abkasa Baptist Conference Church spent an afternoon singing, praying, and sharing stories and tears. It was a very emotional fellowship.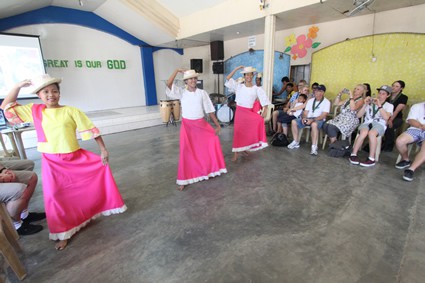 The visiting pastor checked the ongoing construction, but the highlight of the afternoon was when sponsors met sponsored children in their homes. A couple of homes were 30 minutes away on foot through endless rows of sugarcane.
According to Pastor Claro and other church leaders, the community health center, public schools, and local government all recognize the significant impact of the church in the community. Pastor Claro and some other church leaders are regularly invited to speak and lead the prayer in community activities.
Pastor Claro shares,
"We are really thankful because this is a big help, not only to the children and to their parents, but also to the community and the church. Because these children grow in their years at the child development center and because of the interventions that we do for them, many of them have come to know the Lord."
Regarding the Church-to-Church program, Pastor Claro adds,
"In one way or another, we are helping to fulfill the Great Commission that was given to us by God. And we are thankful, because through this partnership we are not only blessed, but we are able to fulfill what the Lord wants us to do as a church. And our partner church (Bayside Church) is able to see how God is moving in this community.

We are happy because through this program that Compassion initiated, we now have a church that is partnering with us, that is praying for us, supporting us, and comforting us.

We now know that we are not alone in the ministry. On behalf of our church, the community, the recipients, the mothers and our members, thank you very much, Compassion."