The devastating earthquake that hit Ecuador on April 16 has resulted in unimaginable damage, thousands of people injured, and hundreds of lives lost.
According to the latest government report, the official number of those injured in the earthquake is 4,605. Thirty-three people are still missing, and the death toll remains at 660. Over 30,000 people remain in shelters. Electricity has been reactivated in many towns, but clean water and electricity continue to be an issue in rural areas.
We serve more than 13,000 children in the affected area. We anticipate that many children have lost their homes. Our staff and church partners are still working tirelessly to assess the full extent of the situation.
Sadly we already know of three children in our program who have died, another child who is seriously injured, and eleven family members of students in our program who have lost their lives. (Update as of: May 10, 2016)
Will you bow your heads in prayer with us right now to lift up these precious children, their families and loved ones? Let's pray that the God of comfort will be with them as they mourn.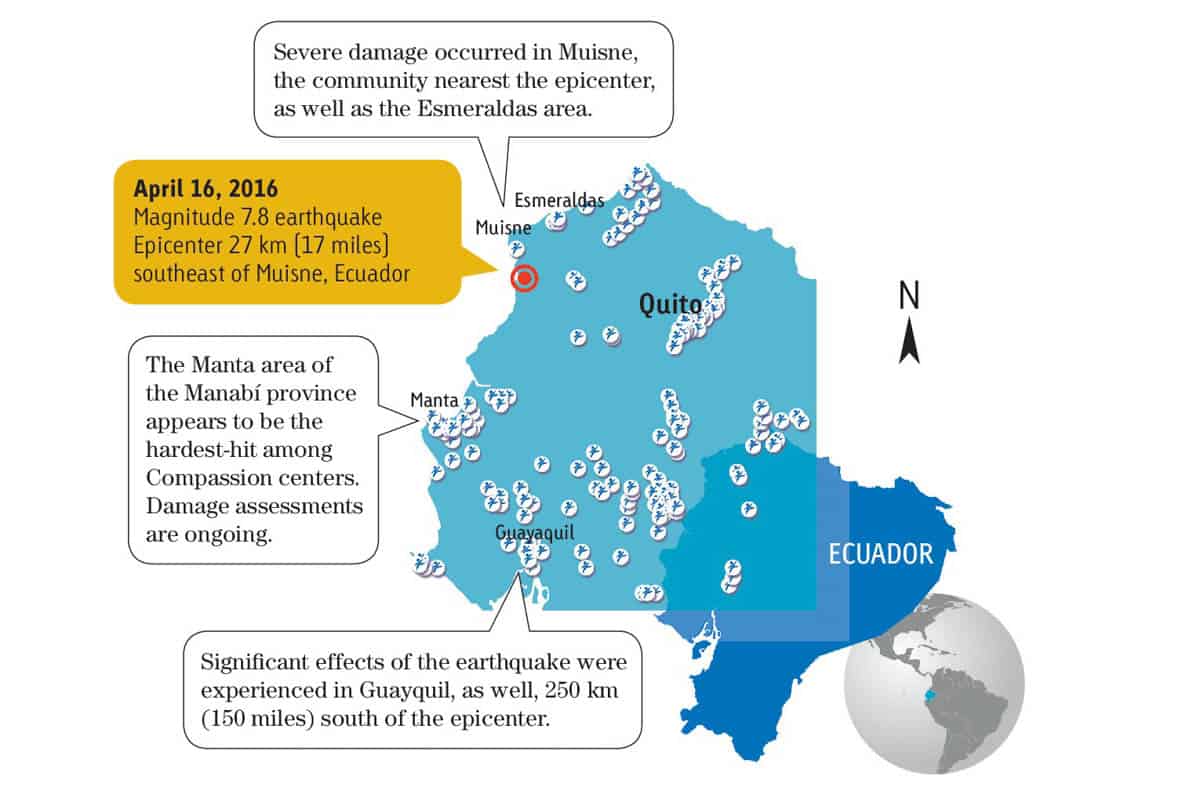 Be assured that if the child you sponsor is affected by the earthquake, we will update you regarding his or her safety and well-being as soon as more information becomes available.
Twenty-two of our church partners have been affected. And much like a parent must put the oxygen mask in an airplane over their mouth first before they assist their child, their leadership must care for their families and immediate needs of the child development center before they can meet the needs of the children and families of their communities.
To assist them, Compassion Ecuador staff and other church partners from around the country have come to their aid. They have been working as a beautiful example of when the Church unites to take care of one another – church helping church. Here are a few highlights of the on-going relief efforts: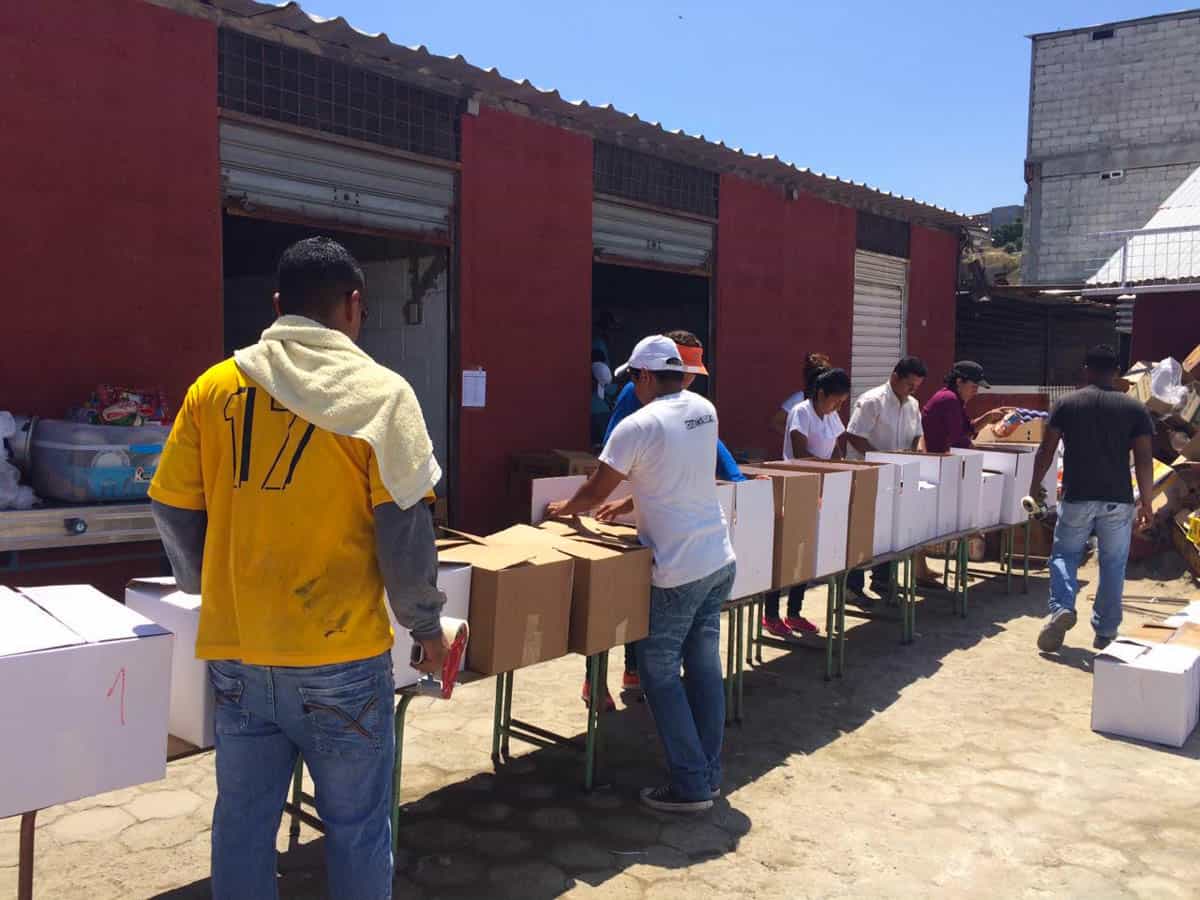 1,820 survival kits have been packaged and delivered to the families of students at 24 of our church partners in Manabí. In addition to these kits, church partners from Chimborazo in the highlands of Ecuador, sent food and water they had collected for students and their families in Manabí.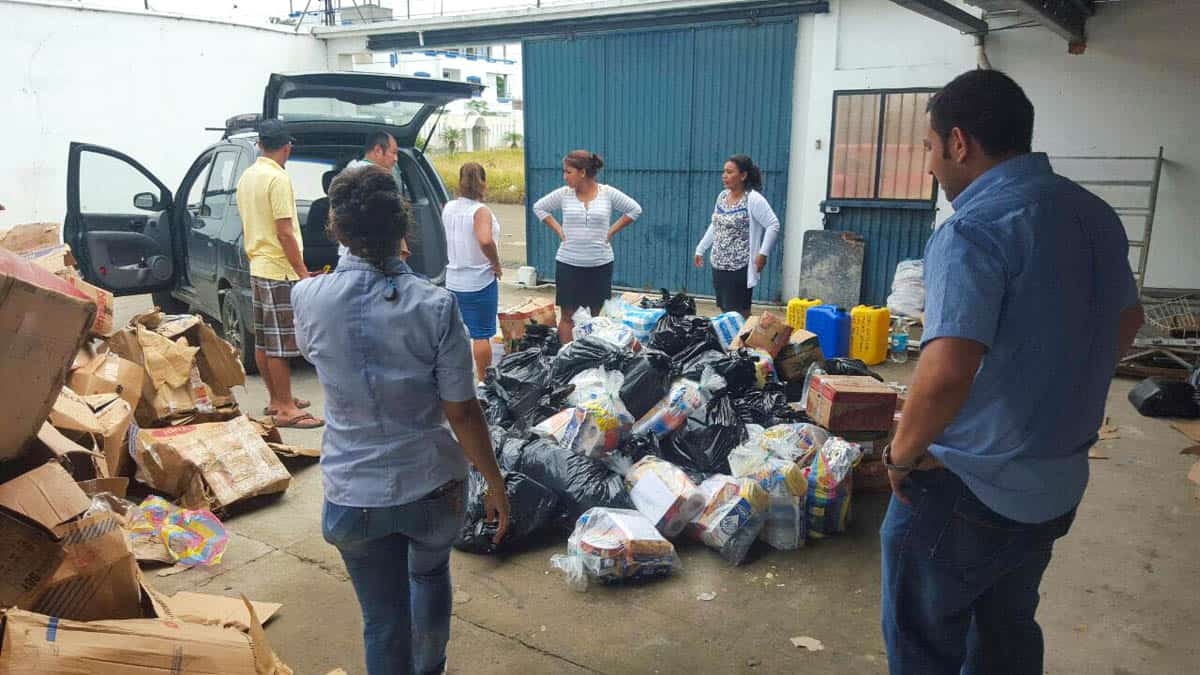 Compassion Ecuador staff continue to support the pastors and staff of our church partners with kits of non-perishable food, hygiene items, and water containers. For the churches in Manabí, they have provided 309 families of pastors and staff with supplies that will support up to seven family members for 15 days.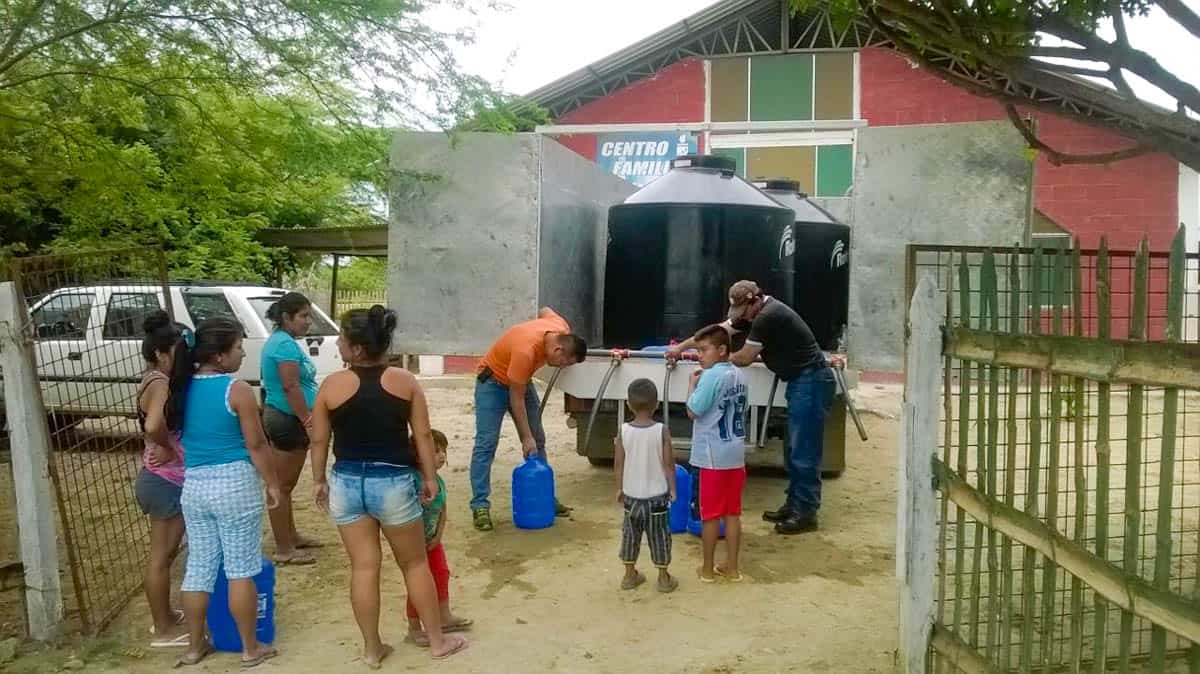 A water tank at one of the child development centers affected by the earthquake has already been repaired and is now providing clean water to other church partners and communities nearby.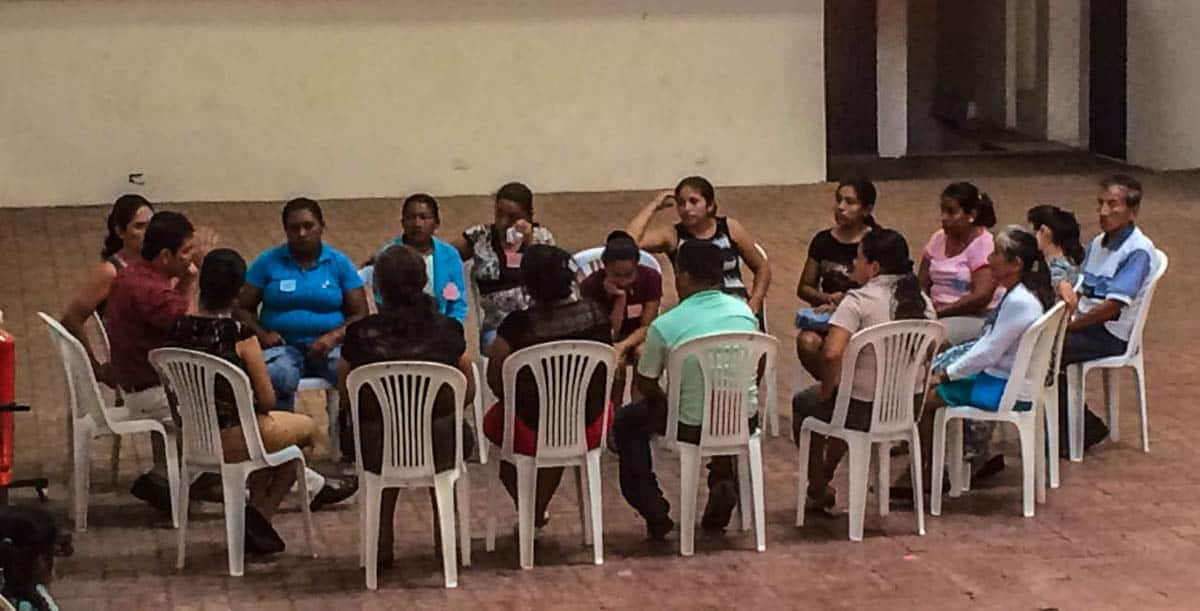 Emotional and spiritual recovery is also a priority. Last week a group of 12 pastors and psychologists from church partners in Manabí began offering group therapy services to all pastors and staff of church partners in the area, who have been extremely grateful for the support.
Please continue to pray for the victims and Compassion Ecuador as they continue to assess damage and meet the needs of the children, churches and families. Here are some ideas of how you can pray with us.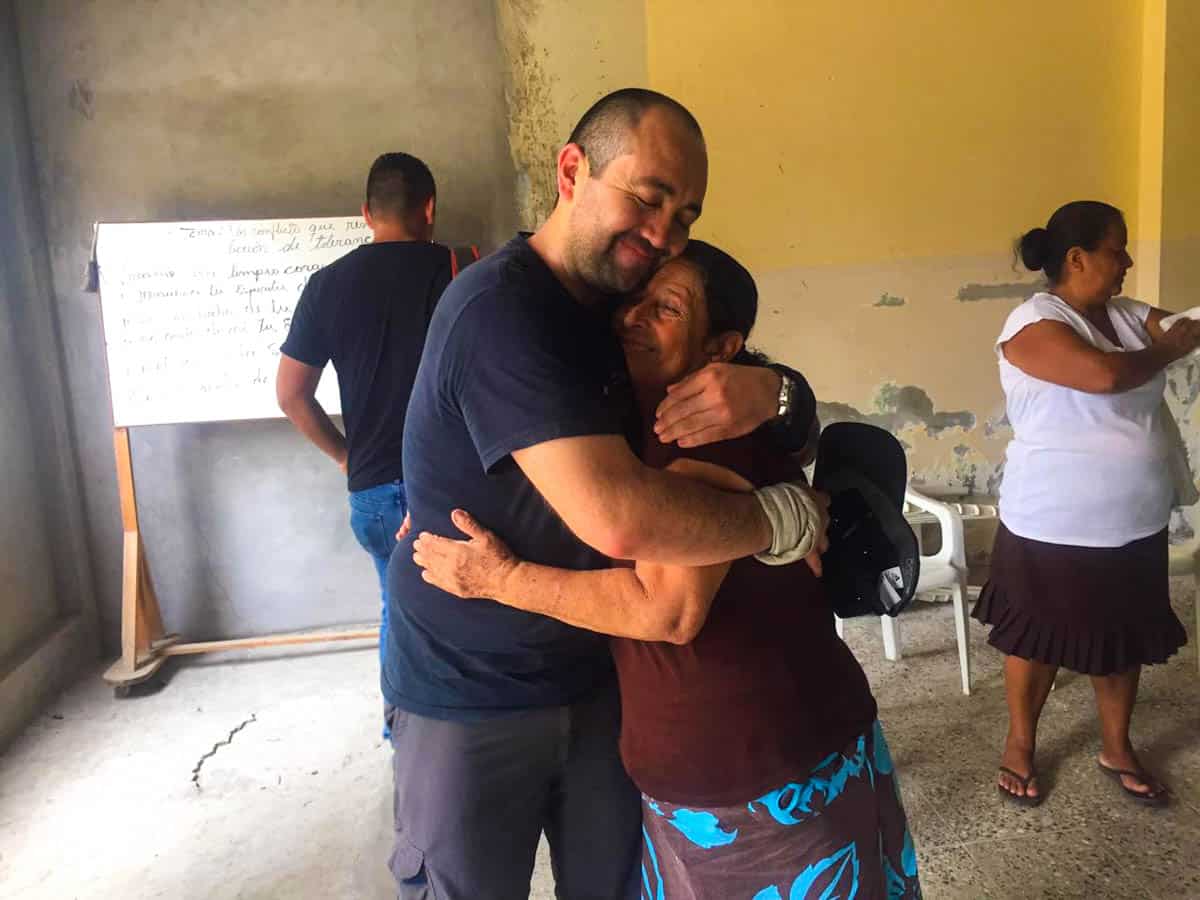 In addition to your prayers, you can help support these local church heroes financially. Your gift will help meet immediate needs like food, water, medical care, shelter and counseling, as well as support the rebuilding efforts for our church partners that will continue well into the future.
We're humbled by the generosity of those who have already given. Thank you for supporting the needs of our local church partners and the victims of the Ecuador earthquake!