Venezuelan teen Jesús Daniel shared with us the harrowing story of his family's flight from Venezuela to Cúcuta, Colombia. In approximately three years, more than 3 million people have left Venezuela, seeking to escape the violence and poverty created by the country's socioeconomic and political crisis.
In the spring, we shared with you about this crisis, and so many of you gave generously. Jesús is one of those you have helped. He shares about the hope his family and other Venezuelan immigrants are receiving through a local church, made possible by Compassion's supporters.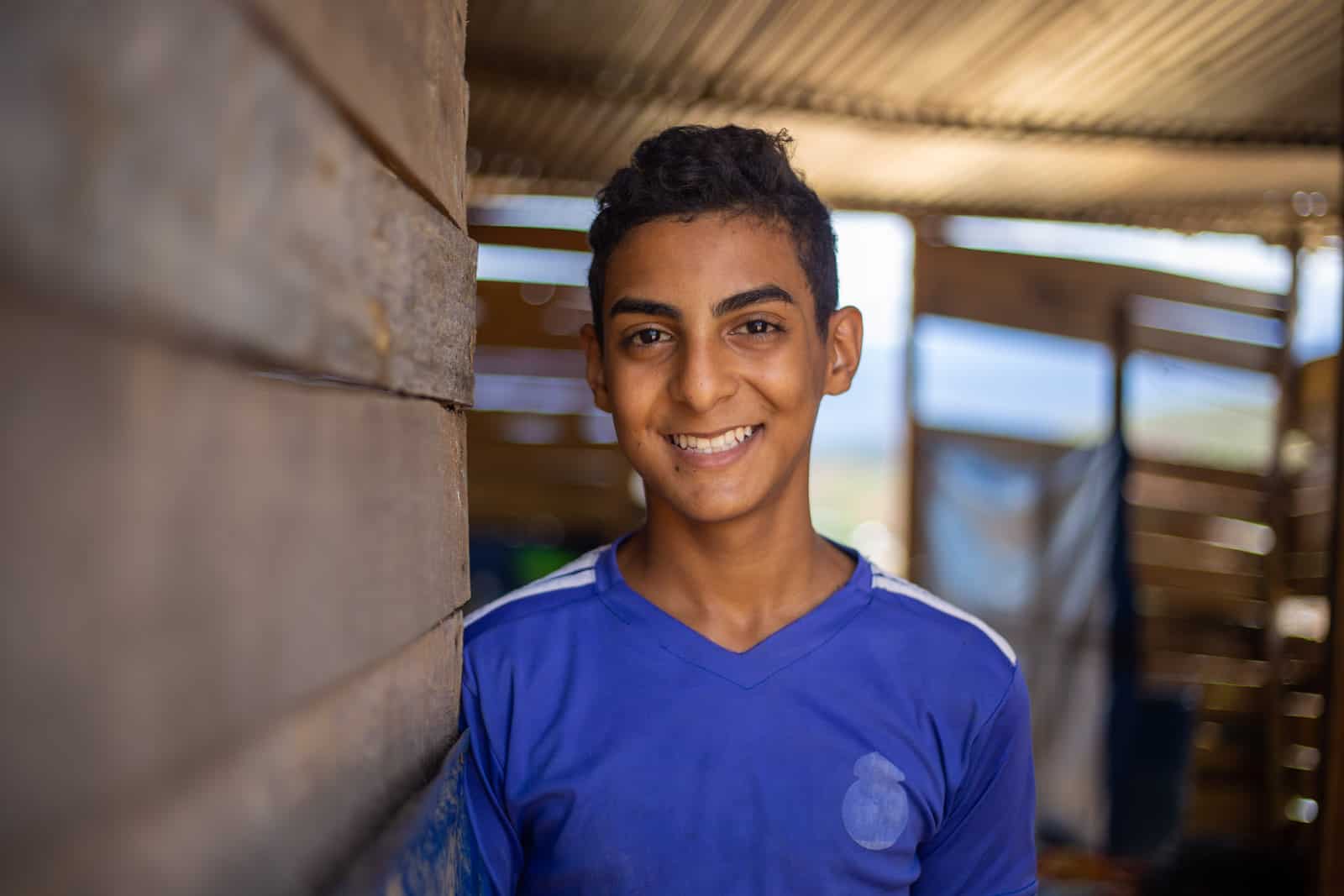 ---
We had a peaceful life in Valencia, Venezuela. I attended school with my older brother, José. I have always loved animals, so I also took care of my family's horse, pigs and chickens. My mother supported us by working at a government day care center for children.
But as time passed, the economic and social crisis in our country developed, and my mom's salary was no longer enough for our family's basic needs. Many people in the same situation were emigrating, looking for better opportunities in other countries. But my mom did not want to leave Venezuela, so we moved from Valencia to Ureña, a town close to the border with Colombia.
I was sad when we sold our animals in order to move. By that time, José was playing baseball in another country. Despite his talent, his sports career did not last long. He was unable to get a sponsor, my mom had no money to support his pursuits, and my dad has never helped us. So my brother abandoned his dreams of being a professional player and came home. He began working alongside my mom, baking and selling bread and pastries.
We lived in Ureña for two years, until the civil violence intensified. A local guerilla group began recruiting young people, and my mom was worried that we would be recruited too.
I still remember the night we left our dear country.
I was at home when I suddenly heard a lot of noise on the street. Armed people had entered a neighbor's house, looking for a specific young man. After verifying that he was not there, the gang became angry and threw the family's mother from the second floor to the street. She did not survive.
My brother José panicked; he was crying. Everything was chaos. My mother, José, my little brother, Sebastián, my stepfather and I left that night, walking in the dark in the direction of Colombia. We had to go through the forest and cross the river because the regular border crossing was closed. I took nothing with me, and I arrived in Cúcuta, Colombia, only with what I was wearing.
In Cúcuta, we found people who helped us. One person allowed us to live in a small wood house he had abandoned. The neighbors lent us two mattresses and some kitchen stuff.
We do not have many things, but at least we were safe.
I started to attend the Foursquare Church in the Talento neighborhood in January 2019, a few days after arriving in Cúcuta. Pastor Jaime is very kind; he has helped us in many ways. There is a Compassion center at the church, and my family was selected as one of the 700 Venezuelan families to receive emergency relief help for three months. This was a surprise for us. We felt blessed that this organization wanted to help us through the church.
I felt that we were not alone anymore.
My brothers and I began to attend classes at the center. I learned important things like avoiding drugs, and about God's love. In Venezuela, I used to play soccer, and the center allowed me to practice here with a soccer trainer and even play in a tournament. I like soccer very much!
As part of Compassion's help, we have a delicious lunch three times a week at the center. Most of the time we do not have enough food at home, so this has been an incredible support for us. Also at the center, my mom is learning how to be a manicurist, which will allow her to generate income for our family. Apart from the food and soccer training, we have received medical help, and many Venezuelan children like me are receiving love at the center.
I am grateful to the church and to Compassion for helping us.
As a way of expressing my gratitude, I wrote a song to God in which I dedicated a part to Compassion's ministry. The song says,
"I am grateful for you, Compassion. Now you are part of my heart. In the most difficult times, you were there to bring me hope."
My mom dreams that we can have a better life here in Colombia, that we can have a good future. Thanks to the church and Compassion we have received hope, and we know that with God's help we will move forward.
---
Thank you for your compassion. For helping Jesús and so many other Venezuelans who are finding hope in the midst of fear and uncertainty.
Send rescue to families in crisis! ›