One day I had the opportunity to hear a child praying for God to heal one of his toys that had lost an arm. At first it made me laugh so much, but after thinking about it, I remembered how many times as a child I also asked God for things that others would laugh at today.
It is something wonderful to see the faith of a child. It leads them to believe in things that we would not be able to believe as adults. Amazingly, no matter the circumstance, they are sure that when they talk to God, He hears them.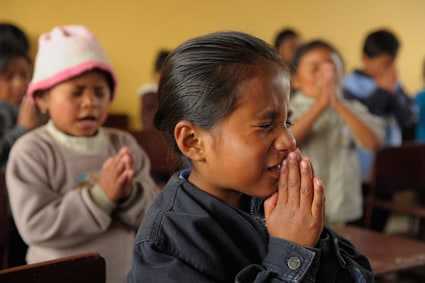 When we become adults, we often think it's up to us to resolve our own problems. How many times do we get stuck because we just don't know how to handle it? In those moments, we should seek God as children and ask for His help even for the simplest things.
It is interesting to see that when children approach God, they do it without too much protocol. They don't set aside an hour of the day to do it. They do not first ask if God will listen or if their request is out of place. They just call on Him and know that their prayer will be heard.
Many of our children are in the midst of pain, abuses, and suffering. But I am sure that despite these conditions, they continue offering prayers to God full of faith, knowing that their demands are heard.
With that kind of faith and hope, we must also seek God in the middle of any adverse situation. Let us not allow our physical eyes to be a constraint. We were not limited by what we saw when we were children.
Let us have faith like children. It's that child-like faith that will lead us to achieve all God has entrusted to us.
And without faith it is impossible to please God, because anyone who comes to him must believe that he exists and that he rewards those who earnestly seek him. — Hebrews 11:6
Prayer: Beloved God, help us to remember that our faith, more than anything, is action. Help us to believe like children do, confident in your promises so that we can walk confidently, too. Amen.
---

ABOUT THE AUTHOR: Alejandra Amador is a Ministry Services Manager for Compassion Honduras.
Read all the One in Spirit devotionals.