Sometimes you have friends you feel at home with the moment you meet them. You shake hands, and turn a corner into a forever kind of friendship you somehow just know will stand the test of distance and time and hardship. I don't know how it happened, or why, but the second Brian reached out to shake my hand, I knew that's what we'd be.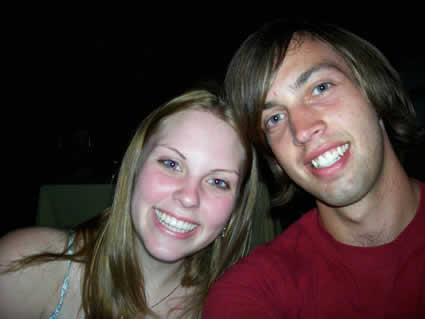 We spent two summers side by side, teaching kids and teens about the Gospel as camp counselors. Together, with eight other counselors, we worked through hundreds of chapel services, roasted marshmallows, and campers who had lost their toothbrushes.
After camp we kept in touch, even though life started looking a little different for both of us. I moved to Colorado and got married. Brian decided to follow his passions and moved to Afghanistan for a season.
On August 5, 2010, Brian was doing some work with a humanitarian aid organization in Afghanistan. His group was attacked, and many of them died, including Brian.
This news devastated me. All of a sudden I couldn't understand why the world was still spinning, the sun was still shining, people were still working. I wanted to run out into the middle of a busy intersection with a megaphone and start yelling,
"Hey! Don't you people understand we've just lost one of the most awesome guys here on earth? Why do you act like everything's still normal?"
But I didn't. Instead, I started looking for things to do to stem my grief. And I prayed. A lot.
Around this time the first child I ever sponsored through Compassion departed the program, so I began to look for another child.
For a long time I didn't feel like I could sponsor any of the kids I saw, which is weird for me. I usually want to sponsor every kid I see.
After a couple months I saw one little boy on the "longest waiting" list. His name was Brian. So I clicked for more information. That's when God's attention to detail totally blew my mind.
This little boy shared a first name with my friend. He also shared a middle name with my friend. And he was born the first week my friend and I had started working together. I sponsored him and decided I would visit him someday, no matter what.
Someday came a lot faster than I expected when an invitation to join a sponsor tour showed up in my inbox after a couple months. I tried to put it off and told myself hundreds of excuses. Ultimately I booked the trip in a moment of insanity the day of the deadline, hoping it was the right decision.
When we received the trip itinerary, I thumbed through it, hoping we might visit Brian's student center or something like that.
When I got to the last page about meeting our sponsored children, I cried. God was working in my grief. The day I would meet my little Brian would be one year exactly after my friend Brian died.
As the trip grew closer and closer, my mind filled with doubts. What if I got sick? What if I couldn't eat the food? And, worst of all, what if Brian didn't like me?
That question hovered in my mind for the entire trip, almost suffocating me with the implication that God might not be big enough to handle that particular detail. There was no reason so believe such a thing, but Brian was 7 years old. And 7-year-old boys think girls are icky. Right?
I was so nervous I almost threw up waiting in line to meet our sponsored kids. The pressure was intense: the pressure to be liked, the pressure for this to work, the pressure to honor my friend's life and death through a new friendship.
And then they called my name. I walked through the doorway begging God to make this boy smile at me just once so the whole trip wouldn't be for nothing.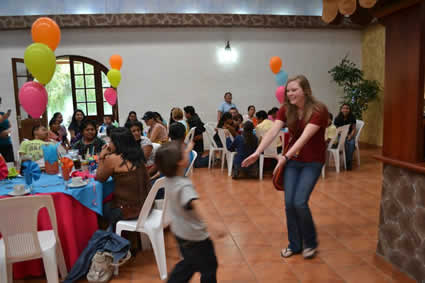 Suddenly, this 7-year-old boy came barreling towards me and rocketed himself into my arms. The first thing I noticed was his hair. My little Brian had the same haircut as my dear friend.
I totally lost it, weeping and grinning all at the same time. He wrapped his arms around my neck and didn't let go. All I could think was, Thank you, God.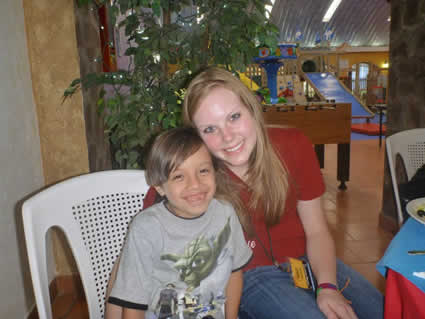 On August 5, 2010, I lost one of my dearest and most treasured friends on earth. On August 5, 201,1 a little boy who shared his name and his haircut leaped into my arms and my heart forever.
---
ABOUT THE AUTHOR: Ashley Mays and her husband live in Colorado Springs where she enjoys rock climbing, playing the guitar, and writing. You can find out more about Ashley on her website at: www.ashley-mays.com.