When I was 16, I was primarily preoccupied with…boys. With clothes coming in at a close second. I hate to perpetuate stereotypes, but what can I say, I was a shallow kid and am still a recovering shallow kid. So when I learned about Kaitlin, I was amazed.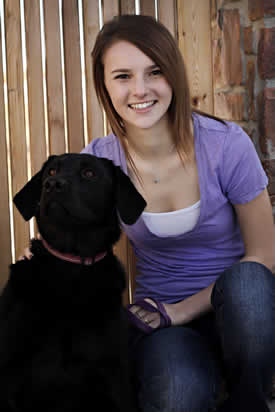 Kaitlin is an example of how God uses children and youth to be His hands in this world and to teach and convict the rest of us with what faith and sacrifice look like.
Kaitlin was just a normal 16-year-old girl living in Alberta, Canada, when she was diagnosed with a cancerous brain tumor.
She spent a year and a half in and out of the hospital, in surgery, and in chemo. She tried to live as normal a life as possible, but her day-to-day life was punctuated by bouts of sickness and fatigue.
So when the Children's Wish Foundation approached her to make a wish — a wish that would bring just a little relief and light into a girl's days that were marked by trial — her wish was shocking.
Kaitlin initially thought about getting a camera or going on a family vacation, but she just didn't feel right about any of those ideas. Ultimately, Kaitlin decided she didn't want anything for herself, but wanted to give her wish away to help children in poverty.
Kaitlin donated the entirety of her wish to build a well in Uganda so that children there could have access to clean water.
Help Families Affected BY COVID-19
Families in poverty have no safety net in times of crisis. Help provide food, medical care and support during this pandemic.
And the faith and generosity of this young girl woke up a lot of adults.
When people heard about Kaitlin's wish, they were inspired to follow in her footsteps. Her community held fundraisers to build more wells. People in Korea, Australia, and around the world heard about Kaitlin and donated to give even more children clean water.
Last I heard, more than $285,000 had been raised to bring clean water to children all across Africa.
It reminds me of this verse:
"Don't let anyone look down on you because you are young, but set an example for the believers in speech, in conduct, in love, in faith and in purity."  — 1 Timothy 4:12, NIV
Kaitlin's mom, Brenda, says it well.
"Everyone always thinks in order to change the world you have to be someone who stands out in a crowd, be the best in school or the one who wins all the races, but Kaitlin has changed the world for more than 40,000 lives just by being obedient to God."
Certainly, Kaitlin was an example for all of us in her life, love and faith.
Kaitlin went to be with our Lord in May of this year. She clung tightly to her faith in God throughout her life. Not long before she passed away, Kaitlin said,
"Even though I don't want to be sick, if I wasn't, I wouldn't have received this wish and others wouldn't have wanted to help and all of these children wouldn't have benefited. It is a humbling experience.

"We are only on earth for so long, and we need to make an effort for other people. It's like we take a picture while we are here on earth — at the end of the day, what do you want the picture to look like?"
I'm thankful for the picture that Kaitlin created with her life, and I hope she will be an encouragement and a challenge to you as well!