UPDATED Oct. 1, 2012: Our final sponsorship total for Blog Month is 3,159.
When a team of bloggers visits the field, challenging questions often come up in response to what they experience. For Brianne McKoy that question was, "Would Jesus sponsor a child in poverty?"
On Brianne's blogger trip to the Philippines she pondered and researched that question. Below is the answer she received.
God is truly faithful to provide us answers when we come to Him with our questions!
Speaking of faithful…
So many of you have faithfully written about children in poverty throughout Blog Month. We are grateful for each and every one of you!
Throughout October we will highlight several of the best posts submitted by you. And be on the lookout next Monday for an announcement of the Blog Month winners!
---
Where is the verse that says,
"Thou shalt sponsor a child in poverty"?
I know the verses in the Bible about helping the needy and giving to the poor.
But is sponsorship the way to accomplish this?
This question made itself at home in my mind while traveling to the Philippines. It's been kicking around up there for five days now. And you know what? I didn't know how to answer it.
So the pondering and the research began …
Then I thought of this verse,
"Let the little children come to me, and do not hinder them, for the kingdom of God belongs to such as these." Mark 10:14 (NIV)
This came from the mouth of Jesus. Jesus said,
"Let the little children come to me."
Something incredible has been happening every time I have stepped into a child development center this week. I meet children living in desperate poverty and they're praying. They're reading the Bible. They're reciting the Word of the Lord.
They're children. And they are being brought to Jesus. Their circumstances aren't hindering them. The lack of all things material is not hindering them. Living in a home that would cause most of us to lose all hope isn't hindering them.
Someone is bringing the little children to Jesus.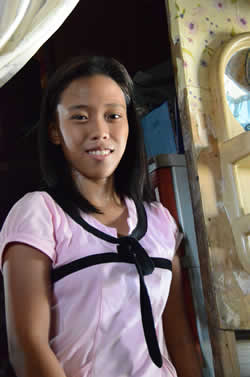 Today the Compassion Bloggers and I visited Kapatirang Kristiyano sa Coloong Child Development Center.
At this center I met a girl named Mary Rose. I asked her what her favorite verse is.
She was so excited I asked her! Her whole face lit up and she said in one breath,
"Mark 10:14, 'Let the little children come to me, and do not hinder them, for the Kingdom of God belongs to such as these.'" (NIV)
As you can imagine, I was beyond delighted to hear this.
I asked Mary Rose why she loves that verse and she explained (with a passion I rarely see),
"Because the children need to know who Jesus is. I want to teach children who He is."
She's 14 by the way.
After talking to her, my question popped up into my head again,
"Would Jesus sponsor a child in poverty?"
Then Janna came up and grabbed my hand and asked if I would sit with her for lunch. What a treat!
I asked her what she wanted to be when she grows up. You'll never believe what she said. (You'll have to listen closely. The background noise makes it difficult to hear her.)
She wants to be a missionary. She wants to tell people that Jesus died for their sins.
And then my question dropped from me.
I'm not going to say whether I think Jesus would or would not sponsor a child in poverty. I will say that Jesus wanted the children to come to Him.
I think a church — located in the midst of poverty, ministering to all the needs of the children (physical, spiritual, socio-emotional and cognitive) and sharing what the ultimate hope is, sharing that the children have a Savior and He knows their names — well, I think that is a pretty good way to bring the children to Jesus.
As a sponsor, I was really encouraged today. Today, I received a subtle affirmation,
"You are bringing the children to Me."
Do you know what Jesus did after the children were brought to Him?
"And He took them in His arms and began blessing them, laying His hands on them." Mark 10:16 (NIV)
Thank you for bringing the little ones to Jesus.
---
Note: This post was originally published in June, 2011 as part of the Philippines Blogger Trip.