Once there was a place called Eden.
It was a place where people lived in harmony with each other, with nature, with God. It was a beautiful place. And it was a place built to last forever.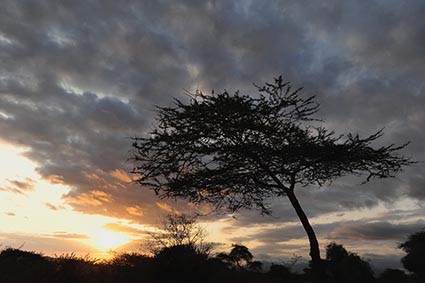 It was a place that was good. And in it were things that were good. The people did not know about evil. They did not know about sorrow or fear or pain or death.
And one day the people who knew only of good decided that they wanted to know more. They wanted to know both good and evil.
But what they didn't realize was that when all you know is good, and then you ask to know about both good and evil, then the only addition to your reality is evil.
Because they already knew good. And not just head knowledge. Good was all they ever thought, or felt, or touched. Good was all they ever smelled or heard or saw. Until they asked for more than good.
And so they received evil too. And like the good before, they didn't just receive evil as head knowledge. They now could experience it as well.
Help Families Affected BY COVID-19
Families in poverty have no safety net in times of crisis. Help provide food, medical care and support during this pandemic.
Now they could feel it, and see it, and hear it, and smell it. Now they could touch evil and be touched by it, and sadly, they could create more of it, all because they wanted more than what they had.
Even though all they had was good.
And so the people had to leave Eden, because God had created Eden as a place to last forever. And forever is an awfully long time if evil is there.
And now their world was different from Eden. It wasn't a forever place. It was a place where people no longer experienced perfect harmony with each other, with nature, with God.
It was a place out of balance, a place where sorrow and fear and pain and death became…normal.
Once there was a place called Mathare.
It was a hard place; a difficult place. It was a place where evil came like a thief to steal and to kill and to destroy.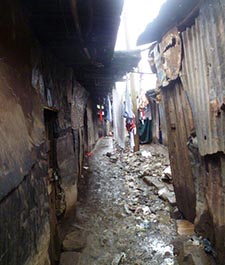 It came in many forms. It came as poverty and violence and addiction.
The people did not have harmony with their surroundings or often with each other either. Not like they did once before, in a place called Eden.
And the people in Mathare suffered.
They suffered when it rained and the open sewers overflowed into the trash strewn streets. They suffered when there wasn't enough to eat and the hunger burned from within.
They suffered when the anger and resentment boiled over into violence and when the drug pushers and gangs seduced little children with false hopes and broken dreams.
And in the people's souls there was the haunting ache, the one that hides within us all, though most choose to ignore it. It is the ache of an ancient memory buried deep down in the long forgotten corners of the soul.
This haunting ache, the last desperate remains of the memory of Eden, a place which they could not be sure was ever real; the haunting of a time when good was all there was and evil was nowhere to be found. Because it seemed that here the evil had sought to overwhelm the good once and for all.
And make no mistake about it, the tragedy of the Mathare slum is not its distance from the materialism of the West, but rather its distance from the Garden of Eden. From all that God had intended, back when all we knew was good.
Once there was a place called the Kingdom of God.
It came in small ways at first. It came as a ray of light in dark forgotten slums. It came to places people would not have thought could be filled with light. It came to hard places. It came to hurting places. It came to a place called Mathare.
And it started to grow.
And here I stopped in for a brief visit to this story. And this is what I saw; in a hard place; a hurting place. This is what I saw in a place called Mathare, in the small compound of the Redeemed Gospel Church right there in the middle of this 800,000 person slum.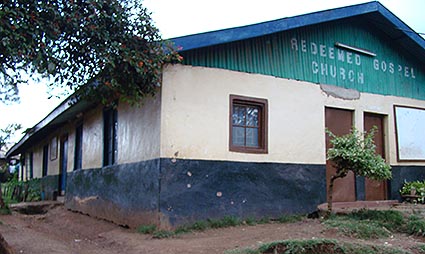 I saw children get the chance to be children, the chance to smile and to laugh and to play. I visited classrooms where they were taught what they needed to know to succeed in school and to lead healthy productive lives.
And they were taught about a place called Eden and about how it wasn't just a long forgotten dream.
They were taught about how we lost Eden, and about how the Lord of the Universe came down to earth to live and to suffer and to die and was raised again, all to restore everything that was once lost.
All for them.
And they learned about the Kingdom of Heaven. And it began to grow in that place and it began to grow inside of them. That's what I saw in this church, this wonderful place, a light shining on a hill in the midst of sorrow.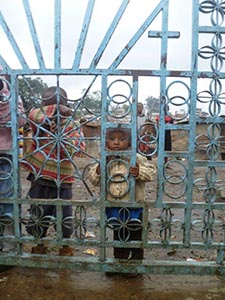 In fact, the hardest part of that church was not to be found on the inside at all, but rather on the outside. The hardest part was to see the ones the church just could not serve.
Children who peered in through the gates with wide dark eyes and tattered clothes.
And it seemed that the Kingdom just ended at those gates, and beyond them Mathare had won. It seemed that way and it was almost more than I could bear. But then the Kingdom grew.
It went beyond the gates. Because that's what the Kingdom does. It grows. Beyond gates. Beyond boundaries. Beyond walls. The Kingdom grows. I saw it grow.
I saw little children from the church run to the gates with their cups of porridge in their hands.
The porridge that the church had given to them. I saw these children share their porridge with those outside. I saw the Kingdom grow a little bit more.
And as I listened to one of the classes going on that day I heard the youth talking about careers. Their teacher asked them for examples of social careers. One young man shouted out his example,
"member of parliament!"
When the teacher asked if this fit the definition of a social career the youth confidently answered,
"Yes, because according to the constitution they are employees and they have to serve us, to serve their communities during their terms."
And I saw the future. I saw a young man who might one day become a member of parliament; who might one day come back to Mathare and make things right. Because he was taught about Eden and about the Kingdom and about the responsibilities of governments to serve their people.
And I saw hope extend not just beyond the gates of the church on that day, but right into the future too.
And so, slowly but surely, in spite of all the sorrow, the good continues to grow in a place called Mathare.
---