Like most 13-year-olds my son's age, Joshua had difficulty grasping the reality of what we would see and experience in our efforts to make an impact on the child slavery situation in Ghana, West Africa, where five of our Compassion children live.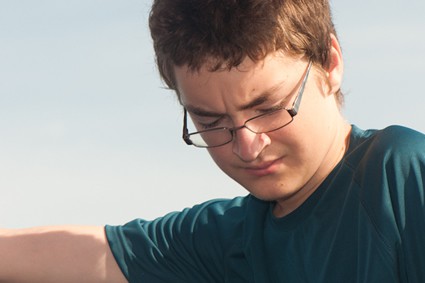 "I admit it. My first thought was simply getting two weeks off of school."
This trip was an experience Joshua nearly missed altogether. He had wrongly assumed that wanting to go was enough, and was surprised when it came time to book our tickets that I did not book his.
I sat down with him and told him the hard truth – this was not a vacation, not a matter of simply showing up at the airport when it came time to travel. He'd have to invest his heart and spirit into this before we'd invest $1400 into his ticket. Slowly, his attitude began to change.
As the middle child, he often seems to perceive a deficit when it comes to receiving attention, so imagine his surprise and delight to find himself mobbed by a crowd of joyful children at the Compassion center of our sponsored child, Sam. They all wanted to interact with Joshua and touch his pale skin and have him take their photos.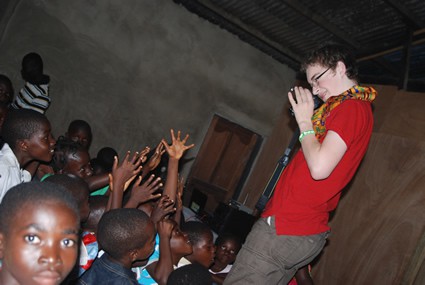 Back home, I think he would have been embarrassed to be seen playing with younger kids, but from the moment we landed in Africa, the walls, the facade and the attitude crumbled to the ground. He lost himself in simply being a kid.
"Meeting the Compassion kids helped me see that these were real kids, kids just like me except that they are surrounded by poverty and they don't complain like we do."
In the capital of Accra, Joshua became an easy target for aggressive hawkers. One approached him, simply asking his name and where he was from. Not suspecting that this was anything but friendly chatter, Joshua answered him and walked on.
Moments later, the hawker presented Joshua with a custom made bracelet with his name on it, in the red and white colors of Canada.
Thinking it was a gift, Joshua took it. The hawker then insisted on being paid. Joshua recalls,
"I felt so bad. He had made this just for me and I felt guilty about not buying it, but at the same time, I didn't ask for this and did not want to spend my funds."
We had to step in and ask the hawker to not pressure him. We returned the bracelet to the hawker.
Joshua, fluent in French, vowed to pretend not to understand English for the rest of the trip. From that point forward, whenever hawkers approached him, he babbled on randomly in French about liking tacos and having an excess of pocket lint. Humor seemed to be his stress relief.
There are some places, though, that even humor can't touch. We traveled north to Lake Volta and met some of the children who had been rescued from slavery.
Joshua sat and listened to some of the girls' testimonies, hearing personal accounts of abuse and injustice done to children for the first time in his life.
It seemed to be the turning point for him. He had heard the word "compassion" before, but this time, he experienced it. His perspective had finally shifted, from himself, to others.
Joshua's heart was already softened by what he had seen and heard to that point, and later he shared that going to the islands of Lake Volta and seeing the child slaves in person was painful.
"The kids in the boats, the look on their faces… it made me sick. I could see how hopeless they felt, especially Richard*, the one we couldn't save. It was like he was already gone. He looked lost or something. I can't really explain it.

The whole place was just so… dark. Heavy. Sad. Kids my age have no idea what these kids go through, or how lucky we are. We have everything. They have nothing. Even people with so little in other parts of Ghana were happy. These kids weren't happy. It's worse than I ever imagined."
Back in Accra before leaving to go home, navigating through crowds of people and traffic on one of the busiest streets of Accra, we hear a shout,
"Jush-uh-wahh, JUSH-uh-wahhh!"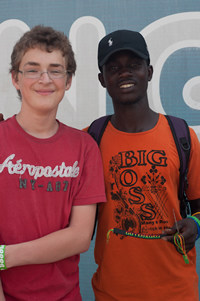 Joshua whipped around, shocked at being summoned in a place where we knew no one.
As he narrowed in on who had been calling his name, his face, still pale in spite of having spent two weeks in the hot African sun, went three shades whiter.
The bracelet hawker. Stunned speechless, Joshua gave me a look of desperation and held out his hand, saying only "Mom, help."
We had a new one custom-made with his nickname.
Would I take my son on a trip like this again? In a heartbeat.
As a mother, my instinct is to protect my son, but by sheltering him from what's hard, I'm not protecting him, I'm holding him back.
Putting my own expectations on him wouldn't help either — as much as I wanted this trip to change him and impact him, I had to completely let go and trust God in making those changes His ways, not my ways.
I had to trust that even if I never saw the changes, the impact, that it was still there.
Speaking of not seeing the changes…
As I was packing our bags to leave, I realized that Joshua had gone two weeks with only two pairs of boxer shorts, and not once had I seen those boxer shorts when washing the laundry by hand over the past two weeks.
There was no way we were taking those back on the plane. I don't think it would have been legal.
I wonder if the hawker also sold underwear…
---
*Not his real name.
If you're interested in writing a guest blog post, we are happy to consider publishing it. Read our guest blog post guidelines.