Last year on #SponsorSelfieDay, Instagram, Twitter and Facebook were flooded with your amazing sponsorship stories from 21 different countries around the world! It was a day filled with undeniable love and inspiration.
Your unique and personal stories showed the world that one person can help change the life of one child living in extreme poverty!
That's why we want to invite you back this year for an even bigger #SponsorSelfieDay on Sept. 15!
Mark your calendar by joining the #SponsorSelfieDay Facebook Event.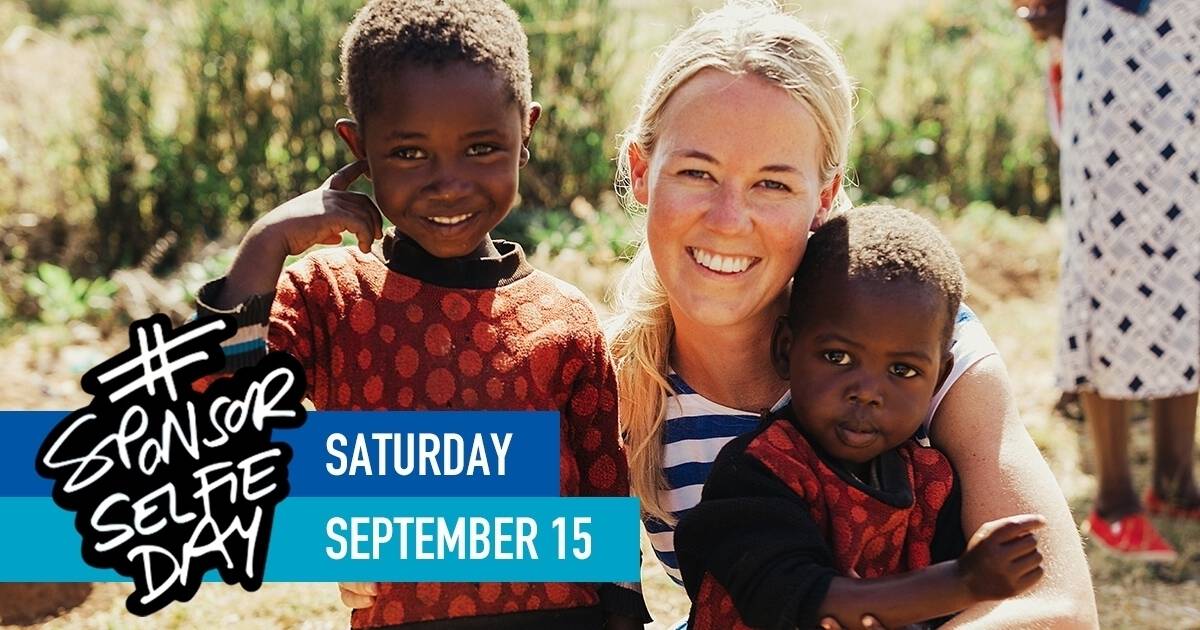 JOIN THE GLOBAL MOVEMENT OF PASSIONATE SPONSORS
#SponsorSelfieDay is a way to use social media for good. It's a way to transform a selfie into something that can ignite compassion in others to also help children in extreme poverty.
When you share about the special relationship you have with the child you sponsor, you're showing that sponsorship impacts lives: both yours and the life of the child you are investing in!
Imagine if every one of the 1 million Compassion sponsors around the world took a moment on Saturday, Sept. 15, to share why they choose to be a sponsor on social media. We could ignite a global movement of people dedicated to releasing children from poverty in Jesus' name together.
But we can't do it without you!
There are two ways you can join in the movement on Saturday, Sept. 15…
1. SHARE A PHOTO OR VIDEO
1. Share a photo or video of the child or teen you sponsor on Facebook, Instagram or Twitter.
This could be a selfie with your child's photo, a pic of the child's profile photo, or even a photo of his or her profile on your fridge. If you took a sponsor trip to meet him or her, share a photo or video of that special moment!
2. Write why you chose to be a sponsor in the caption.
3. Tag @Compassion and use the hashtag #SponsorSelfieDay.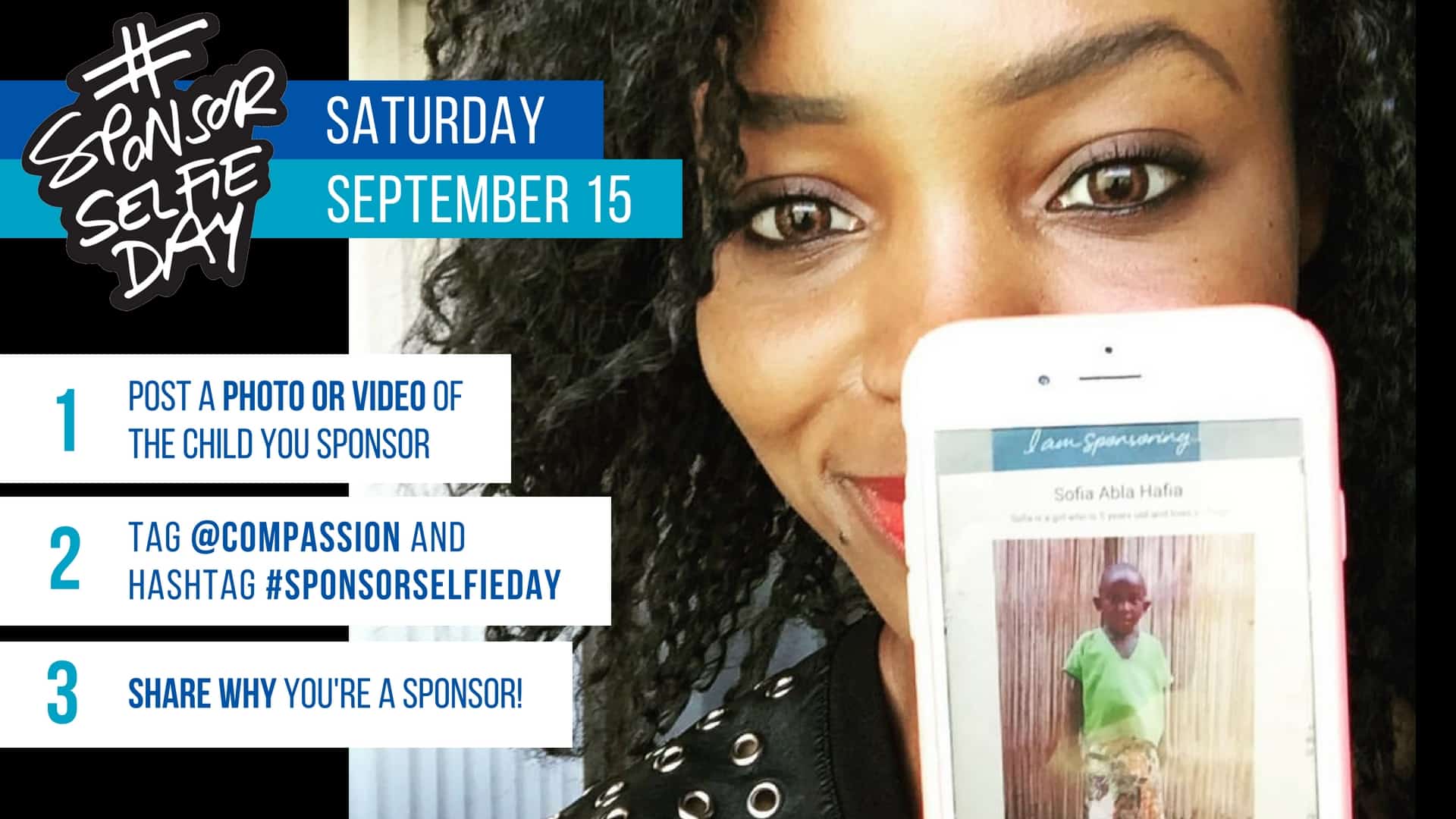 That's it! Make sure you tag @compassion on Facebook, Instagram and Twitter: We'll be sharing your stories all day long.
[Pro tip: If you want to share beyond your friends on Facebook, make sure your post's privacy is set to "public."]
On Sept. 15, follow along on our #SponsorSelfieDay Social Hub to see all the amazing sponsor stories from around the world and connect with other sponsors just like you!
Need some inspiration?
Here are a few examples of our Compassion family from last year!
2. GO LIVE ON FACEBOOK
Want to tell even more people about your passion for helping children in poverty? Go live on Facebook! Take just a few minutes and share about your sponsorship journey on Facebook Live. It's easy!
Open up the app on your smartphone.
Press the "Live" button at the top of your News Feed.
Tell your friends what you're going to talk about, like "Why I chose to be a sponsor with Compassion" or "Did you know poverty is on the decline? Here's what I'm doing about it."
You don't have to be a celebrity or journalist. Just be yourself! Your friends will love it!
What should you talk about? Pick one (or more!) of these topics:
Talk about the moment you and/or your family became a sponsor. Where were you? What was your unique reason for wanting to invest in the life of one child through a local church?
Tell a story how you and/or your family has connected to the child you sponsor. What is his or her name and in what country does the child live? Did you get a chance to visit? How has connecting with your child affected you?
Say a prayer for the child you sponsor. Pray for your child's education, family, and for the staff and church he or she attends. Pray for your child's future and that he or she would know God's love.
What if your friends have questions or want to sponsor?
Here are some handy resources to share:
Concerned about sharing information about the child you sponsor online?
Rest assured that we take great care to ensure the privacy and protection of all of our beneficiaries.
Per our privacy guidelines, children's photos and names are public information and therefore, fine to share online publicly. After all, it is what you saw on our website or in that packet before you made the decision to sponsor that special kiddo.
However, children's personal information regarding addresses and hometowns are classified. We also ask you to help maintain every child and teen's dignity and avoid sharing sensitive information (like whether he or she is an orphan, was abandoned, or has a certain medical issue).
Feel free to share the child's photo, name and your personal sponsorship story. Your story matters! We'd love to hear it and know it will encourage other supporters as well.
See all the sponsor stories from across the globe on the #SponsorSelfieDay Social Hub!