It was a dark, rainy and cold night. On the top of a hill, inside a straw hut, with the company of some llamas, Marta gave birth to Pablito (little Pablo) when she was only 14 years old.
In the countryside of Bolivia, it's normal to have your baby at home with the help of relatives or neighbors rather than going to a hospital. But being only six months pregnant, Marta wasn't prepared. She had gone to the hut with her brothers to put her family's animals away when she went into labor. Her two little brothers didn't know how to help. They were scared and cried. Marta had her baby alone in a hut.
Marta, the second child in her family, lived in the countryside of the city of Potosi, Bolivia. She helped her family with the cattle and the household duties. Marta was only able to study part of the first grade because her father didn't want her to attend school and didn't want to buy her any materials.
"I wanted to study very much but the teacher got mad at me because I didn't bring notebooks. I had a hen so I sold the eggs and was able to buy a notebook. However, my teacher didn't want me to take the notebook home — he didn't want me to lose it — so my father thought I wasn't learning anything and he took me out."
Marta had a difficult childhood. She had to live with the frustration of not accomplishing her dreams and work hard to help her parents and grandparents take care of their animals and other obligations.
At a community party Marta met a man, a widower who at that time was 37. Marta got pregnant and became a very young mother who didn't receive support from her family.
Six months into her pregnancy, Marta went to get some roots to cook. She almost fell into the river and hit her stomach with her knee. Two days later, her premature baby was born.
Help Families Affected BY COVID-19
Families in poverty have no safety net in times of crisis. Help provide food, medical care and support during this pandemic.
"He was very small and thin, he didn't have any hair. Since I didn't have clothes for him I covered him with a plastic bag."
At first Marta lived with her parents, but since baby Pablito was sick he cried all the time. Marta's mom told her to leave. Marta went to live with her grandfather, who performed many strange rituals in order to heal the baby.
Rather than go to the doctor, many in rural Bolivia go to witch doctors who practice an indigenous religion. They use herbs and massages to heal, or even at times people must drink the blood of animals.
To heal Pablito, Marta's grandfather killed a black chicken and covered Pablito with the blood. But nothing worked.
Some months after Pablito was born, Marta found out that her baby's father was back in town, so she found him, and they moved to Cochabamba.
Andres, now 39, is a widower with two children, Noelia, 12, and Emilio, 16. However, he doesn't live with them anymore. His family, which now includes Marta's second child, shares a rented room on a hillside in the south part of Cochabamba.
In spite of the difference in ages, Andres seems to care for Marta and his four children very much. He encourages Marta to improve. Marta is learning how to build a better life for her family through her participation in our Child Survival Program (CSP).
"When we met Marta, she was extremely shy. She hid behind her stepdaughter. However, she agreed to be part of the program.

"Now we can see a sociable Marta, and she isn't afraid to speak in front of people. She is very responsible and loves to attend the CSP meetings. She is also very punctual," says Rosalia, the CSP Coordinator.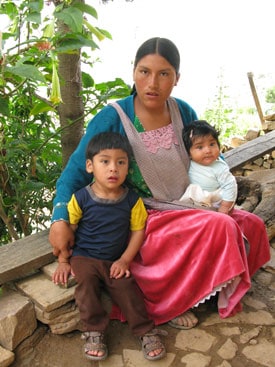 There are even greater accomplishments with Pablito. Because of the conditions he was born in, he has always been sick, and there is a great difference between him and Marta's 3-month-old baby, Elena.
"Elena is very lively. She already has a strong and firm body, the opposite of Pablo. When he was 6 months old he couldn't keep his head steady. Elena did that when she was only 2 months old. It was very sad to see him like that. When he was 6 months old, he started to have convulsions. He was lying down, and suddenly he had convulsions and his eyes turned white. But Elena isn't like that," says Marta.
Pablito was undernourished, which affected him in many ways. The left side of his body wouldn't function properly. He had infections, diarrhea, chronic anemia and was dehydrated. He was pale, had convulsions and needed blood.
Thanks to the Child Survival Program, Pablo received a blood transfusion and treatment for his malnourishment. Strengthened by the medical interventions, Pablo learned to walk and is developing in a healthier way.
"He still needs to gain a little more weight, and that's our challenge. Also, with Marta we are at 80 percent. We want her to learn to read, write and study a technical career. We also want her to receive Christ as her Savior. She attends church, but we want her to become a member," says Rosalia
Marta enjoys being a part of the Child Survival Program, including everything she is learning and the benefits she is receiving. She likes to learn about the Bible and knows it is good for her. She can affirm there is a great change in her life.
"I want my children to study and not to be like me. I want them to study because I don't want them to suffer. I want them to be better in life. I can't even get into the bus to go somewhere because I can't read what number it is, but now I am learning."