Beautiful landscapes, exotic food and historical monuments are not the only attractions that draw foreigners to Brazil. The image of a country full of beautiful, sexy, young women has been used for decades to attract tourists to the country of Carnival, which contributes to the growing number of tourists coming to Brazil seeking sexual experiences in the arms of children and adolescents.
At sunset, when everyone has come back from lounging at the seaside, bars and restaurants turn their lights on and visitors leave their fancy hotels seeking nice dinners and fun with their families.
From the shadows, boys and girls appear on the corners, letting their skin show through their little clothes. With distorted values, they struggle for life. No one knows their life story or their dreams.

At Iracema Beach, male foreigners between the ages of 30 and 50, of middle or low class, crowd into nightclubs where children and adolescents anesthetized by cocaine and alcohol offer them sexual experiences for just a few dollars.
All of this begins with trips booked through specialized companies — mostly European — that provide special packages that include the tickets on exclusive flights and scheduled meetings with Brazilian boys and girls.
Once visitors arrive at the airport in Brazil, taxi drivers involved in the scheme of sexual recruitment of minors provide all necessary contacts.
Five of Brazil's largest cities have high rates of commercial sexual exploitation of children and adolescents, almost all in the northeast region: Salvador, Natal, Recife, Fortaleza and Rio de Janeiro. The last three are home to Compassion partner churches.

Fortaleza is a tourist center located in northeastern Brazil. A land of beautiful beaches, the city has more than 2 million inhabitants and is marked by significant social inequalities. Around 720,000 people, or 36 percent of the population, live in the slums.
Fortaleza is also the fifth largest city in Brazil, with 336 square kilometers of totally urbanized areas. Among metropolitan areas it has the second largest percentage of people living in poverty.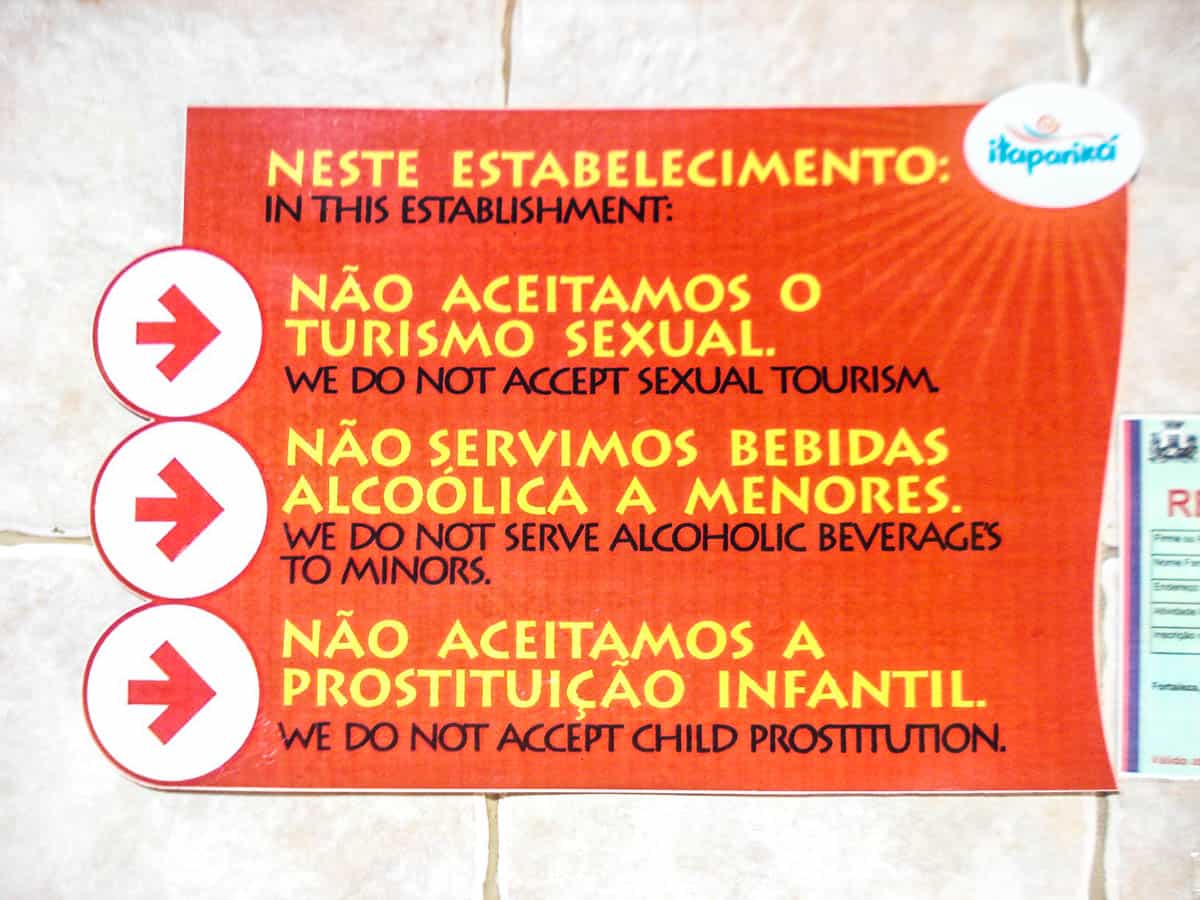 The sea shore of Fortaleza is composed of Iracema, Meireles and Mucuripe beaches. Each of these beaches serves as a tourist attraction for both Brazilians and foreigners.
Within three kilometers are found the fanciest hotels and a mix of leisure, shopping and entertainment. This is also the main place where children and adolescents are offered to male tourists.
According to research conducted by the Brazilian Multidisciplinary Association for the Protection of Children and Adolescents (ABRAPIA), Fortaleza has the highest rate of commercial sexual exploitation of children and adolescents in the northeast region of Brazil. In the national ranking, it has the third highest number of complaints — after Rio de Janeiro and São Paulo.
The causes are numerous and complex, but poverty is one of the main factors. There are about 500,000 children, especially in the north and northeast regions, investing their lives in the hands of foreign pedophiles.
Young people fill the sidewalks, and are found in front of the dirty hotels, waiting for their next clients. Illiterate or of low education, these young people are unprepared for the labor market. In prostitution, they have found a mode of survival.
In the most dangerous slum in Fortaleza — Serviluz — are located two child development centers, Projeto Vilamar and Espaco Viva Vida Student Center.
The two centers in the area are working hard to tackle child prostitution in a preventive manner. The staff have been trained on and given material that will help them address the issues of children affected by prostitution. Weekly visits paid by Compassion staff to the children's homes contribute to the identification of incidents of exploitation.
"The community is composed of approximately 35,000 inhabitants earning less than the Brazilian minimum wage of US $223 a month. The homes are less than 20 square meters in size where families of up to 10 people — between adults and children — live together.

"Without any conditions of privacy, there is often the occurrence of domestic violence or sexual abuse against the small ones. Frustrated and without any encouragement, all the children want is to be far from home. So they quit studying and become an easy target for the drug dealers. … In order to maintain their addiction, they simply go to the streets.

"The arts, dancing and theater workshops, the sports, the mentoring and the labor marketing the children learn at our center have been motivating boys and girls to dream about a better future where knowledge and hard work are the essential tools. The result is that today we see our adolescents finishing high school, far from the streets and changing the course of their lives."

— Joyce, the director of Projeto Vilamar for 25 years
"The families are emotionally unstructured and the community grows in a disorganized way. The habitation is precarious; there is uncertainty in the community due to the war between gangs over drug power; there is a lack of basic sanitation. Many children eat only while they are here … some of them, with the consent of their families, offer their bodies in exchange for some rice.

"The first step is to assist the child more closely, advise and warn the family about the harm they are causing. Teachers, psychologists and the church are involved in the process. If there are no changes, then we access the government authorities."

— Josilene, director of Espaco Viva Vida Student Center
Across the coastline is another dangerous slum of Fortaleza — the Pirambu. It is in the community of Pirambu that Carmem has been directing Centro Estudantil Bom Samaritano for five years, with more than 900 children sponsored through Compassion.
"Many mothers here are prostitutes and they are a strong example for their children, who grow up believing that prostitution is the fastest way to earn money. But today, after working inside the community, these mothers hope for a different future for their babies. And they count on us in order to achieve it."
Jane is one of these mothers. At age 22, she has been working in the nightclubs of Iracema Beach for almost eight years. Illiterate, Jane left school when she got pregnant by her first boyfriend; she was 12 years old and the boy, a delinquent youth addicted to crack, was 16. A baby boy with curious eyes was born.
At the age of 16, Jane quit fighting against her "husband's" addiction to drugs. Advised by some experienced friends, Jane left her husband and started dancing at a strip club. Her son is now registered with Compassion.
"It was an aunt of mine who enrolled my little boy at the child center; he attends the same church as her. And I like it because he can play with other children and have good meals … sometimes we have nothing to eat at home."
Because of the Compassion centers, children like Jane's son have the opportunities they need to lead a lifestyle different than that of their parents.