At some point, everyone feels like God has left them. Yunita, one of the youngest translators for Compassion Indonesia, felt as though she had been abandoned by God until she read the words of a sponsor.
Yunita had grown up filled with passion for God. She entered the university in 2001, became involved in a campus ministry, and was entrusted to become the leader of the organization in 2006.
Yunita has a heart for children, and with six of her friends she established a group to help children from a landfill in Sumampow, Manado — children who don't have the opportunity to go to school. She and her friends go to the landfill every Friday and Saturday to teach the children.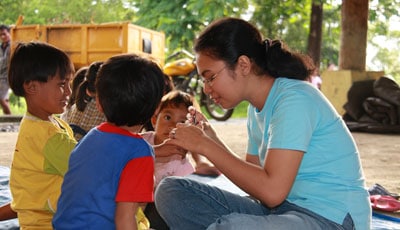 God's love for her kept flowing. She had taken English literacy as her major, which gave her the opportunity to translate child letters for Compassion East Indonesia. Even though she was a student and didn't have much time every day, she volunteered to translate 100 letters a week, which she's been doing since 2006.
God had entrusted Yunita with many things and she felt alive. Though she came from a broken home, she began to believe that she could do anything. But all the success caused her to become arrogant. She thought that she would be able to do anything by her own effort.
When Yunita started to work on her thesis, things changed. Her university lecturer told her that she couldn't finish her thesis.
"He was always angry with me every time he read my thesis. He told me that I couldn't write a thesis. I shouldn't be a university student because I couldn't understand anything. I was in anguish."
Yunita felt like God had abandoned her. She felt disappointed and that she couldn't trust Him. Yunita felt that she didn't have strength to write.
"I felt empty at that time. I was very embarrassed with myself. I thought that as a Christian leader I could do whatever I wanted to do. Arrogance had gnawed my heart."
Embarrassed about her situation, Yunita began to lie to her uncle who had paid for her university. She told her uncle that her thesis was in progress.
Until one day God spoke to her.
It was when Yunita was translating a sponsor letter. Although she had read similar words before, Yunita was shocked by what she read in the letter. It was like her eyes were opened.
"God loves you. You are precious. You are special."
The sentence that sponsors always write for their sponsored children suddenly shocked Yunita.
"I then realized that He never left me even for a second. He saw me as his precious one … I felt encouraged and got new strength."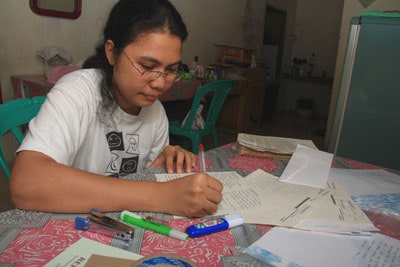 With a broken heart, Yunita prayed and gave thanks for God's blessing in her life. After she surrendered to God, Yunita got the wisdom she had been looking for all this time. After eight years struggling in the university, Yunita finished her degree.
Another responsibility was then given to Yunita. She began to teach children in preschool, which is based in international literacy.
"I'm very happy because He still gives me an opportunity to prepare the next generation."
Yunita's days are still filled with passion for God. She gives everything for children as she continues to volunteer translating sponsor letters, helping children in the landfill, and teaching preschool. She realized that the ministry entrusted to her is God's own.
"God is the one who put His picture on me. I'm just His tool. Now I just rely on Him and obey what He wants from me," says Yunita.
Yunita is just one of the many translators who sacrifice their time and talents to be advocates for children. Their devotion to children has affected many children across East Indonesia.