Ivan does not smile.
We all sit in a circle and laugh and pretend to know Spanish and laugh some more.
But not Ivan. He does not smile.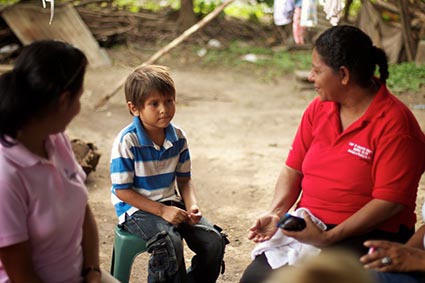 I stare at him long and hard. And just when I think he is about to look up at me, he looks past me.
A child's mind is a delicate thing.
Unicorns and superheroes weave in and out of a mind searching. A mind developing. And as we sit in this poverty stricken community, I wonder what Ivan's mind is taking in.
Does he know what poverty is? Does he know he is a boy living in poverty?
I think about what I have heard from every pastor or center worker from every Compassion center I have ever visited. About how they challenge the mind of a child in poverty. How they teach them to have dreams and aspirations.
They know, a child's mind is a delicate thing.
As quoted by Wess Stafford from Christianity Today's article,
"For my dissertation, I asked a bunch of kids what they wanted to be when they grew up. Some were Compassion kids, some were unsponsored. There was a little bit of a difference between the two groups. But then I asked them later what they realistically expected to be when they grew up.

Here, there was a big difference between the sponsored kids and the other kids.

You see, poverty causes children to have very low self-esteem, low aspirations. The big difference that sponsorship makes is that it expands children's views about their own possibilities.

Many of these children don't think they are capable of much. We help them realize that they are each given special gifts from God to benefit their communities, and we try to help them develop aspirations for their future."
Because a child's mind is a delicate thing.
But I can't look away. He's a puzzle I think my eyes can decode. I so desperately want to know what he thinks. Where his smile lives. Maybe he is just shy. And that is okay.
But maybe his mind is searching. Maybe the innocence of childhood is colliding with the reality of this world. And I watch as his eyes wander over to glance at his home.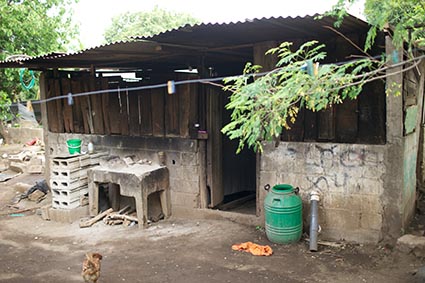 Is that just a glance? Or is a collision in the mind taking place?
But then something amazing happens. Christy grabs him and piles him on top of her lap. And she starts playing a game with him where he is bobbing up and down on her knees and then she drops him down fast.
Ivan absolutely erupts. His laughter marks every airwave that surrounds us.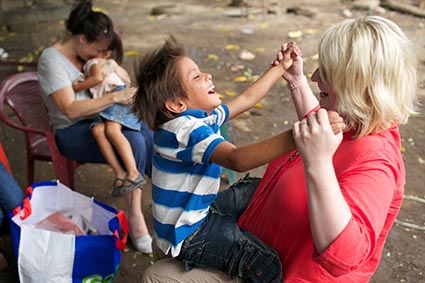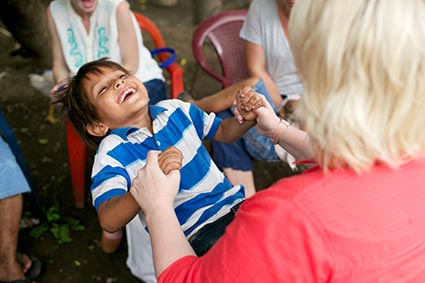 I glance over at the center workers and they are staring at him. Amazed.
They say,
"We have not seen Ivan laugh like this. We will have to play this game with him at the center."
They say,
"He is very quiet. But slowly, as he has been coming to the Compassion center, he has been opening up."
Christy draws out the child in Ivan.
Then she holds him. And he smiles.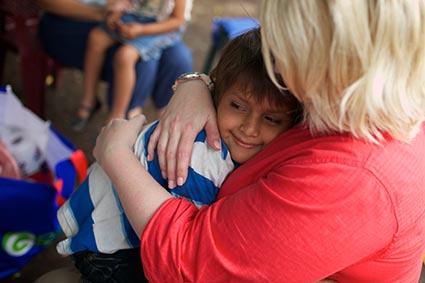 I smile too. I know that through the church Compassion will come alongside Ivan's searching mind and guard his innocence and be a healthy place for his developing mind.
And he will learn that right now he might live in poverty. But poverty does not live in him.
Read more about Christy's time with Ivan.
---