Sponsored teenagers at the Calvary Foursquare Student Center in Santa Mesa, Manila would rather hang out at church and the center than in their communities.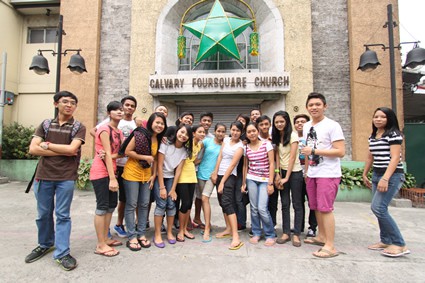 When asked why, the teens said they were grateful for their Compassion-assisted child development center and for the staff's care. Especially since they live in rough communities where teen pregnancy, violent gangs and drug abuse are rampant.
Eighteen-year-old Joshua shares,
"Staffers here at the center listen to us — to what we have to say, to our problems. They do not look down on us. They treat us like their own children."
Joshua is in college studying human resource management. He also wants to be a chef. He added that the church had just held an important youth gathering during which he "got full spiritually, and learned how to please God" in the way he lives as a teenager.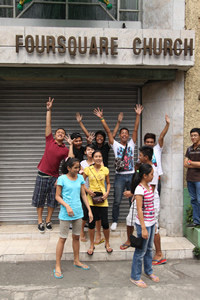 He was referring to the Youth Assembly, a monthly gathering at the church for both sponsored and unsponsored teenagers.
Fifteen-year-old Diane says,
"The goal of the Youth Assembly was to enhance our knowledge of God and to learn how to apply His Word to our lives.

"We learn how to speak in front of people and develop our skills in leadership. I learned that serving Jesus is not just about coming to church but also about living out my faith."
Meanwhile, 17-year-old James explains why he spends more time at the center than anywhere else:
"We bond well with the staff. They are like our buddies. They're OK."
James also wants to be a chef someday, just like his friend Joshua.
Collectively, these teenagers say they can see a difference in their lives because of God's work through the center. They see how the lives of their unsponsored, nonchurchgoing friends are often tragic.
James and Diane told stories about childhood friends who became pregnant early and are now addicted to drugs. When asked about common problems unsponsored teenagers face, they listed sex, drugs, lack of discipline and finances, family problems, and peer pressure as the greatest threats to youth their age.
Asked why they are not as troubled by these concerns as their peers, the students all agreed that it is because they know Jesus and are being taught correctly at the student center.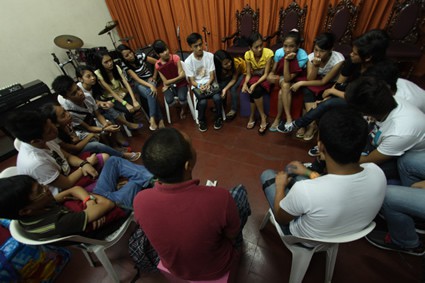 Although these teenagers spend a lot of their time inside the comfort of the church and student center, they are not completely free from the poverty that grips their community in Santa Mesa.
They still live in crammed concrete squatter colonies where the air is filled with the stench of cigarette smoke, liquor, crystal meth and marijuana. These sponsored teenagers feel the effects of poverty every day.
Mark tells us,
"My family is always deep in debt. Often we don't have food to eat. Sometimes we run to our relatives to ask for a few pieces of dried fish or instant noodles for dinner."
Such problems are common; 15 of the 19 teens we interviewed said they experience similar challenges.
But the center remains a refuge for these teens. They gather there for dance rehearsal or any other activity that occurs.
Some of them belong to the dance group that regularly presents worship dance numbers at church. Some are members of the praise and worship team, while others just come to be with friends.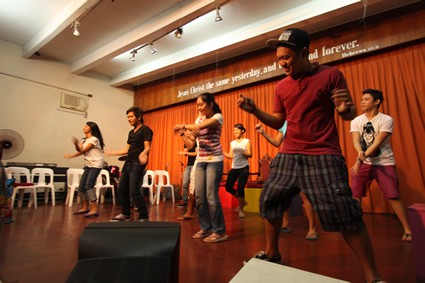 Linda, director of the Calvary Foursquare Student Center, tells us that the center has more than 80 sponsored youth (ages 12 to 21) still enrolled in the Child Sponsorship Program. More than half of them regularly attend center activities, and almost 20 are church youth leaders.
In other student centers in Manila, not as many teenagers have remained in the Child Sponsorship Program. According to Ailan, a partnership facilitator in metro Manila,
"A number of teenagers have moved on because they don't find center activities relevant anymore. They would rather attend to other things, like looking for money for their families."
So when asked why the teenagers at Calvary Foursquare Student Center remain very much engaged at church and the center, Linda explains,
"We [the staff] just try to be their friends. We listen to them and don't turn them down. The Youth Assembly was their idea."
And what a good one it was!
---
---