And so it begins…officially. 20 days about giving.
During this time, let's move beyond just examining our lives for the gifts and blessings we have received. Let's also look at those moments where we thought about giving, wanted to give or felt prompted to give, but didn't act.

Let's talk about the joys and the rewards of giving along with the effort and difficulty involved. Let's talk about how the next 20 days are going to be different than normal for each of us. And let's raise $20,000 for children in need this Christmas.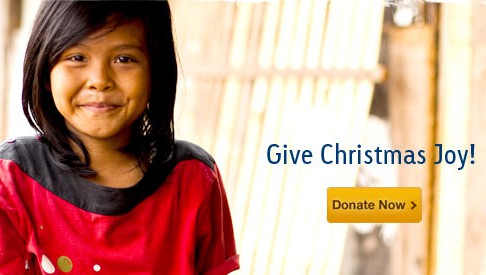 Consider these questions as a way to get started, then commit to participating in one or all of the activities we have going on.
What does giving look, sound, taste and feel like?
Is love incomplete without giving?
What is it about giving that liberates the soul?
What does it mean to give biblically?
Why do you think it's more important to give than to receive?
Is a gift less of a gift if it's refused?
In Which You Interpret #itsaboutgiving on Pinterest
Between now and Dec. 22, create a Pinterest board titled "It's About Giving" and tag us (@compassion) so we know the board exists.
On the board you create, repin our contest announcement and then show us what giving is. Pin anything that is relevant to your interpretation of the phrase "It's About Giving."
We will repin our favorite pins of yours and randomly select 10 winners to earn a $50 gift for their sponsored child.*
In Which You Interpret #itsaboutgiving on Instagram
Between now and Dec. 22, show us the joy, the reward, the sacrifice, the time, the variety, the pain, etc. of giving by tagging your photos on Instagram with #itsaboutgiving.
Multiple submissions are allowed, but submitting another person's work is not.
The top five tagged photos, as judged by a panel of Compassion employees, will earn a $50 gift for the photographer's sponsored child* and may be featured on compassion.com, blog.compassion.com and in our social media accounts.
In Which You Talk About #itsaboutgiving on Your Blog
Write blog posts based on the writing prompts sent to the Compassion Bloggers network via email on Dec. 4, Dec. 10 and Dec. 17. The assignments will also be posted on compassionbloggers.com
Submit your blog post URL for the respective assignments before the 11:59 p.m. MST deadline on Dec. 22 by sending an email containing the URL to [email protected].
Every day, between now and Dec. 22, that we receive at least $1,000 to the Compassion Christmas Gift Catalog via the Compassion Bloggers network we will randomly select one blogger from the network to earn a $50 child gift for his or her sponsored child.* Join the Compassion Bloggers network.
In Which You Share, Share, Share the Tweets, Status Updates and Images We'll Be Publishing Each Day
Here is some content to get you started.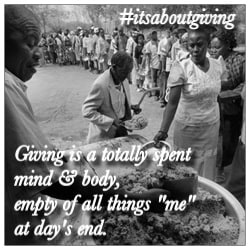 "I have found that among its other benefits, giving liberates the soul of the giver." ~ @DrMayaAngelou #itsaboutgiving
"Every man shall give as he is able, according to the blessing of the LORD your God which He has given you. ~Deut. 16:17 #itsaboutgiving
One in two Americans (49%) say social media affects their charitable giving. ~ @wsj | So tell others #itsaboutgiving
Let's paint a complete picture of giving this holiday season and see what we come up with. Let's see if what we uncover helps connect us more closely to Jesus and helps make giving a part of our everyday lives.
---
*If a contest winner is not a sponsor, a $50 credit to the Compassion store will be given.
Download the official #itsaboutgiving contest rules at compassion.com/rules.