Esther and Pastor Caleb moved from South Korea to Bolivia because they each felt in their hearts a passion to help Bolivians. They came as single missionaries, then met and married in the city of La Paz 14 years ago.
In 1996 they started Bet-El Presbyterian Church in El Alto-La Paz. In 2004 they partnered with our ministry.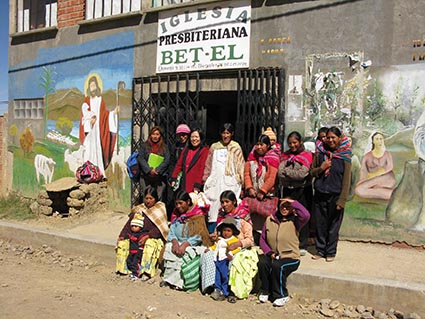 Esther shares,
"What encouraged us to come here was that there was a lot of suffering. Many people didn't eat well; they got sick and died.

"We wanted to help people but we didn't have much money, so we started to look for an NGO (non-governmental organization). During the two years we prayed, I didn't know Compassion was here. Then people told us about it and I knew it was good, so we sent a letter to Compassion and that's how we started."
What makes working with us even more special for Esther is that Compassion changed her life when she was a child in Korea. Her family lived in extreme poverty; her father was very sick and her mother supported them, so Esther was sponsored through our ministry.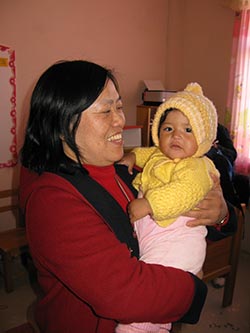 "I was sponsored when I was 6 and graduated when I was 18. Compassion helped me a lot.

"We were very poor at my house. Since my mother was the one who worked, she didn't pay much attention to me; however, my sponsors used to send me letters and gifts and I loved that very much.

"They prayed for me very much. That's why I wanted to become a missionary.

"What motivated me to help others is that when I was a child I suffered very much being poor, so I wanted to help poor children."
She remembers that her sponsors encouraged her through their letters, cared and worried about her, but mainly they prayed for her.
"They gave me a lot of attention; they loved me so I loved them. I wanted a Bible very much but I couldn't afford one because it was very expensive, but my sponsors gave me a Bible.

"And if I wouldn't have been in the Compassion program, I probably I wouldn't have studied. But I learned to have a vision, so I wanted to be a missionary and help evangelize children. That's why I came to Bolivia.

"In the same way a church helped me, I want to help areas in poverty and release them from poverty too, like Compassion does."
When they first started the child development center at their church, Esther was the director for the first two years. It was difficult to find people who could help them, so they had to invite youth from other churches to help with the children. They also faced difficulty because families initially didn't want to register their children into the program.
Pastor Caleb tells us,
"At first people were afraid to [register]. They didn't know anything about Compassion, but after getting to know how it worked, many people wanted to register their children.

"Before the child development center opened, these children didn't have a vision — only one wanted to be a doctor. That made me very sad. But now they want to be doctors, lawyers, teachers. Now they have a vision and that makes me very happy."
Pastor Caleb believes that his native country of Korea, after being very poor, changed because God's Word reached inside. In the same way, thanks to this child development center, many children in Bolivia are changing. They believe their hopes can be accomplished, and that knowledge is very important.
Through the help they receive with their studies, school materials and God's Word, they are making changes that can positively impact Bolivia's future.
"Knowledge can change Bolivia. If there isn't knowledge, they can't change Bolivia. We learned that money is necessary, but even more necessary is to change ideas and ways of thinking.

"If they don't change that, Bolivia will remain poor and continue searching for help. The work Compassion does with the children is very important. God uses knowledge."
Esther and Caleb are deeply thankful for sponsors, especially the Korean sponsors from their home country. Esther shares,
"Korea was very poor when I received help from a sponsor and now we as Koreans are helping other countries. I am very thankful to the Lord and also to these sponsors — they are a testimony of greatness. They have received a blessing and now they can share that with other people.

"Thank you very much, Korea, because we were also a country in difficulties and some people helped and my country changed. Now it's my country giving back that blessing. I feel very proud because Koreans help Koreans to help Bolivia. There are many countries helping Bolivia, but my fellow countrymen are supporting Bolivia and I feel very proud."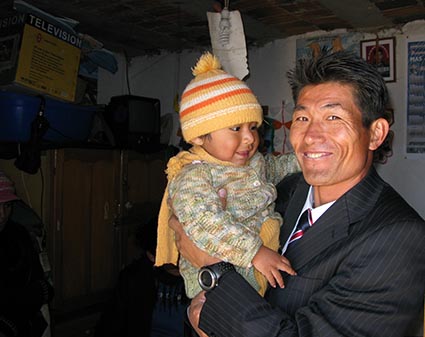 Caleb and Esther's love for Bolivian children is wonderful. Every time they have the opportunity to visit other countries, they speak about our ministry in Bolivia. They believe that just as they are passing on the love they received years ago, so will these children continue the chain of love.
---