As I entered the village community center in Inigodawela, these words rang out loud through the sound system,
"Testing, 1, 2, 3… Testing 1,2,3…"
This was the location for the today's Christmas celebrations. Inigodawela, Chilaw, lies in the Northwestern Province, almost 85 kilometers from the capital, Colombo. Inigodawela sits quietly between the Negombo lagoon and vast coconut estates.
Stage lights were flickering and decorations were sitting proudly on the stage. Inigodawela Child Survival Program staff members were rushing to and fro trying to get things completed in time to start their Christmas program.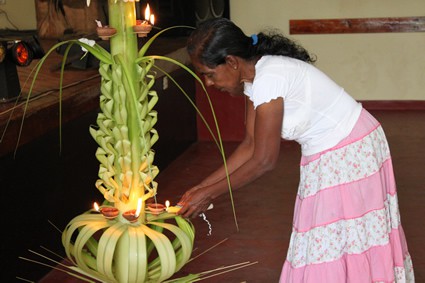 Trickling in through the two main doorways were mothers enrolled in our Child Survival Program. Right behind them were their husbands and the rest of their families. This day's celebration was for the entire family, young and old.
One mom, Selena shares,
"This is my first Christmas party. I am so excited, we have never been to anything like this. My entire family is here. My husband and children are taking part quite a few times."
There were smiles on each face that appeared through those doors. Some were already dressed for their parts in the celebration. Some carried large bags with their costumes.
The program was organized by the Child Survival Program moms and their husbands. They had spent long evenings at the church planning this big event. Enthusiasm had being building up since the beginning of November.
The hall was buzzing with chatter as it filled up. Excited children sat impatiently. Some were too young to know what was going on. But they seemed to sense the joy and excitement in their mothers faces' as they, too, beamed.
Walking to the back of the stage, behind the large red curtains were presents and bags filled with gifts. Presents were wrapped in beautiful wrapping paper. Names were written clearly on each of them.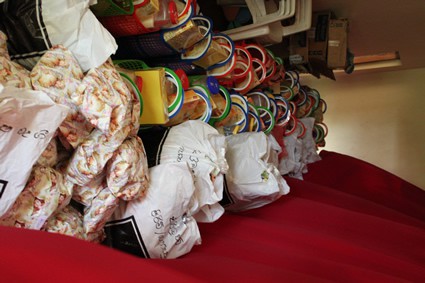 Baskets were filled with milk powder, cake, jam, sugar and a few sweets. Each pregnant mother was getting a gift of maternity dresses, and the other mothers were getting a skirt and a blouse each. The babies in the Child Survival Program were getting clothes and a toy, and their brothers and sisters got similar gifts. Fathers were given sarongs (a sarong is a large tube or length fabric that is worn by men in Sri Lanka).
Pastor Palitha serves at the Kithu Sevana Church in Inigodawela, and started off the Christmas celebration by saying,
"It is great to see all of you here today. This is a special day for us. It's a special day for you, because this is your celebration. This was organized by you, and I have no doubt that this will be a great day of celebration."
The program started with everyone standing for the national anthem as two young boys brought the national flag on to the stage. Then there were dances, dramas and one song after the another. Many songs were from the local cinema scene, and they each spoke of the love of a mother for a child.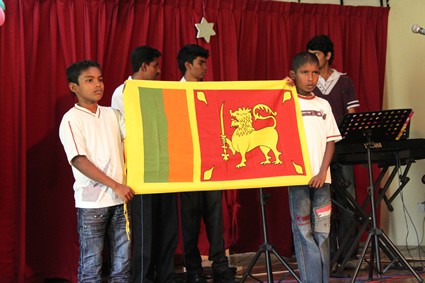 Among these songs was one sung by Selena's husband;
"You lost your mother's love when she left you to seek greener pastures, but I am with you, don't you see? I am there right next to you always, or is it just motherly love and not fatherly love and affection you recognize."
As these words rang through the hall, there was silence, even among the children.
This father may have known it or not, but he had touched the hearts of all who where here this day. Drinking, extramarital affairs, divorce and alcohol abuse are large issues in these areas. A few of the fathers in the room were alcoholics and not involved with their children. But as this song rang out, the father next to me, holding his baby, had tears in his eyes.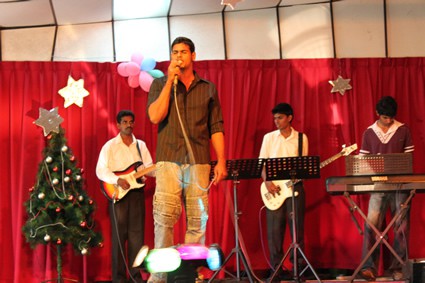 Selena is a mother of four children and she lives near the lagoon. Her house is very simple. One large bed and a couple of chairs, one little mirror and a small place of worship (a small statue of Buddha and a clay lamp) makes up the living space in this mother's home. Her husband was in the army for some time before he left to be with his family. Selena's elder daughter was adopted by her brother.
With a hint of sadness in her voice Selena explains,
"My brother and his wife couldn't have children and I was not in a position to look after her. We were much poorer then, so I gave her to my brother."
Selena and her husband are active participants in the Child Survival Program. They are one of 40 families represented at this community hall, this day.
Laughter filled the hall as children and adults performed comedies, mimicking those from their own families. Stories of love, songs of friendship echoed. Children watched in awe as they saw their parents sing, dance and act, something very different from what they had witnessed at home.
Vasanthi sat with her little baby, Sasini, in her lap. Both watched with a smile as Vasanthi's husband and Sasini's father, Ranjith, acted in a comedy for which he and his team had been practicing from the time this event was organized.
A few chairs away Shashikala was enjoying the drama, while her little baby boy, Hirun, played with his own little hands, which seemed to be a little more interesting to him!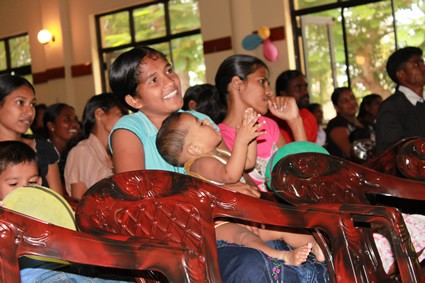 It was time for the presents to be given. Mothers, some carrying infants, went on to the stage as their names were called out. Smiles were seen on every face as they received their gifts.
As I walked through the families present, taking pictures and speaking with them, one thing resounded from almost all of them;
"We are so happy today, we are truly happy beyond words."
I think these words alone are enough to sum up the success of this program, which was organized by these families, for these families.
There is a definite change and impact in their lives since the Child Survival Program started. For me, an outsider to this community, the change is evident. From my first visit to this remote village up until now, I have witnessed and heard about the change that is breaking forth within these mothers and their families. There is a greater power within these families, a greater power working through them.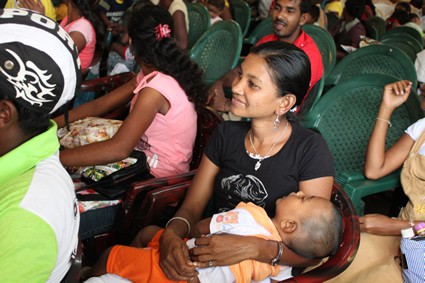 Christmas is a time for families and laughter and sharing. We provided the mothers and their children with special Christmas gifts this day. But that is not where this story ends; it's just a beginning.
These Child Survival Program participants taught us that no matter what their lives were like, there is a change, and they are not just people looking to receive. They are families and individuals who are looking to share.