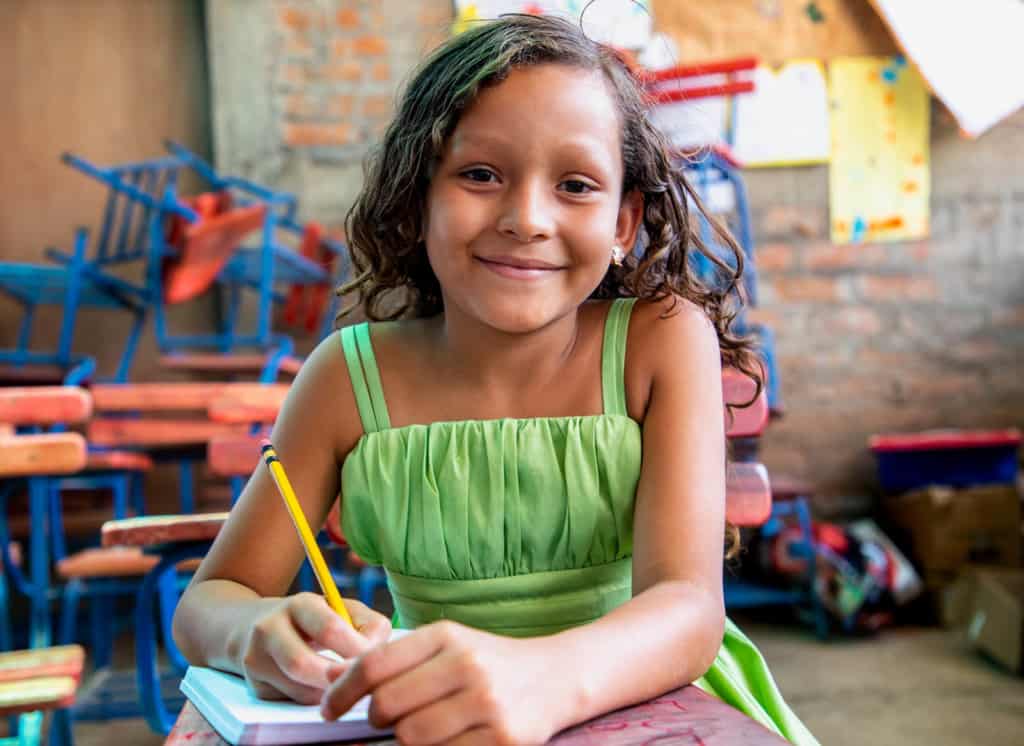 It takes more than a global pandemic to stop these innovators from taking action.
Since the start of lockdowns, children in Latin America have lost an average of 158 school days, according to UNICEF. The crisis is serious, but so are the innovators. These heroes from Central and South America are using creative solutions to serve their neighbors in the midst of COVID-19.
Jean, Ecuador
In Jean's neighborhood, climbing trees is more than just child's play — it is part of their search for an internet signal. Few families in this region of Ecuador have had internet to access learning materials when the pandemic moved school online. Where service is scarce, students began taking to the trees, risking their physical safety out of desperation to connect to virtual classes.
As an alumnus of Compassion's program, Jean has grown up understanding the power of education to transform a life and, with it, entire communities. Now an adult, he is determined to share this gift with children who are facing increasing obstacles amidst a pandemic.
Jean is launching "mini-centers" that will be distributed throughout various communities, giving children access to internet coverage and technology to complete their coursework.
Through his digital platform Connection with Education, Jean can provide children with virtual challenges to complete as they learn new skills in musical instruments, sports and vocational clubs. He designed the curriculum using these interactive challenges to teach adolescents marketable skills that will make them competitive job applicants in the future.
María, Ecuador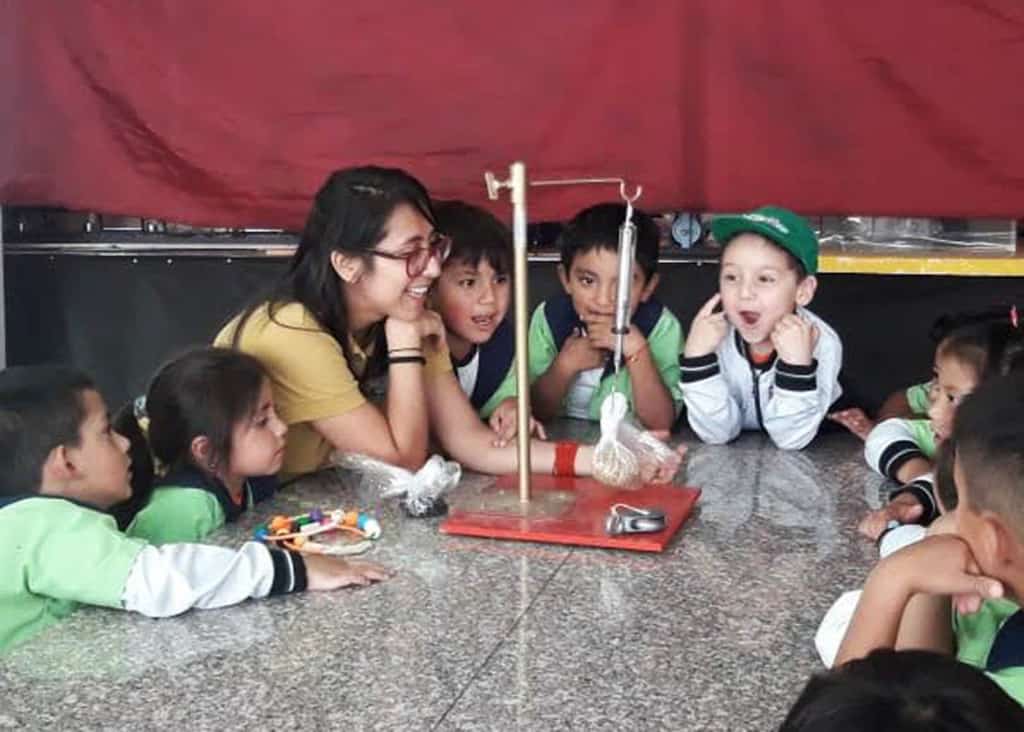 According to María, access to technology in many communities in Ecuador is nonexistent. She is actively changing this with the launch of ConCiencia, an organization that invites young women to explore science, technology, engineering and mathematics, or STEM.
After completing her education in engineering, María became passionate about empowering women from Indigenous communities, specifically in the area of STEM. Believing that women are capable of incredible contributions to this field, she has made it her goal to encourage youths to discover the world of science.
ConCiencia was "born from a very strong need for a quality education for all, including the less favored sectors of our country," she says.
Her current focus is building relationships with communities in the Ecuadorian Amazon. There, ConCiencia has begun hosting workshops that allow underprivileged youths to participate in science experiments and learn about creation.
By providing educational materials to these communities, ConCiencia empowers young women to develop leadership skills and curiosity in a field where they are often underrepresented.
Dennis, Peru
For most families in rural Peru where Dennis lives, working from home is not an option. Many are single mothers, who must risk exposure to COVID-19 to provide for their families by selling goods in the streets. Children are left to teach themselves their lessons at home, struggling to find internet access in a region where service is spotty at best.
With the creation of his digital education center, Dennis provides internet access and tutoring to over 100 families. At the center, students can complete their coursework by using the computers and printers provided for them.
Dennis has also organized an educational support program that distributes library books and supplemental learning materials to the community each week.
Parents are included in this program too. Dennis equips families with parenting resources, inviting them and their children to join devotionals through Zoom.
"We have learned from them that it is important to link parents in the education of their children, since they are ultimately the ones who are responsible," Dennis says.
Katherine, El Salvador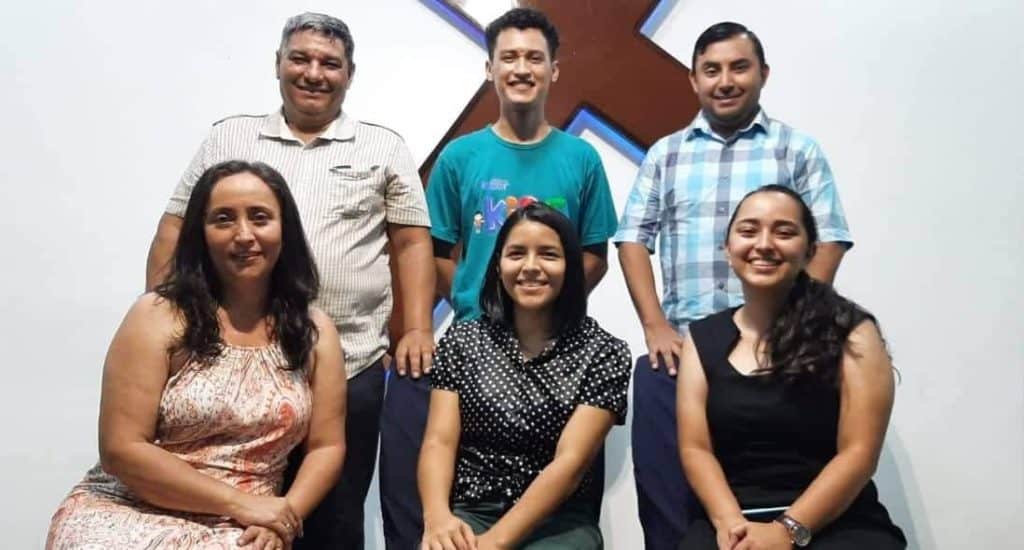 As it turns out, a pickup truck and a printer might be all it takes to help solve a community's crisis.
When COVID-19 caused schools across the world to shut down, Katherine (pictured above, front center) noticed children in her community in El Salvador growing depressed. In neighborhoods where internet access is scarce, and printers even more rare, virtual learning is difficult, to say the least.
"Without the necessary resources to print their materials from home, many did not have the courage to finish the school year," says Katherine.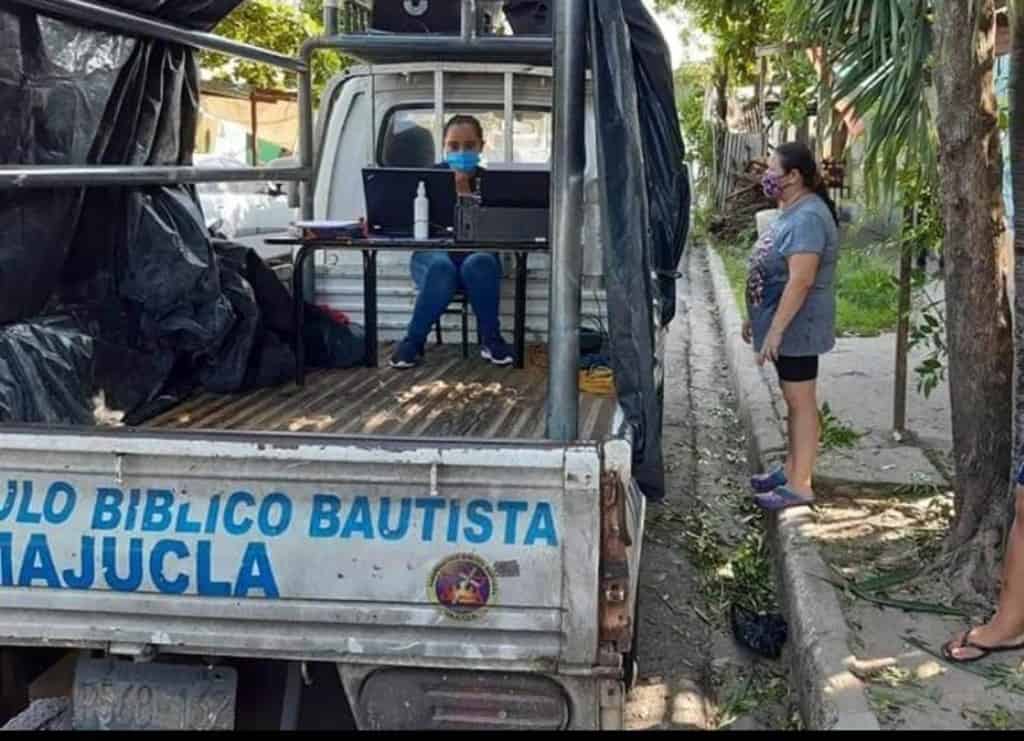 Determined to change this, she began loading up a printer onto her church's pickup truck, driving to various regions around her home so that children could print their online materials. With her church community supporting her efforts, she has helped over 1,000 students complete their coursework since the start of the pandemic.
From 5-year-olds to university students, young people throughout her community have been able to succeed in the virtual classroom.
Juan, Ecuador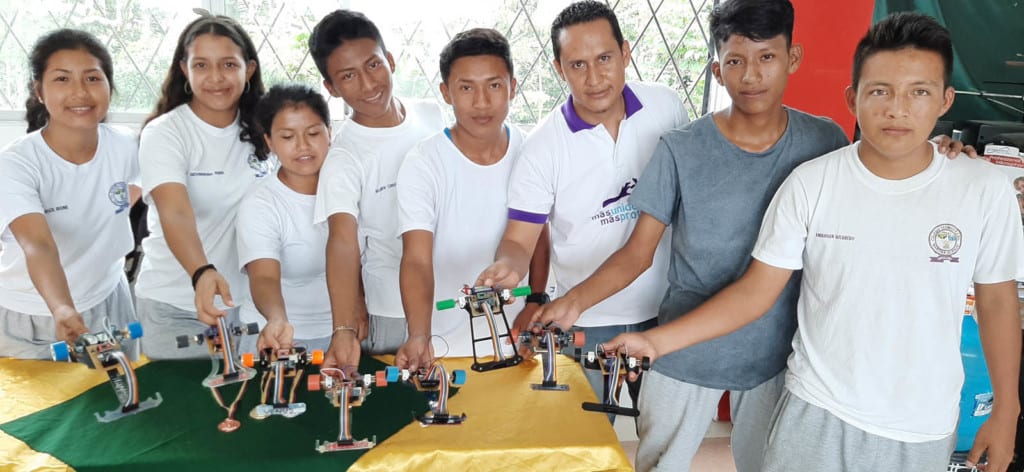 Juan believes that education does not have to be boring. In fact, by creating a club for his students where they can spark their own interest in robotics, he has demonstrated that playing is the new learning.
As a teacher in Ecuador, Juan saw firsthand the dramatic impact of the pandemic on his students' excitement for school. Many kids began facing boredom and isolation, in addition to other educational obstacles. Juan has created a solution to meet these needs with his robotics club.
By offering digital learning programs and in-person gatherings that allow students to create their own bots and play with electronics, the club stirs a passion for learning. Children who participate have the chance to dream up their own innovations and apply their knowledge in practical ways. In a recent project, students designed alarm systems for their families' homes.
At the end of the day, the club is about much more than robotics.
"In our club, we invite them into community, help them in their homework in all subjects, and monitor their academic record and family environment," Juan says.
"I have seen the energy, enthusiasm, dedication, creativity in the students to create their own robots. That joy is indescribable and motivating."
Celebrating Social Innovators
These innovators have shared their inspiring solutions with the Christian Collective for Social Innovation (CCSI).

The Christian Collective for Social Innovation has invited innovators to apply to the 2021 CCSI Challenge, addressing the educational crisis in Central and South America caused by COVID-19. Compassion International is thrilled to be partnering with Baylor University in the launch of CCSI.
Join the CCSI Community on July 29 for a special virtual event that celebrates all our innovators, casting a vision for the future of Christian innovation and its impact on children living in poverty.
About the Author: Madeleine Fossler is a senior at Baylor University studying marketing and entrepreneurship. She is currently working as a Strategic Partnerships Intern with Compassion. As a follower of Jesus, she is passionate about the power of words and education to change lives.