My first exposure to the issue of food security in Africa was during an extreme drought in 1985. The stories were heartbreaking and people died in both Ethiopia and Somalia that year.
You've heard in the news that the current drought is much worse in Somalia than anything in the past 60 years. I can't imagine.
I have spent the past week traveling with our very capable Ugandan staff, following up on our Complementary Interventions food security activities implemented in 2009 to see if those investments are now allowing caregivers of our registered children to weather the storm of low food availability and high food prices.
The answer is that our Complementary Interventions food security programs work!
Food security is always a complex situation. Drought is not the only factor. Typically, harvests are sold at low prices because farmers have limited ability to safely store their harvest and because other family needs require cash.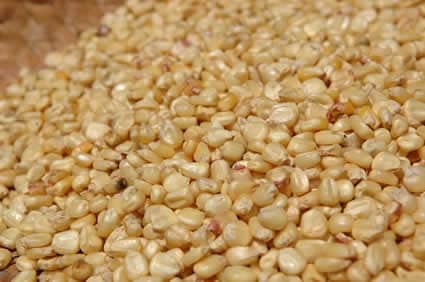 It is not uncommon for a family to sell their grain at harvest time at a low price, knowing they will need to find a way to buy some back in a few months.
This year the United Nations put additional pressure on the market price by purchasing large amounts of maize for relief programs in Sudan and the Democratic Republic of the Congo. As a result, families in Uganda are shocked to find prices through the roof now that the time has come to buy back some grain.
There are definitely areas of Uganda where people are suffering greatly, but the situation is nothing like those across the borders in Sudan, Kenya, Ethiopia and Somalia. The Compassion Uganda office is planning a response to the present drought crisis, but it will be a very targeted one.
My joy this week has come from interviewing families who participated in our 2009 food security programs. Those families have now built up adequate reserves to survive two or three years of poor harvest.
The difference between these families and the ones we plan to help in the coming months lies not so much in how severe the current drought is or how high the prices are, but rather in how prepared the families are. If our 2009 program could have included other parts of the country, those families also would be better equipped to manage the situation without outside assistance.
One example of our food security program is in the community of Tubur, near the town of Soroti. Gloria is a sponsored child at the Tubur Child Development Center.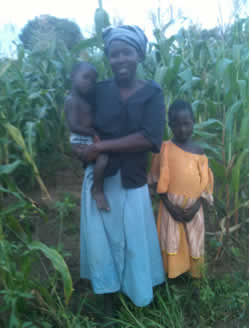 Gloria's mother is still using the seed from the maize she received in 2009.
She also received orange seedlings at that time and they are now blooming. She will soon have her first orange harvest! And she is on the third round of replanting the cassava cuttings she received.
Each season, the harvest increases. She is currently eating cassava and awaiting next month's maize harvest.
Gloria's mother filled two basins with beans from her first harvest after seed distribution. Her most recent harvest filled two very large bags with beans.
Very excited about her current living conditions, she was not satisfied with showing us just one field. She insisted we come with her to see more. While others might be saying,
"Give me more!"
Gloria's mother was saying,
"Let me show you more!"
An additional component of the 2009 Compassion Uganda food security sustainability plan was that the families who received seeds and cassava cuttings would share some of their harvest with their neighbors and also store food for hard times. Gloria's mother and many others we met in Tubur have done this.
Another community where the Complementary Interventions food security activities made a significant difference was Ngora, near Kumi town. In one home, the small amount of green gram and cowpeas received has now become more than 45 pounds of beans stored for family consumption.
Another sponsored child, Martin, lives with his widowed mother and his six siblings and attends the Ngora Child Development Center. His mother said that she is very secure with food now and can survive a drought.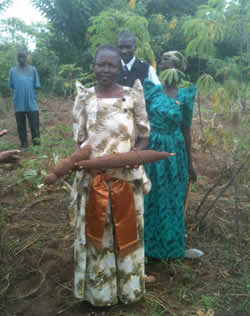 In the past, she used to work in other people's gardens for income to purchase food. Since receiving the cassava cuttings, peas, and other seeds, she no longer needs to work for others. And she has even given cuttings away to her neighbors.
The current high food prices and low food availability is a highly talked-about issue in Uganda at the moment.
It warranted a large district-by-district map of current conditions in the newspaper this week and was the major topic of prayer in churches countrywide.
In spite of these realities, our ministry in Uganda should be encouraged by these Complementary Interventions efforts, because for those caregivers and their families the food situation this year is secure.
Praise God for the privilege we have of complementing the ongoing Child Survival, Child Sponsorship and Leadership Development programs in ways that make such significant long-term impact.
Complementary Interventions works!
---
ABOUT THE AUTHOR: Greg Keen works in our International Program Group as the Complementary Interventions Director.