It's all over the news, the Web and social media. The images are showing up everywhere. The statistics are unbelievable, but they're real and that's why we keep hearing about it.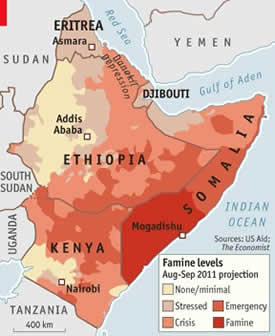 I'm talking about the drought in East Africa.
East Africa is currently facing its worst drought in 60 years; high food prices and failed crops have left millions of people vulnerable.
Dozens of relief organizations have rushed to the scene. They're hard at work calculating the need, raising funds and bringing in lifesaving aid.
You've watched as this crisis has unfolded, you've been praying and now you're ready to respond.
But wait — we have some questions from the audience:
"Where is Compassion?"
"What is Compassion doing amid this crisis?"
"How can I give to Compassion concerning the drought in East Africa?"
Inserting a donation link to our disaster relief fund and asking you to give, right now, is a timely thing to do. But before you click on the link, let me explain how this crisis is affecting our programs.
Our child development centers operate in five countries near the areas affected by the drought:
Kenya
Ethiopia
Rwanda
Tanzania
Uganda
We do not work in Somalia, the hardest-hit country. But where we do work, our local church partners are seeing higher food prices due to poor crop yields caused by the drought. And our church partners are experiencing an influx of refugees into the areas they serve.
Because we are a holistic child development organization working through the local church our program model often protects our beneficiaries against the potentially crippling impact of famine and drought.
Our Child Survival, Child Sponsorship, and Leadership Development Programs are each designed to help meet the ongoing needs of the families, children and students we serve. The programs help our beneficiaries become self-sufficient and better able to weather disasters, such as droughts.
However, when a crisis does arise, the local churches where our child development centers are located identify the immediate and specific needs of the children, families and students we serve.
The churches have access, through our programs, to critical assistance, such as disaster relief, clean water, medical assistance, etc.
Our ministry focus is on long-term development of children from their time in the womb until an age where they're self-sufficient. While we focus on prevention and responding to the needs of our program beneficiaries, we applaud other organizations that do widespread disaster relief.
One of these organizations is the Christian Reformed World Relief Committee (CRWRC), one of our partners in 58:.
In addition to its major drought-response projects already underway in Kenya and Ethiopia, CRWRC is expanding its aid to Somalia.
You can learn more about CRWRC, how they are responding to the drought, and ways you can help at crcna.org.