When Maira came to the child development center at age 8, her family was going through difficult times; her mother was a housewife and her father was a barber. The family lived on her father's income from the haircuts of a limited number of customers.
Sometimes customers didn't show up, which worsened the shortage of food and decreased Maira's parent's ability to meet some of the children's primary needs. Often the parents had to choose the best time to serve the only meal available for the day.             
"If we had breakfast, then there wouldn't be a lunch or dinner." – Maira
A door of hope opened when Maira's oldest brother, Nestor, came to know Jesus at the church in their town of San Jose de Ocoa, in the south part of the Dominican Republic.
When the pastor learned about the family's living condition, he presented our ministry's program to the family and the three youngest children were enrolled.
In the case of Maira, two different voices spoke to her. On one side, Pastor Manuel urged her,
"Keep studying and working hard, taking technical courses."
On the other side, her father said,
"I don't know why you are in school. Girls don't have to study because you have a little farm that should produce a lot of money!"
This was said in reference to her body, suggesting that she should earn a living as a prostitute.
As Maira grew up, she regularly communicated with her sponsors through letters.
"They gave me strength to keep forward. They asked me what my dreams were. Their children wrote to me about their dreams, and I sympathized especially with their daughter Angela who wanted to be a teacher. I decided to be a teacher like Angela."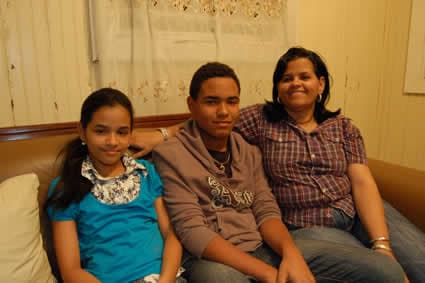 Today, Maira is a social science teacher with a bachelor's degree in education. She lives with her husband, Jose Luis, and her two children, Jose Angel and Priscila.
Maira looks at her children today and she sees the amazing opportunities they have, with enough food, good education and a comfortable, ample house.
Sometimes, while sitting at home, Maira takes time to explain to her children where she came from and how the Lord has been good to her.
"I tell my children of the time when all I had was a pair of plastic sandals, and I began to learn what real shoes were after I entered the Compassion program. My children now can have five or six pairs of sneakers each."
Bileysi
Among Maira's fellow teachers at the Emmanuel Christian School is teacher Bileysi, who started attending a Compassion child development center at age 5. Bileysi remembers how her parents did all they could to provide for her and her two siblings; even so, the family still had many needs, which were met by the Compassion center.
During her years at the center, Bileysi was equipped through technical training courses with typing and accounting skills and to work as a bank cashier. The exchange of letters with her sponsor helped to keep her encouraged and focused.
"[My sponsors] was always concerned with how I was doing in school and if I was attending church. She asked me how my family was doing, if I was being well fed and if I had any need."
When she was a teenager, Bileysi was given the opportunity to teach Sunday school lessons to the children at the Evangelical Temple.
"I believe that was my first experience as a teacher. That was where I really discovered that I had the gift of teaching. I was around 16."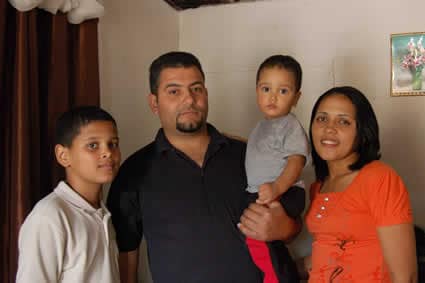 Bileysi is a Spanish teacher now with a bachelor's degree in education. She lives with her husband, Julio, and her two children, Christopher and Madison. Together with her husband, she is taking good care of her children and giving them the type of life she always dreamed of giving a child.
Pastor Feliz Manuel states that the church can provide children in need with opportunities that they can't find anywhere else.
"The child development center is an extraordinary tool that God has given to us. We take in a child … and through the reading of the Word of God and through prayer and through visiting the home, we see that child changing, through the love of his sponsor, through the love of the pastor. That child sees that he is being given something that he can't find in the streets, that he can't find in school.

"That child begins to feel that he is a friend, that he is a partner to others. The church begins to treat him as a new brother, even though he is a child, and the church begins to take him into consideration. He is asked to read a Bible verse in a meeting, and he is encouraged to sing a song. All that becomes a tremendous tool, and that child will change."
Change is not only seen when things go the way everybody hopes, but even when circumstances aren't ideal.
Esther
Graduate Esther remembers how she secretly got pregnant at the age of 17.
"I wrote to my sponsor and told him about the situation. He told me that mistakes are made by humans. My sponsor knew about my pregnancy even before my mother learned about it. I didn't want him to surprisingly know that I was departing."
In turn, Esther received a gift from her sponsor, which has been meaningful to her in the different stages of her life.
"He wrote me a letter and sent me a Bible passage in it that read: 'Call to me and I will answer you and tell you great and unsearchable things you do not know.' I memorized that verse right in that moment, because I was going through a lot of difficulties in my life."
These timely words of encouragement were a lifeline to the pregnant teenager.
"I reflected and I clung to the Lord. That was the most important thing, to cling to God and pray to Him so that He would help me keep moving forward."
The words her sponsor used to write to her still ring in Esther's ears, giving her strength and courage as she is in the fourth quarter of studying marketing at the university.
"He wrote to me that one should work hard to succeed in life. They were not rich either. They were people who worked hard so they could sponsor children in situations harder than theirs."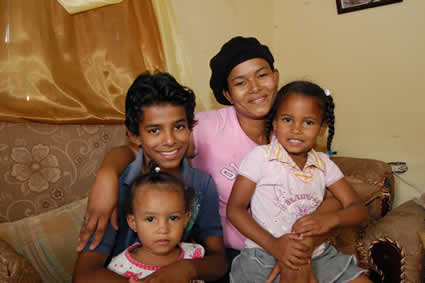 Esther lives with her husband, Jose, and their three children, Domingo, Esmirsi Esmeralda and Esmirna Esmeralda. She has faith that the Lord will help her complete her studies so that she can join her husband in providing for their children.
"I want to say thank you to my sponsors, because if it had not been for them, I wouldn't have been able to be in the university today."
Fremio
Twenty-five-year-old Fremio is a good example of how important school and technical training courses are to help change the course of a child's life. Currently he is the manager of a car parts store in San Jose de Ocoa.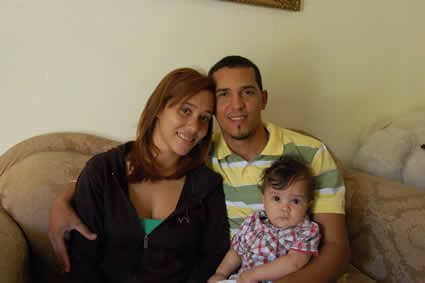 "As I was enrolled in the school that is run by the church, the benefits were many. My family didn't have enough financial resources to pay for our education and for our uniforms and school materials or to pay for vocational courses."
The list of skill-building opportunities made available to Fremio is impressive.
"I remember that I completed around eight vocational courses. I took a pharmacist course. I became a computer technician and completed the vocational course on computer repair. I became a technician in computer network. I remember that I also took the technical course on the repair of electrical devices and another on home electrical wiring. Through my life, I have worked in every one of the skills I was trained on."
Fremio is a reliable and hardworking person who models Christian values, and that's the reason why the owners of the car parts shop have told him they value him as an employee.
"I have my own house and I have a motorcycle for transportation into town."
The impact of sponsors asking children about their dreams in their letters is great and invaluable. This is something that has made a difference in Fremio's life:
"My dreams have been coming true and I know that they will continue to come true."
A while ago Fremio looked at the Compassion website and he saw something that made him think of events two decades earlier.
"I saw the photo of a child who needs sponsorship, and I thought of when I was on that other end."
And this gave Fremio a new dream to pursue:
"I dream of having the chance to sponsor a child the same way my sponsor did with me. I would like to give a child that chance that was given to me."
Noemi and Franklin
Noemi started attending the child development center at age 4. She and her husband, Franklin, have degrees in languages. They run a language school where they teach English.
Noemi and Franklin use a public school building for language teaching, but the place is so crowded that the students need to cram their chairs in the corridors. Therefore, since the couple has their own house, they decided to build a six-room apartment on top of their home in order to make more room for teaching.
Currently, the language school costs a small payment of RD$250 (approx. $7.00) a month; however, Jacqueline and her husband provide a scholarship to more than 50 students who can't pay.
"We say that if somebody comes to us and they can't pay for the tuition, we don't have any problem to receive the student. We don't close the door to them."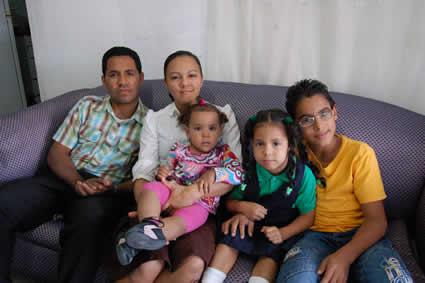 Noemi and Franklin live with their three children, Franklin Junior, Melanie Mary and Grace in the town of San Jose de Ocoa. Noemi is also a tutor at the Peniel Student Center, working with the adolescents.
These five Compassion program graduates share common stories. All of them remember the day and events when they gave their "yes" to Jesus as their Savior, in all cases during their adolescence.
Another interesting fact is that none of them has a child registered at one of our child development centers. Pastor Feliz Manuel believes that this is something remarkable.
"This indicates to me that they overcame the slavery of poverty and that they are able to provide for themselves and others. We are starting to have a different type of people in the society. That can happen through the impact of the church and the ministry of Compassion. In the case of Maira, Compassion was the bait that God used for her family to come to the church and open their hearts to Jesus Christ."