I can't get Vilma, the mother of Special Olympian Emilda Soriano, out of my mind. The other day I glimpsed what it is like to be a mother in one of the poorest neighborhoods in Iloilo City — a neighborhood made for the dead.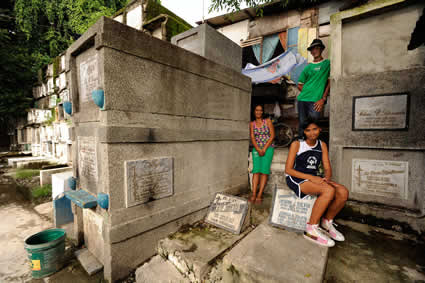 Vilma's shanty is cobbled together on top of a row of tombstones in a public cemetery. I made my way up a steep ladder and entered Vilma's home — two 6- x 8-foot rooms with rotting wood floors barely able to hold my weight. The ceiling is made from rusted tin pieces. Each hole in the tin is stuffed with tinfoil to keep out frequent downpours.
As I spent the day with Vilma and her family and walked around the cemetery where Emilda often runs to train for the Olympics, I learned that they used to live on top of a crypt in the cemetery.
The owner of the crypt is a family friend who allowed them to live there for five years. Then the crypt owner gave the Sorianos enough money to build their shanty.
I weaved my way through the cemetery toward the crypt and was surprised to see so many tombstones for babies and toddlers. Each mother of each entombed baby had hopes and dreams for her baby, just as Vilma has for Emilda. But poverty cruelly cut each little life short.
Around the world, one child in poverty under the age of five dies about every four seconds. This seems unimaginable. And so unfair.
Each beautiful life was capable of great purpose — but how can a child born into an environment like this overcome sicknesses to survive past age five? As I read each tombstone, I felt less and less hopeful:
R.I.P Baby Boy Conte. Died March 10, 1980. Stillbirth.
R.I.P Marjorie T. Patrona. Born Nov 15, 1994. Died Nov 19, 1994. Family Remembrance.
Jerimie J. Bolvio, Born Aug 26, 1990. Died April 16, 1991.
Joshua G. Bolvio. Born Nov 27, 1996. Died July 24, 1997. Family Remembrance.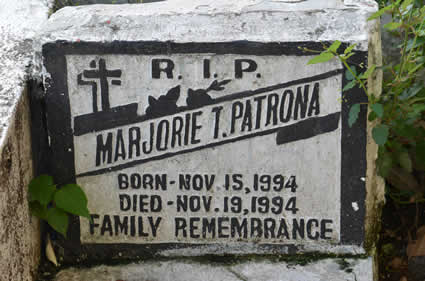 Each sweet life. Each hope for a future ended.
Then, as Vilma pointed to the crypt where she and her family had lived, she said this was where she brought Emilda's younger sister, Glory, home from the hospital.
No brightly painted pink walls. No new crib. No stuffed animals, or books, or Winnie the Pooh blankets. Just a stark-white house for the dead.
It would be easy to give up here. I felt hopeless just walking through the cemetery. Not only has Vilma lived in this unimaginably bleak environment, but she has also heard no her whole life.
When Emilda suffered brain damage at the age of 2, doctors told Vilma no.
"No, your daughter will never get better."
When Vilma enrolled Emilda in school, her teachers said no.
"No, your daughter will never go beyond kindergarten."
When children teased Emilda, they said,
"No, your daughter will never amount to anything."
But Vilma chose to hope. This remarkable woman rose above her stifling circumstances to find hope for her daughter.
Vilma chose to hope that her now-18-year-old daughter, even with the mental capacity of a 3-year-old, could live a life filled with dignity and purpose.
Vilma chose to hope that she — a woman whom others look down upon because she lives in a cemetery and dropped out of school to clean houses at age 13 — has a purpose too.
You helped us help Vilma find her purpose.
You have helped us encourage Vilma to continue to hope. You have helped us provide coaches, testing and money for the fees to help Emilda compete and make it into the Special Olympics Summer Games. And we have worked tirelessly to see that Vilma can go with Emilda to Greece.
The Greek Embassy told Vilma and our Philippines staff that it wasn't possible for her to get a passport or visa. She has no birth certificate, no identity. Many would say she has no dignity or purpose.
But we chose to hope. After months of paperwork and meetings and even a special plane journey to Manila to meet face-to-face with Greek officials, Vilma got her birth certificate, her passport and a visa to see Emilda compete!
Vilma does not own a suitcase, an extra pair of shoes, or more than a few shirts and pants. Mai, the director of Salem Student Center where Emilda attends, has been gathering clothing donations for Vilma so that she will have clothes to wear while she is in Greece.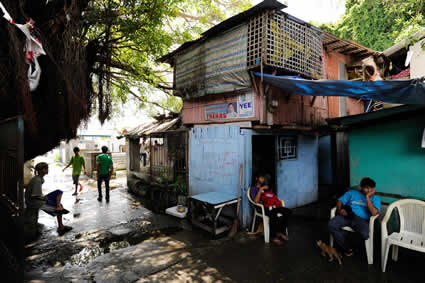 Tomorrow, Vilma will leave her home among the dead. Filled with dignity, hope and a purpose. This mother who fought to give her daughter a chance will board a plane and fly to Greece to see Emilda compete for the ultimate chance — to go for the gold in Athens!
---
UPDATE, June 27: I have a sad update. Unfortunately, I just found out that even though we thought all was approved, Vilma's visa was denied.
Since Vilma has no bank account, no marriage certificate, and only a recent birth certificate (obtained when she applied for her passport), the Greek Embassy decided that she did not have sufficient evidence to prove that she would return to the Philippines if they allowed her to go to Greece, so they denied the visa.
We've been waiting to hear about Vilma for three or so days now. Mai, the center director, stayed in Manila several extra days to go with Vilma to the Greek Eembassy, but it was no use. The embassy staff didn't believe that Vilma would return home. Mai ended up coming to Greece late early yesterday morning.