Diane Elliot, an author, professional photographer, and business administrator from Wauconda, Illinois, willingly takes on the title of mother to children who have never had their own.
In The Global Orphan Crisis, Elliot takes us on a journey through more than 20 countries, and introduces us to the thousands of orphaned children who have changed her heart toward the impoverished.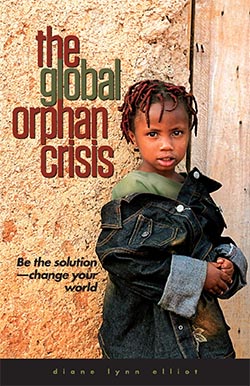 In sharing her story, Elliot invites us on her personal journey toward transformation, and a trip to Haiti that changed her heart for good.
After returning from Haiti, Elliot started compiling research of her own and discovered that the number of orphaned and abandoned children worldwide topped an overwhelming 153 million.
And in Elliot's words, she is,
". . . more convinced than ever that these children's only hope is the life-changing love of Jesus and people willing to sacrifice comfort and 'normalcy' to make a difference once child at a time."
That is the believer's mission: to sacrifice normalcy and change the orphan's story . . . one child at a time.
She delves into the leading contributing factors that eventually orphan a child, the dangers orphans face, and God's plan for each and every orphan — challenging us to face the facts plaguing children around the globe, while offering practical and tangible ways to face the growing epidemic head on.
And assuring readers that every voice matters.
If you're an individual moved by the weight of stats and figures, this book will provide actionable steps to institute global change with your surrounding community.
Diane will walk you through the crisis surrounding the growing orphan population, and take in the stories of the poor that need our giving spirit.
If you are looking for a book to help you learn the facts about orphans around the world, The Global Orphan Crisis is for you.