Dave Walton is a Compassion Advocate of two years and a sponsor for nearly 30. He reflects here on his first visit with his sponsored child and the importance of recognizing and encouraging the child's natural parents' role in his life.
---
Whether or not our sponsored children realize their God-given potential has much to do with our support. Not withstanding this and the encouragement the parents and caregivers receive from us because we sponsor their children, we add value to the parents' lives when we include them in our correspondence to "our kids."
No different from parents everywhere, parents in poverty are in the trenches of child-rearing day in and day out. So, encourage your child's parents in your next letter. Consider including a Bible verse or a small card "For Mom & Dad."
I believe that by our encouraging and expressing appreciation for their efforts, they will be better parents and that will be reflected in the life of your sponsored child.
I recently had the opportunity to visit my sponsored child in Ecuador. I had anxiously awaited and prepared for this adventure for almost a year. While on the threshold of this event, I thought about the language barrier, the food, the water and what it would be like to meet Luis in his own country, culture and family. This was going to be different … very different.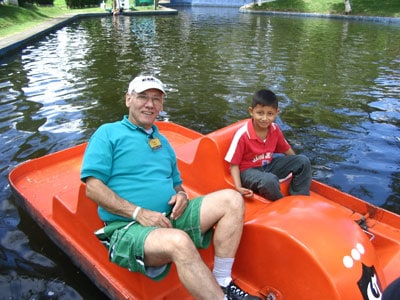 Luis, like most young boys, is full of energy and adventure. When we met, he wanted to try everything. He handled questions and conversation easily, even through the dynamics of an interpreter.
Luis has a natural passion for ball games and ice cream, and he also has a younger brother as well as a sibling on the way. It was a delight to spend time with him.
Help Families Affected BY COVID-19
Families in poverty have no safety net in times of crisis. Help provide food, medical care and support during this pandemic.
Though soft spoken, it was easy to tell from the tears in Luis' mother's eyes how much she and her husband appreciated that someone very far removed from where she lived would care enough to partner with them to give their son opportunities they could never provide alone.
The quality of time spent with Luis helped me to realize that Mom and Dad are doing the best they can with what they have.
I put together an assortment of pictures from our day together. I included a letter addressed to Dad and Mom and made a point to express admiration for the great job they are doing in raising Luis and the privilege it is to partner with them for his future.
From what I saw, Mom and Dad are making every reasonable effort to "raise up their son in the way he should go." This truth is evident to me every time I look at Luis' picture.