Today is the National Day of Prayer, and it has me thinking about praying for my sponsored children. As sponsors, we want to develop relationships with our sponsored children, but space, time, and sometimes uninformative letters can make those relationships seem distant at times.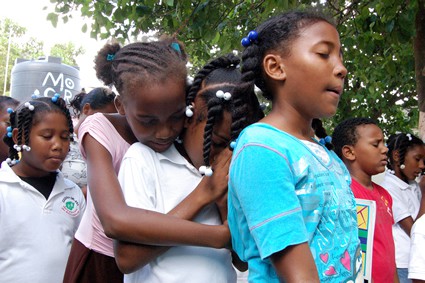 But even when we don't have a face-to-face relationship with our sponsored children, prayer can be such a tool in building that relationship.
I'm not sure what it is about praying for someone that draws you closer to them and helps you to love them more, but that has always been my experience.
So when I stumbled across an article about praying for our biological children by Bob Hostetler, I was excited to try it out with my sponsored children.
Bob came up with 31 ways to pray for our children based on Scripture, praying that God would shape their characters. Even when we don't always know all the particulars of our sponsored children's daily lives, we can still be praying for God to be moving in their hearts and transforming them to be more like Christ.
So for the next couple of months, let's pray together, each weekend, for God's working in these precious children's lives.
Each weekend, we'll post a scripture, along with Bob's prayer prompt, to remind us how to pray.
I know what an encouragement it is to these children to know that someone they've never met in another country cares enough about them to pray for them, and I also know that God hears our prayers for these children and is moved to act!
"And pray in the Spirit on all occasions with all kinds of prayers and requests. With this in mind, be alert and always keep on praying for all the Lord's people." — Ephesians 6:18, NIV