"I remember the day my mother brought me to Addis. I was very excited to see my father. I played with him for a while, and my mother took me to my aunt's house, where there were a lot of children to play with. I was happy. However, my excitement quickly diminished when my mother came to say goodbye. I was confused. I stood up to go back with her, but she told me that I would be staying with my aunt from then on. She cried so much when she said goodbye and left. For a long time, I always believed she would come back for me. But she never did."
That was the day Sameson lost his mother.
Separated from his siblings and his parents, Sameson began life with his aunt and her family in Addis Ababa, Ethiopia. However, the fact that the family was already struggling to survive meant that Sameson was considered just another mouth to feed, and he became an unwanted burden. The family didn't hesitate to show him that he was unwelcomed in the house.
According to Sameson, the family had one untold rule: everybody worked for survival and there was no age limit. Hence, he was assigned a chore like the rest of the children in the house, even though he was the smallest of them all. At the age when he was supposed to be cared for and able to play with his mates his own age, Sameson went to the field with a lot of cattle and sheep to herd.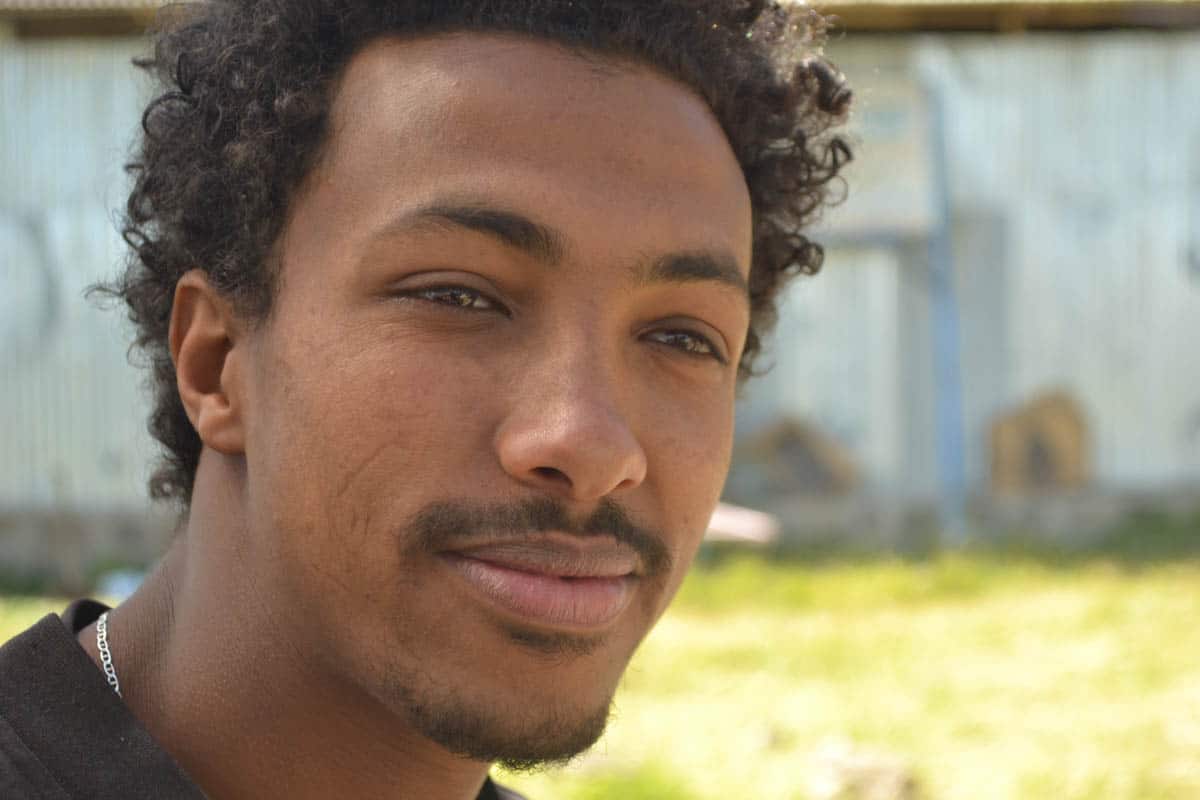 "Those times still torment me. I prefer not to remember them. I was almost five years old, and I spent the whole day tending to the cattle and the sheep alone. I didn't know how to tend to them, and sometimes they would go astray to another field, and I used to cry a lot not knowing what to do to bring them back. Sometimes they would get stolen, and I would get punished for it. The rainy season was the worst time, since I had no shelter. Because I didn't know my way back home too well, many days I grabbed the tail of a cattle and followed them home. I had no friends and no one to talk to while I spent my days in the field."
No one cared for Sameson in his aunt's home. It was all about survival. He craved for his mother's loving touch and attention and for his siblings' playful ways. Sameson's childhood became grimmer with every passing day.
When Sameson turned seven years old, a family friend who worked in a church in the neighborhood came with news that she thought would excite the family: Compassion in partnership with Repi Kale Hiwot Church had started registering children in its Child Sponsorship Program (CDSP).
Sameson's aunt rejected the idea many times, giving various reasons like, "Who would herd the cattle? What if he changed his religion? What would my neighbors say about sending him to the Protestants?" and so on. However, the persistence of the family friend paid off, and his aunt finally agreed to let him register.
At the Child Development Center (CDC), Sameson found children his own age who related to what he went through. He found people who were concerned for his wellbeing. He found people who loved all the children at the center equally. He found people who treated him like the child he was. Soon after he joined the program, Sameson started school during the day, with children his own age.
"You know, the first year of my stay at the center was filled with fear. I was afraid that the chance would be taken away from me. I was afraid that it was not real. I was afraid that I would go back to herding the cattle alone in the field. I was afraid that someone would come and tell me that I didn't deserve it all. It took me almost a year to believe that Compassion really came to give me a better life."
Sameson spent most of his time at the center attending tutorials, Sunday school or just having fun with his new friends. Although it took him a long time to open up and have a close relationship with people, he became a very outgoing person who made a lot of friends.
In order for the children at the center to grow in all aspects of their lives, the project organized many events and activities, including recreational and educational trips to different parts of the country. They were also given counseling, so that they could develop self-confidence and believe in themselves.
"The support I got other than the material provision is beyond what I can tell you now. Because I was hurt in many ways, the center counseled me and invested a lot in me to make me realize that I am capable of becoming whatever I want to be."
In addition to these benefits, the CDC also worked to develop the children's spiritual lives. Apart from the counseling, they consistently told the children about the love of Jesus in Sunday school, at children's conferences, and on different occasions. Sameson was one of the children who accepted Jesus as their savior during one of the conferences organized for children.
When Sameson joined high school, his schedule allowed the family to assign him work again. He was now responsible to work a half-day in the little wood workshop the family opened in their compound after selling the cattle.
"No one cared whether I succeeded in my education or not. Even my aunt's children were told they should work. No one followed how we were doing in school. It was all about their daily livelihood. So I had no option but to work while my friends spent their afternoon in the library working hard to score good on the 10th grade national examination. Even though being at the center helped me to believe in my potential, I was not sure about passing my exam."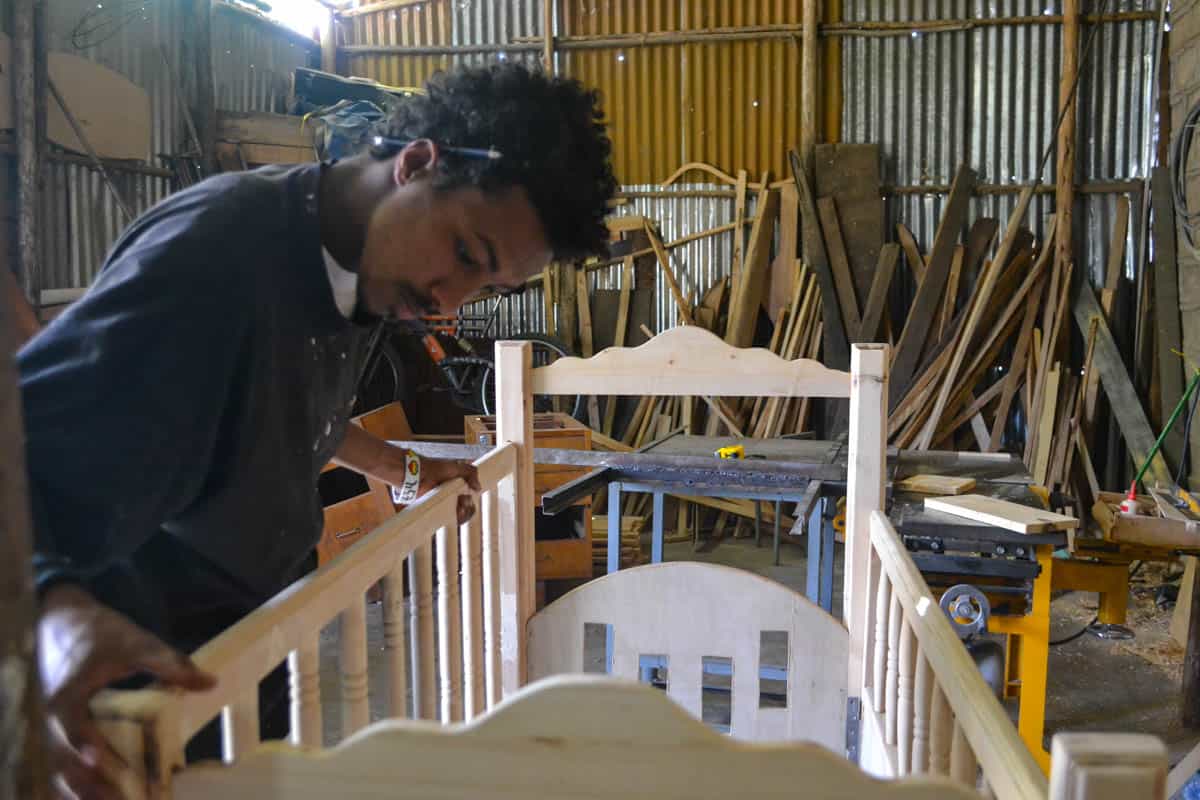 Unfortunately, Sameson failed his 10th grade examination. The hopelessness he felt when he learned his result was quickly turned into optimism when the CDC director told him that he could explore other options in the vocational stream. They arranged for him to study woodworking, since he already had some background knowledge in the field.
"When I heard that failing my exam was not the end of the road for me, I praised God and I was very thankful. For so many children in my village, including my aunt's children, failing 10th grade means the end of the road for them, since most of them couldn't afford vocational school."
The church and the CDC opened up a wood workshop on the church compound, so the center children could take skills training in the summer. Sameson was assigned to teach the children and to administer the workshop. He takes orders and produces different furniture.
"It's a great privilege. Other than the satisfaction I get through working, I am very happy to interact with the people who influenced and shaped my life on a daily basis. I am also very happy to be a role model to children at the center."