When I read stories from our field offices about people coming to know Christ as their Savior, I get really excited. Over the past few weeks stories about Eva, Anthony and Awa have really stood out to me.
What struck me about each of their stories were the actions of the Christian community serving them — actions that showed there is something truly different about this Jesus … something that is, in fact, life changing.
Our faith is important and so is prayer, but actions … well, actions speak volumes our words cannot. In James 2:14-16 (NASB) the apostle Paul says,
"What good is it, my brothers and sisters, if someone claims to have faith but has no deeds? Can such faith save them? Suppose a brother or a sister is without clothes and daily food. If one of you says to them, 'Go in peace; keep warm and well fed,' but does nothing about their physical needs, what good is it?"
Over the Christmas season I read Paper Angels by Jimmy Wayne and Travis Thrasher. It's an inspiring novel about two families whose lives touch through the Salvation Army's Angel Tree program.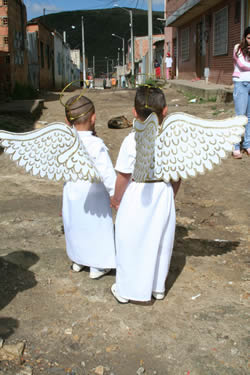 In case you do not know, the Angel Tree program is one where you choose a child in need and buy Christmas gifts for that child.
It's a tangible way to help others less fortunate know they are loved and are not forgotten at Christmas time.
In the novel, Kevin struggles to keep his young family afloat with his ailing business.
And Thomas, well, Thomas is a teen living in poverty who is determined not to let his poverty get the best of him.
Both characters are fighting tough times, and through their actions God shows up and they each discover that, as bleak as life looks, it doesn't have to stay that way.
As I read Paper Angels and reflected on Eva, Anthony and Awa, I saw the ugly thread of poverty's lies woven throughout their personal stories.
Lies like You will die alone; Dreams aren't for you; and Bullies always win, so don't bother fighting.
Yet in Paper Angels, as in real life, it was the actions of those called to be the hands and feet of Jesus that brought light to the truth.
Truth that says You are not alone; Dreams do come true; and Bullies are broken people who need Jesus and have no power over you.
Christmas is over and, for many of us, our heightened awareness of the needs of others dulls over time. So I am challenging myself and you: What can we do in this new year to dispel the lies children in poverty live with 24/7?
You could sponsor a child — of course, I'm a huge supporter of that! But what about local programs like CASA or Big Brothers and Big Sisters? Or does your church or community have an outreach program for single parents?
I know life gets busy and overwhelming at times, but if we all just do a little bit, a whole lot of ground will be covered.
Any action you take on behalf of a child living in poverty says to that precious person, You are seen; You are loved; and most especially, You matter to Jesus.
In 2012, will you be the action that shows the love of Jesus to others? And if you need a little inspiration throughout the year, read Paper Angels. It'll touch your heart and motivate you when you need it most.