Some diseases make people suffer simply due to ignorance of how to prevent them. A Mossi proverb goes like this: ziilm yaa banga, which means "ignorance is dreadful." Traditionally, it is believed that knowledge is valuable for people and communities. But how and where can they find knowledge?
Hosea 4:6 is fulfilled every single day in many communities in Burkina Faso.
"My people are destroyed for lack of knowledge."
To lessen the misfortune of so many parents who have suffered under the yoke of malaria, Apostolic Church of Wemtenga Child Development Center recently organized a malaria awareness campaign.
Seventy-one mothers and fathers gathered in the church's auditorium. They all wanted to hear about malaria, the disease that they have been suffering from powerlessly. The agenda was to focus on good behavioral practices.
Parents were taught how to avoid sheltering mosquitoes that infect people with plasmodium, which is responsible for malaria. Most parents had been living in a total lack of cleanliness: Stagnant water, household refuse and all kind of rubbish were in families' homes.
They learned about the benefits of depriving mosquitoes of their favorite environment simply by cleaning the house.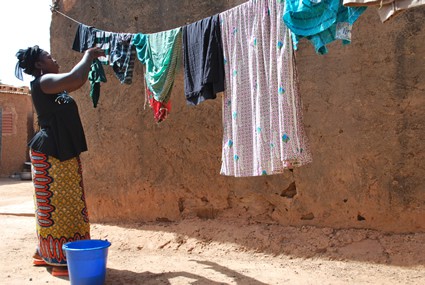 Through this awareness campaign, parents are now more conscious about their children's health. The Wemtenga Child Development Center director tells us,
"Since this awareness meeting, parents are willing to quickly take sick children to the hospital."
In the past, most parents did not want to take children to the hospital even though all medication expenses were paid for by the child development center. Now that parents know more about malaria, a new way of life is rising.
Saloussa is registered at the Apostolic Church of Wemtenga Child Development Center. He still remembers Malaria Awareness Day.
"We were told to clean our houses and keep the food and kitchen utensils clean to avoid mosquitoes."
Many of the registered children received mosquito nets and parents were taught how to properly use them. Saloussa has one mosquito net and his father has one.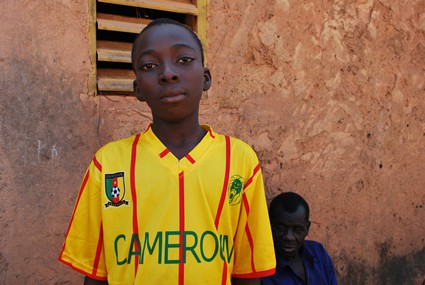 Since Saloussa's father, Lassané, heard about the benefits of mosquito nets, he makes sure all of his family members sleep under them.
The results are evident; Saloussa, who used to fall sick from malaria two to three times a year, is now feeling fine almost all year round. And though Lassané's home is small and poor, it is now neat and clean.
One mother, Catherine, attended the meeting with great interest. She has four children and her husband is away in a neighboring country for work. She is a hairdresser and earns about $40 a month.
Since she is bringing up her kids alone, she wanted to know anything that would provide better living conditions for her and her children.
"We were told to closely take care of the kids, and make sure they are not bitten by mosquitoes. Otherwise, they would fall sick from malaria."
Her child, Amaweaky, did not have a mosquito net because nets had been distributed before Amaweaky joined the our program. He and a hundred other children need nets.
At the end of the meeting the development center staff gave mosquito coils to all the parents.
When a mosquito-repellent coil is lit, the smoke from the coil chases mosquitoes away. For those whose children had already received mosquito nets, it was a bonus. But for those like Catherine, whose kids had not yet received nets, it was a consolation.
Mosquito coils last just 10 days but Catherine was very happy to receive them while waiting for mosquito nets.
Knowing that parents who had not yet received nets wanted protection for their children, our staff decided to knock on all the doors necessary to find out who did not have any. The center director shares further,
"I have talked with our partnership facilitator about the huge need of mosquito nets. If need be, we will write a proposal to be able to provide all of the children registered at our development center with nets."
Currently, our staff in Burkina Faso are working on proposals to purchase mosquito nets for all registered children who do not have one. Health specialist Dr. Kiemtore explains,
"We have realized that for an efficient battle against malaria at least two nets should be given to each registered child; one for him and one for his siblings."
The need for mosquito nets for children in Burkina Faso is high, and solutions are being sought. Meanwhile, parental education is the core strategy in the fight against malaria, helping parents learn to live more healthfully and protect their homes.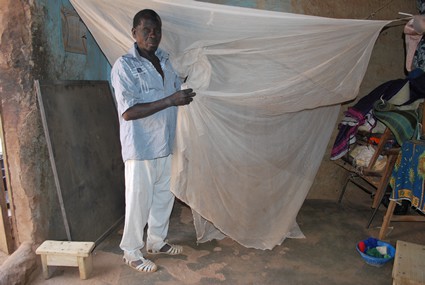 The Apostolic Church of Wemtenga Child Development Center staff believe in a bright future with zero malaria among the kids to whom they minister. While education is the flagship of the battle, our staff are also working hard to attain mosquito nets for as many families as possible.