For three months the women met, sitting at their sewing machines, not only learning a skill to help them support their families, but also gaining new hope and faith in God.
This exceptional group of women at Centro de Desarrollo Gracia y Poder student center in Honduras benefited through a workshop carried out through our Complementary Interventions programs.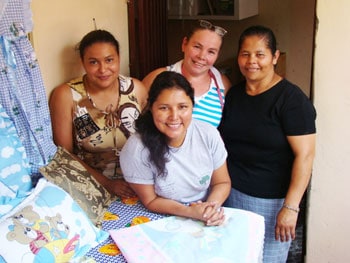 The seed fund was for $3,000 to teach these women, who didn't know anything about sewing, a skill that could help them generate an income. The training lasted three months, and the participants learned how to create bed comforters and bed sets, curtains and tablecloths.
This activity was a life-changing experience for Gladis A., who didn't just learn a new skill, but also opened her heart to Jesus through this workshop.
This young sewing mama is a hardworking woman who has been through difficult times. She is a single mother raising five children who depend on her for everything. Determination to provide for them led her to move away from her children so she could look for better job opportunities in San Pedro Sula, five hours from the capital city, Tegucigalpa. Life became long hours of hard work in a factory. She says:
"It was hard for me to leave my children only with my mother, but I had to do it for them. While I was away, I remember that every night when I was going to bed I used to stare at the pictures of my children on the wall and cried out to the Lord as I wanted to get back with them."
Almost four years passed by and Gladis was still looking forward to the day when she would definitely move back to her home. Finally the day came, and she praised the Lord for this response.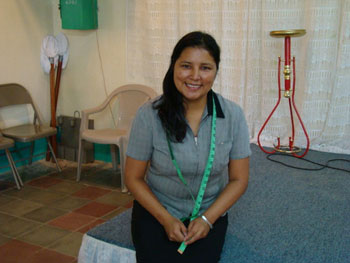 " I remember that my children cried when they saw me with my things, and I hugged them. God has been good to me even when I was not Christian at that time. He always takes care of me and my children, and I'm so grateful for it."
Gladis came back to her home with new hopes and she brought along with her the last paycheck for her service in the factory, which she invested to buy a sewing machine and providing some needs for her family.
"I thought of buying a sewing machine because I wanted to generate an income at home since I was alone with my children. But the blessings really came through because my child, Ricardo, is part of the Compassion child development center and that is how I got to know about the wonderful work that they do. I was called by the pastor's wife, and she invited me to join the group for the workshop and I really liked the idea."
Being part of the workshop represented an even greater experience for her as she decided to commit her life to Jesus. Her friends shared the gospel with her while she was at the meetings, and she was invited to church.
It didn't take long for Gladis to open up her heart to the Lord. Now Gladis has been attending the church for about a year and is even working as a tutor for the 6- and 7-year-olds at the student center.
The sewing workshop has produced other good fruits for the women. None of the participants had previous experience in this field, but they were open and willing to learn about creating the bed sets.
"We did a great job and made good products. We had the opportunity to display them at church and we have sold many of them," the group states vigorously.
Today Gladis and the other sewing mamas embrace the dream of creating a small business together. After the months of training, nine women have decided to continue on their own and are determined to succeed.
For Maria, this workshop represented a good opportunity to generate more income and give something back to her family. Maria is a Christ-centered woman who is part of the church prayer group and also works as a nurse in the health area at the student center.
She has been part of this congregation for 12 years now and never misses the church meetings with her 15-year-old daughter, Dayana, who is part of the worship ministry.
Maria has faith that God will bring back her husband to church. Her husband works in a mental hospital. In the meantime, she keeps persevering in God's path and working with her friends in the elaboration of bed sets.
"We are confident and this group will become a micro-enterprise because we have good products and we have had so many orders. I think we can start to dream big."
All the women come at least twice a week depending on the demand, and all of them are committed to making this dream come true. They have done so well they decided to give a special offering for the church's second-floor construction.
Maria explains,
"It has been a great blessing for all of us. God has been good to us and we feel committed to give something in return, and we know that this will be very useful for our church."
For Gladis C., being part of the workshop opened up better opportunities for her and her family. Mother of one 17-year-old boy and a child of 1-year-old, she is always willing to serve the Lord as a tutor for children and also managing the library at the development center.
Her husband is serving in the music ministry. The sewing workshop caught the attention of Gladis, who thought this could be an opportunity to help her husband, who was working long hours in a gasoline station.
"I can tell you that this was a very important initiative that was born from the heart of the pastor's wife in order to support mothers who lack economical resources."
The church managed to get an instructor, and approached the Compassion office to seek support for this activity.
Compassion's Complementary Interventions program has been crucial for the realization of this workshop. The group is committed to succeeding, and all of the sewing mamas embrace the dream of becoming a small business that might allow them to improve their economical resources as well as their living conditions.