My 6-year-old son always surprises me. From the things he says to the things he does to the things he tries.
Like the artichoke.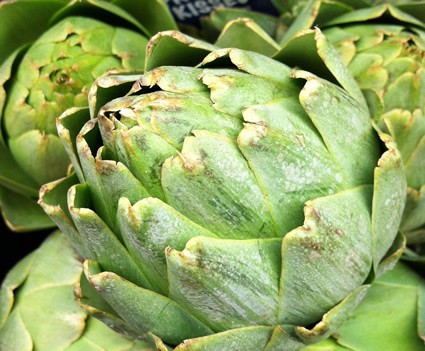 I honestly can't remember what piqued his interest in the unusual green vegetable. Ever since my husband showed him a fresh artichoke at the grocery store, my son had been curious.
Curious to know what it tasted like. He asked me, but I have never eaten one so I couldn't tell him.
So we bought one. And I boiled it with some salt, added butter and cut it up.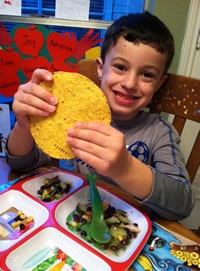 There it was on my son's plate. Would he really try it now that it was at home on his plate?
My husband didn't think so. I wasn't sure.
He tried it. After a couple of bites he casually said,
"I don't really like it."
And that was the end of the artichoke.
But, thankfully, it wasn't the end of his desire to try new things.
In response to Chris Seay's book, A Place at the Table, I decided to take the challenge to fast for 40 days from certain foods that I seem attached to — like coffee, chocolate and desserts (a big ouch for my genetically-derived sweet tooth) — and make for my family more of the simple foods our sponsored child, Elias, eats in Nicaragua.
I told my son we'd be eating more rice, red and black beans and corn, and fewer desserts like cookies and brownies. He assertively told me,
"I don't like corn."
He still had to eat it, I responded just as assertively, and be grateful for it. How challenging it can be to teach young children who are surrounded by rich and savory foods to be grateful for whatever kind of meal is put before them.
Because in Chad, families are eating porridge for breakfast, lunch and dinner.
Because in Nicaragua, bananas rather than cookies are the children's snacks.
Because in India, clean water is hard to come by and is easily taken for granted here in the United States.
It's often unimaginable that our home contains enough food to feed several families in Africa for a couple of weeks. Sometimes it's hard to understand how I can get bored eating the same cereal for days when children in Ecuador eat the same lunch all the time.
Corn, which my son seems to think he doesn't like, is a staple in so many countries. Yet for us in America, it's just plain corn.
Not only did my son try the corn but he also tried a native Nicaraguan dish called gallo pinto, a mixture of red beans and rice. He also tried black beans as part of a corn and bean salad. Those meals brought him just a little closer to his friend in Nicaragua.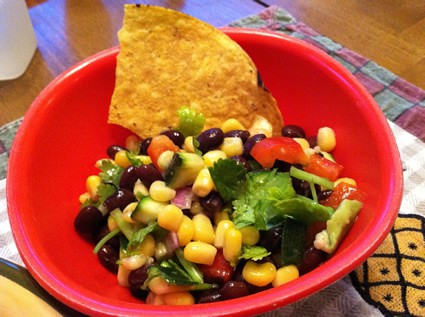 It may have been a challenge for my son to try corn, but do we truly know what challenging is?
Is it a challenge to go without coffee for 40 days when children are walking miles every day to fetch water for their homes?
Is it a challenge to eat more beans and rice when families in other countries sit around their tables each day deciding if there are enough rice and beans for each other?
While there have been days so far during my fast that seem challenging, when I feel like a cup of coffee is calling my name, I am learning that the real challenge comes in acknowledging that I don't have to have certain foods like I thought I did.
I am learning that true freedom is not just being able to eat whatever you want. It's being able to have it but choosing not to have it for a specific purpose, for a specific person. Everything is permissible … but not everything is beneficial.
Of course, it's not wrong to eat desserts, nibble on chocolate or drink coffee — but if these things became more desirable than feasting upon the Lord and His Word, or satisfy me more than Christ does, then I have a problem.
As Seay asks in his book, Will we be ruled by our own desires and pleasures or ruled by our master, King Jesus?
Part of what we must understand is that following Christ means He is Lord of our lives. We have a master. We are slaves, but we are slaves to a King who came to liberate humankind. It is paradoxical.
We have a master who says, "You are not only My slave but My child and My friend." This journey to freedom must begin with a declaration of loyalty to our true master. (See Day 11, A Place at the Table.)
True freedom is being enslaved to Christ, not to certain foods that bring us comfort or to habits that entertain us.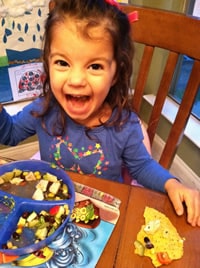 The strange thing about this fast is, I'm beginning to have less of a desire or craving for sweets — foods I thought I couldn't live without.
Even though I know one day soon I will enjoy a slice of birthday cake or a chewy chocolate chip cookie, I'm learning that these things won't rule me — they will only be a part of the plentiful menu that God has allowed us to enjoy in celebration of His bounty.
So we'll keep eating beans and corn and one day my son may say he actually likes them.
Maybe one day he'll be eating a plate of beans and rice in Nicaragua with his friend Elias.
Even my 2-year-old daughter, who also says she doesn't like beans, has reluctantly tried them, after which she proclaimed,
"Elias eats these!"
Yes, he does. And we do too.
---
ABOUT THE AUTHOR: Kimberly Piña is a homeschooling mom of two children and wife to her husband of seven years. The Piñas make their home in Texas and love living out their faith by corresponding with Elias, their sponsored child in Nicaragua.
If you're interested in writing a guest blog post, we are happy to consider publishing it. Read our guest blog post guidelines.