"Why just now?" asks Pastor Joel. "Where was Compassion when I was just a child who had all the potential but did not have the money to go to school or to eat three square meals a day?"
Pastor Joel grew up on the remote island of Siquijor in the Philippines, which has long been known for magic and witchcraft, but Compassion in the Philippines only began partnering with churches in Siquijor this year.
Although Compassion reached the Philippines in the 1970s, we finally landed in the isolated island after 30 years!
In 2004, we began regularly updating our strategy map to identify the poorest and neediest provinces in the country with the fewest number of evangelical churches, and the list included Siquijor.
And now Joel, who has turned away from his island's belief in witchcraft,  is pastor of the Siquijor Celebration Christian Fellowship, one of our newest church partners in the remote island province.
He has been the pastor here for 15 years and vividly remembers the years when it was so difficult to share the gospel. But today, the church has led to the Lord at least 15 individuals who used to be part of the occult practices.
"There are now 32 evangelical churches in the island, and witchcraft has greatly lessened its control. We used to be known as an island of sorcery but not anymore, thanks to the gospel. And now that Compassion is here, we are excited to create more impact."
Only a few months into the partnership, the Siquijor Celebration Christian Fellowship has seen an increase in church attendance.
"We have 100 new Bible studies for the 100 new families of our 100 registered children." The church leaders are meeting in the homes of all the new families to hold small Bible studies."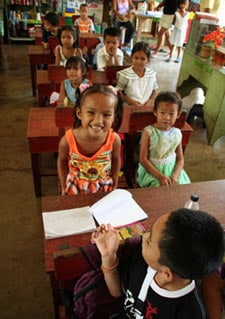 And Cyrene is one of the 100 Siquijorian children to be registered. She is full of potential, just as the pastor was when he was little.
Cyrene tops her grade one class with a score of 100 percent on all her tests. Many of her classmates are two years older than her because they did not have the money to go to school earlier.
"I want to be a teacher," bubbly Cyrene says. When asked why, she insists, "I just want to be a teacher."
Like Pastor Joel, Cyrene's parents did not finish high school. In fact, 90 percent of the adult population here doesn't. Rogelio, Cyrene's father, says,
"We were so poor when I was young. I was like Cyrene before, getting good grades and all. I was also at the top of my elementary classes. I had high hopes because until high school I had good grades, so I wanted to go to college."
Poverty, however, won and he stopped schooling when he reached the third year of high school.
"My father was a fisherman/farmer and our family subsisted with whatever little amount he could earn. He couldn't even send me to a free public school because I didn't have food to eat in the morning or uniform to wear."
But with Cyrene's sponsorship, her parents have found hope.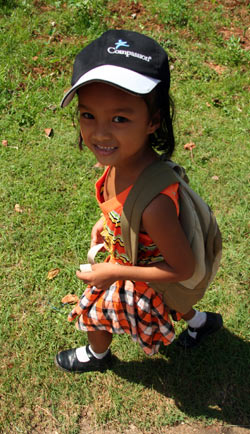 If not for Compassion, Cyrene would most probably end up as many of the locals here – uneducated and unemployable.
Her bouncy personality and intellectual potential would not be harnessed to the fullest. Soon she would have to stop schooling because Rogelio does not have a steady job to support her.
Both Rogelio and Merlyn are focused on their daughter's education and future, not necessarily thinking of how historically significant it is. Little Cyrene represents a milestone in our ministry in the Philippines:
She is the 50,000 child to be registered in the Philippines program.
Compassion Philippines has seen its programs go through several transformations over the past 30 years. And now that we have reached out to Siquijor and other similarly far-flung, hard-to-reach provinces, we look forward to registering the next 50,000 children into our programs.
Now, unlike Pastor Joel, Rogelio and Merlyn, Cyrene has a different hope for life. With her sponsorship*, she has been given a chance to follow in the footsteps of thousands of successful Compassion alumni who have gone through our programs through the years; the chance to follow in the footsteps of:
Sarah Jane, a Compassion alumna who is now a medical doctor
Jonathan, a Compassion alumnus who is now an accounts manager in New York
Bobby, a Compassion alumnus who is now a successful international businessman
Erla, a Compassion alumnus who is now a missionary to China
Keewani, a Compassion alumna who is now a sponsor herself.
Cyrene is next in line.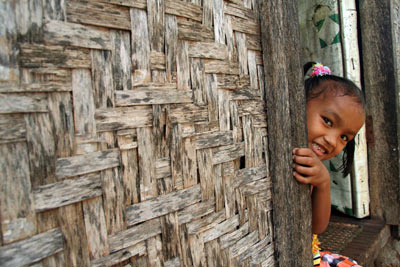 ---
Cyrene's sponsors are Noel Pabiona, Country Director of Compassion in the Philippines and his wife, Alot.