Karen is a 13-year-old girl who has been forced to mature quickly. Her parents left her when she was 2 years old and her two sisters, Katherine and Micaela, were 3 years old and 8 months old, respectively.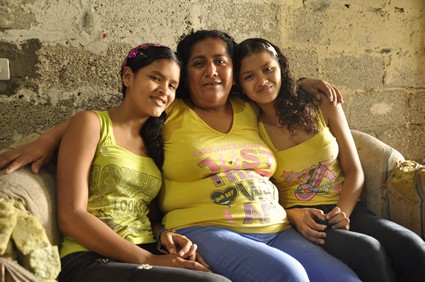 The girls' parents were young, lacked experience and had serious problems as a couple, so they decided to get a separation. Their mother, who wasn't even 18, chose to go back to Colombia, the country where she was born.
She left her three little girls under the care of Miriam, her kind sister-in-law who, little by little, became a mother figure to Karen and her sisters.
There's no doubt that Karen's life is full of the love of her devoted Aunt Miriam, who Karen calls "mom." But it's also undeniable that she's lacked real family love.
Karen's parents weren't there to enjoy their little girl's growth and to watch their precious daughter play.
However, when Aunt Miriam thought she was surrounded by nothing but tragedy, she found a light of hope.
Through her neighbors, she heard about a local Compassion-assisted child development center — where the main objective has always been to serve boys and girls from Guasmo Sur, a poor neighborhood in Guayaquil City on the Ecuadorian coastal region.
Miriam registered Karen at the Damasco Student Center when Karen was 5. It was the beginning of an unforgettable and incredible experience.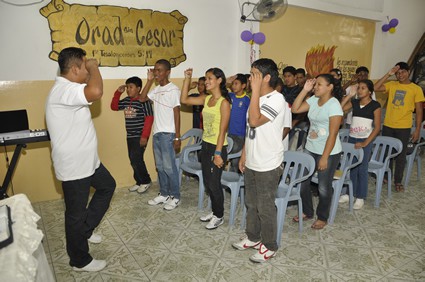 Karen made new friends, interacted with others and lived new adventures of games, surprises, trips and a lot more.
"I always loved the development center. Here I play with my friends, have fun, learn new things and have a really cool time."
And that's not all! The Damasco Student Center has given Karen the opportunity to make a good friend thousands of miles away. Her Compassion sponsor, Kyoung, is a Korean lady.
"Kyoung has been a great blessing to my life. I love to read her letters at home."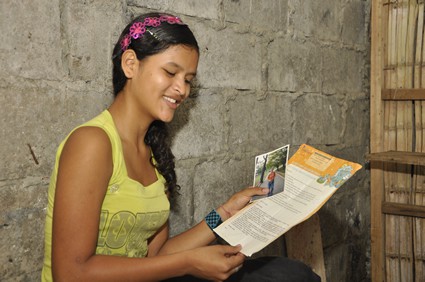 Every letter from Kyoung is a valuable treasure to Karen, and each letter has a message of hope, encouragement and love. With sweetness and gratitude, Karen remembers something she shared with her sponsor:
"My daddy was in jail a while ago, maybe about a year. I told my sponsor and said that I suffered a lot for that reason."
Kyoung replied,
"Trust in the Lord because He's going to make things work and everything will be all right."
Even Miriam, Karen's aunt, remembers,
"My brother passed away. He was Karen's favorite uncle so she was in a lot of pain, but her sponsor comforted her and gave her the courage she needed. She told her life goes on and cheered her up through the distance."
But maybe the most crucial intervention of Kyoung in Karen's life has taken place in the spiritual area. Karen honestly admitted,
"For many years I only attended church because the tutors at the child development center asked us to; therefore, I felt obliged to [go]. I shared this with my sponsor."
What did Karen's sponsor do? She prayed for her! Kyoung prayed for her sponsored girl to start going to church because she wanted to go; to feel it within her heart.
Until she was 11, Karen attended Sunday school only because she had to. Then she received the letter from her sponsor that read,
"I've been praying for you to go to church and to not turn your back on God."
Those words made little Karen shudder and opened a door for a miracle. What had been an obligation and a tedious commitment suddenly turned into a strong desire to go to church and enjoy the presence of the Lord and the company of her friends, brothers and sisters in Christ. Karen remembers,
"With tears in my eyes, I ran to my mom and showed her my sponsor's letter. I promised to faithfully attend the youth group services every Saturday, and I still keep my promise."
Karen's sponsor's faithful and persevering prayer commitment brought about a dramatic turn in Karen's life. For about three years Karen has shown genuine commitment, loyalty and joy for everything related to the Lord. She loves to praise Him, finds His Word delightful and enjoys every single thing she learns at church.
"The other teenagers and I just love the worship times directed by Brother Roberto. He motivates us to feel God's presence and praise Him. Every time we pray, we feel like He's actually listening."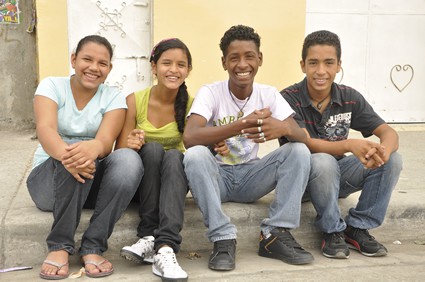 When she was 12, Karen decided to accept Jesus as her Savior.
"It happened during a wonderful worship time at a special service for the youth group. I accepted Jesus as my Savior. Nobody forced me; I walked in front of the congregation because I wanted to."
Miriam, Karen's aunt, doesn't go to church on a regular basis because she works very hard as a maid to provide for her three nieces.  But she's aware of the importance of God's preeminence in the life of every human being. With full conviction she affirms,
"My family has been richly blessed since Karen joined the child development center. She learns about the Word of God there. I'm so happy that Karen goes to church instead of being anywhere else wandering around."
It's the era of telecommunications and cybertechnology, but traditional correspondence still has relevance — even when it takes more time to reach its final destination.
It's a fact that "old-fashioned" letters have the power to give encouragement, hope and love. Kyoung has exchanged simple conversations with Karen about their countries' traditions and their daily activities, but beyond all that, they have had a positive influence over each other's lives.
There's no doubt that Karen has, in a way, experienced the love of a mother when she prays and God starts working. And Kyoung has had the chance to bless a little girl as though Karen were her own child — her "little angel," as she calls her in her letters.
Kyoung represents a true source of hope, encouragement and love to Karen. Their friendship is a beautiful example of how God works through caring Christians to change the world … one child at a time!